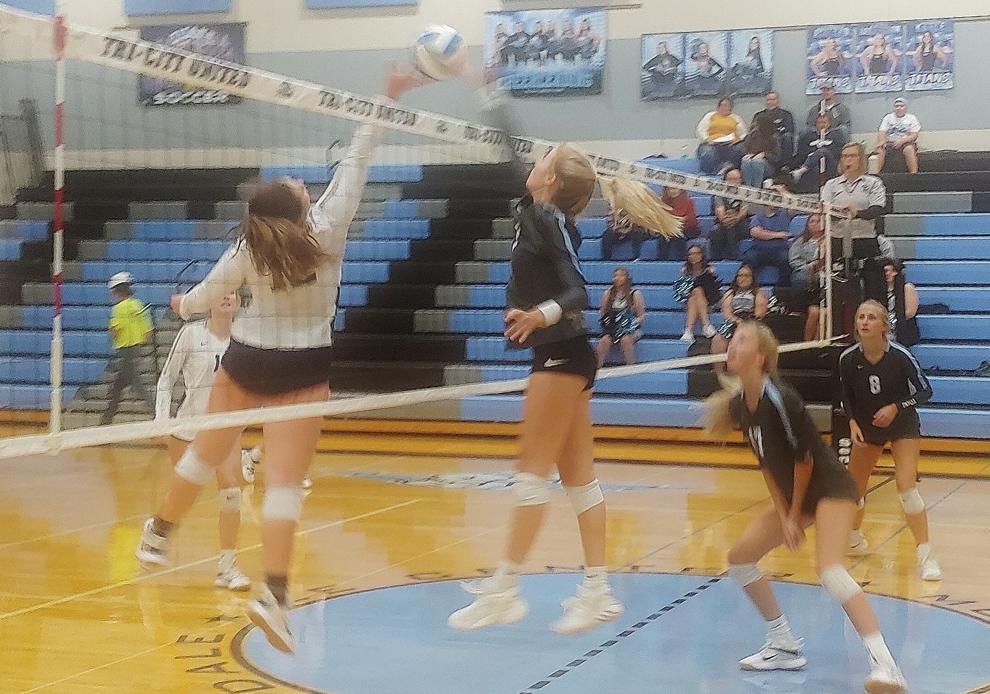 The St. Peter volleyball team (17-5) continued to lead its section, as it collected another victory Monday night, but Tri-City United (5-14) didn't allow the Saints an easy win. Though St. Peter led TCU throughout, the Titans took advantage of a string of errors to narrow the gap.
The away team, though, ultimately walked away with the win 3-0.
The Saints demonstrated they could rack up the points with Kylee Horner and Lily Ruffin leading the team with seven kills each.
"Lily Ruffin did a really good job for us on the right side," said St. Peter coach Carmen Hanson. "She had some good blocks for us at pretty key times."
Grace Remmert was a major asset on the court, including at the serving line, contributing six kills, as well as four aces and an 82% serve percentage.
Dani Johnson picked up five kills, Abby Maloney added three and Brooke Reinholt produced two. The Saints also benefited from an ace by McKenzie Pettis.
Remmert was all over the court to keep the ball alive and produced 19 digs and 16 assists. Pettis and McKenna Van Zee were also reliable defenders with 16 and 15 digs respectively. Further supporting the team was Mallory Hartfiel with nine assists.
With well-rounded contributions, the Saints were quick to capture the lead and jump 7 points ahead of the Titans. But St. Peter committed too many errors to hold on to a solid advantage for very long. Between 20 hitting errors and 10 serving errors, the Titans had plenty of opportunities to slash the Saints' advantage.
"I felt good that we won, but it wasn't necessarily our night the way we played the game," said Hanson. "The amount of serves we missed that first set, six serves, this wan't our norm."
Kaia Krocak was a powerful presence on the net for the Titans. Leading the team with 13 points scored, she smacked 10 kills and blocked three attacks. Lexi Factor and Audrey Vosejpka each picked up four kills while Kaitlyn Lang contributed three. TCU also benefited from two kills by Emily Smisek and Alexis Marcussen and one by Andra Sherman.
Smisek and Lauren Houn came to their teammates' aid with 10 assists each. Maddie Dooley kept the team alive with 14 digs and was supported by eight digs from Lang and Vosejpka and seven from Marcussen.
"Kaitlyn Lang came back and did well tonight," said TCU coach Carrie Richards. "She came in with a good run and really helped us in the back defensively."
Despite strong openings from the Saints, TCU caught up in the first and third sets to pose a credible threat, falling by just 25-23 in both sets. St. Peter was more dominant in the second set and held onto a 25-18 advantage.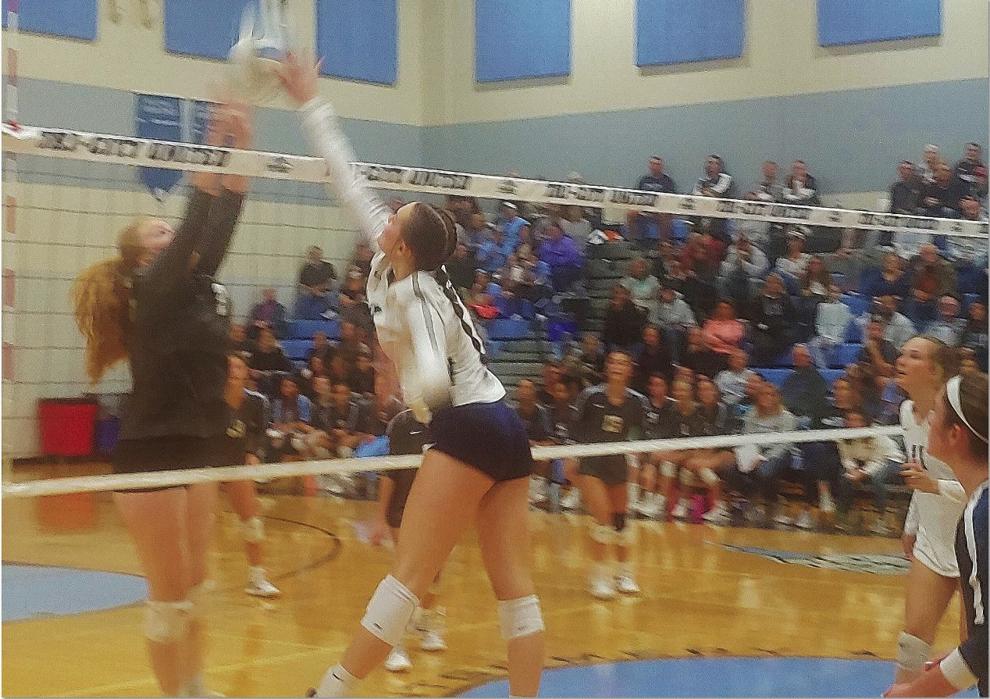 "My girls were a little worried coming in as the underdog," said Richards. "In the past, St. Peter has been a force to be reckoned with. In my experience, they haven't really been, so I wasn't sure what to expect. But they showed some toughness there and pushed through.