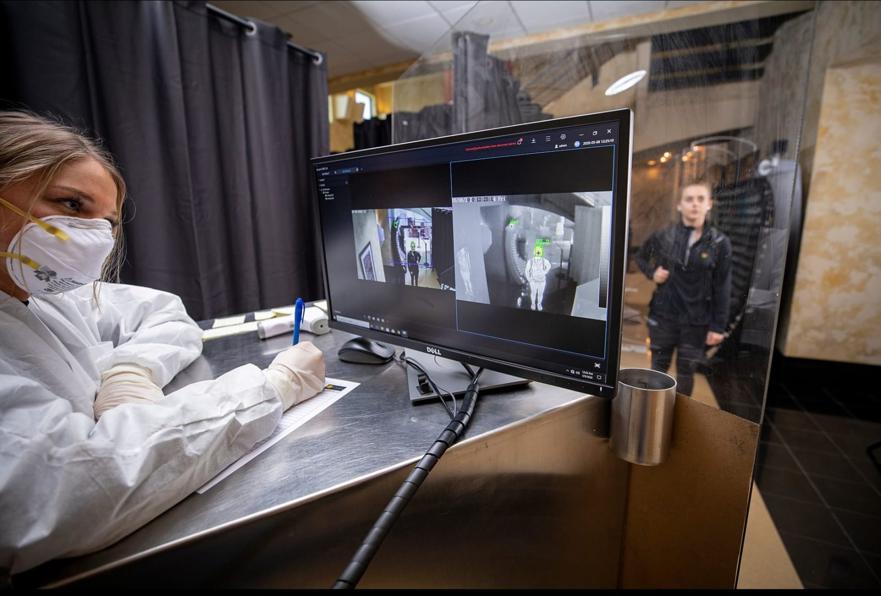 Conducting business safely has been a challenge for all kinds of businesses, large and small, in the midst of the COVID-19 pandemic. That's especially true for Cambria, whose quartz manufacturing plant in Le Sueur is one of the largest employers in the area, with hundreds walking in and out of the plant each day. While the company had social distancing measures in place weeks before the shutdown, the plant recently implemented a no-contact technology to its defense against the coronavirus.
It's called a thermal temperature reading system, and it's designed to detect a fever before people enter the one-million-square-foot processing and fabrication facilities. When workers come to the Cambria plant, they line up six feet apart, single-file in the main lobby before a body temperature detection camera mounted on the ceiling. In conjunction with a calibrator and a processor, the system then reads a person's body temperature within 0.54 degrees of accuracy, said Brian Scoggin, EVP of Operations at Cambria.
"It's embracing the environment that we're in with COVID-19," said Scoggin. "And Marty Davis, the CEO/owner, was looking into different technologies out there to create this temperature awareness for employees and providing feedback if they have a temperature or not."
Cambria officials noted that CEO Davis has been an outspoken supporter of moves made by Minnesota Gov. Tim Walz in response to the pandemic and has been in close contact with the governor on upcoming plans to reopen the economy. Cambria believes that, in the post-coronavirus world, temperature taking before admittance to work, school, restaurants, shops and events will likely become the norm.
If a person has a body temperature of below 99 degrees Fahrenheit, operators give them the clear to head inside. If the system detects a temperature of 99 degrees or above or fails to get a reading, workers are moved to a separate station for further testing.
After sitting down for five minutes, workers are given a reading with a no-contact handheld thermometer five different times. If the readings average above 99 degrees the employee cannot be let inside the building.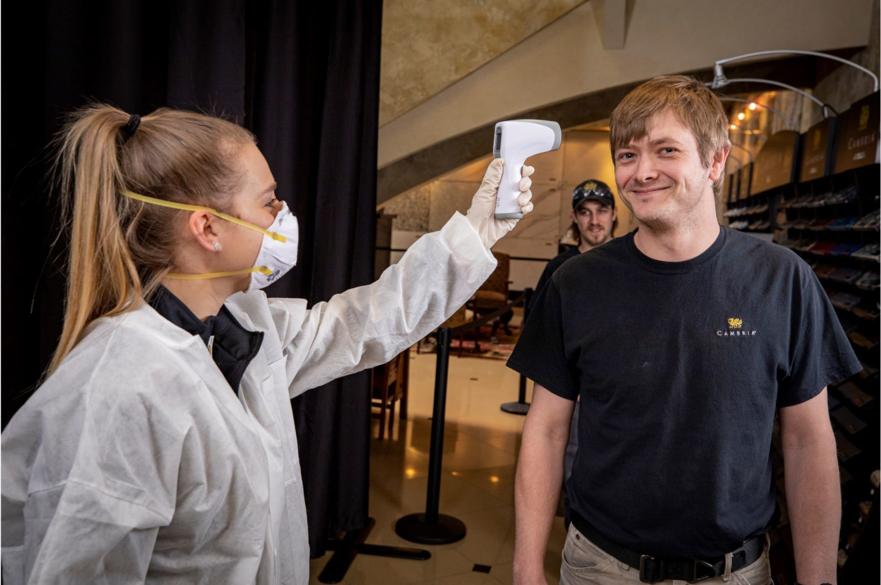 Employees referred for additional temperature screenings are also given a pulse oximeter, which measures the concentration of oxygen in the blood. The information from these readings are not collected by Cambria, but can be used by employees to share with their doctor.
"The employees like it," said Scoggin. "They feel like we're creating a safe, healthy, conscious environment. As they walk in the facilities, they know they're safe and for the employees around them that are walking around and coming in, they feel more of a sense that we're aware that they do not have a fever."
The technology, which was manufactured by VenueScreen, cannot detect COVID-19 itself but a fever is one of the more common symptoms. The Center of Disease Control states that symptoms including fever, cough, chills, shortness of breath or difficulty breathing may appear 2-14 days after exposure. A fever or elevated body temperature can be a sign of other conditions including influenza, bacterial infection and inflammatory conditions.
The thermal temperature scan is just one of the many safety precautions taken by Cambria. Once inside, employees are to adhere to social distancing and work six feet apart. Reminders are posted around the facility, and when employees must work in close quarters, they are required to have face masks on. Virtual meetings over Google Hangout are encouraged over in-person conferences.
"Any time people can be social distancing, they are," said Scoggin. "Which is really the entire plan. People are not together; they work apart. If you've been in the facility, it's operating with large machinery, so people don't have to work together in close quarters."
To keep the workplace sanitary, surfaces are frequently cleaned, doors are left open when possible to lessen contact and the lunchroom has a limitation of one person per table.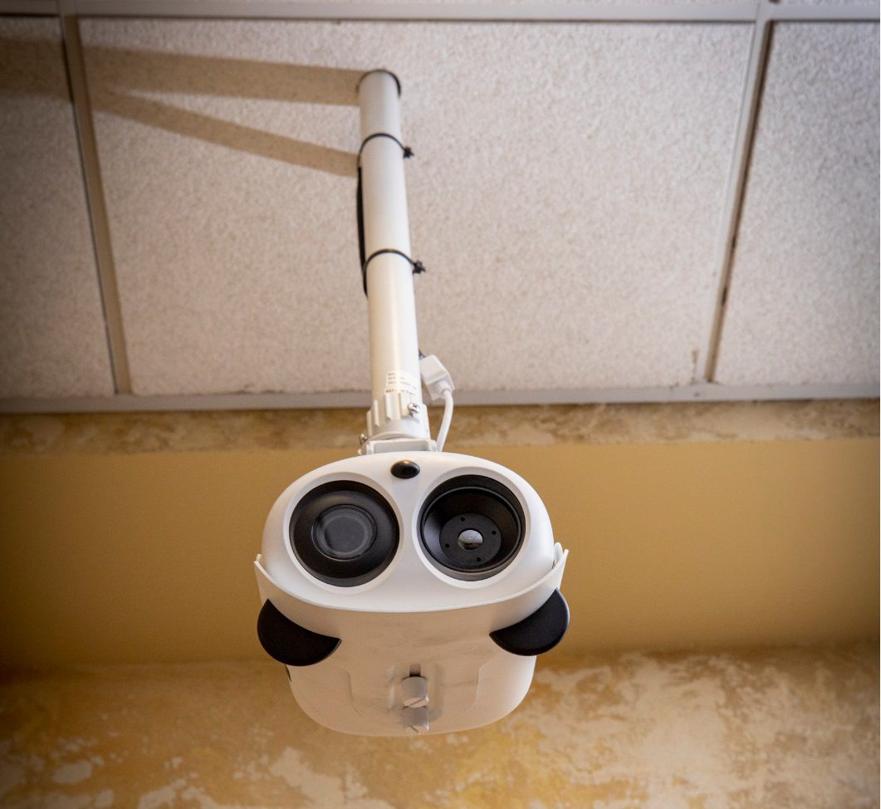 These measures have allowed Cambria to bring back many of the plant's day-shift workers. Two in three workers at the plant were previously sent home with pay in March.
"People are thrilled," said Wendy Hearn, VP of Safety and Risk Management. "People want to get back to work; they're excited to get back to work. This is just another level of allowing them to get back to work."
After implementing the thermal temperature reading system, Cambria higher-ups believe that this technology could be used by other Minnesota manufacturers to promote a safe workplace environment. Hearn reported that other companies have already started contacting Cambria to learn more about it.
"We've had many inquiries from other manufacturing organizations that want to do similar testing so we've given them contacts to reach out to," said Hearn.