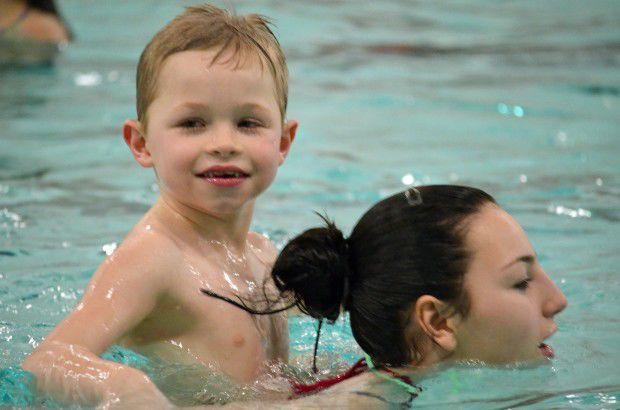 Residents wishing to put a pool in their backyard — and there are seemingly more this summer than ever before — will now have to go through the city of Le Sueur first.
At a June 22 meeting, the Le Sueur City Council voted to establish a permit application process with a $60 fee for permanent pools and temporary pools over 24 inches in height and 5,000 gallons of water. The vote took place after the city experienced an increase in pools this year. With the Aqua Valley Pool closed until late June and the Community Pool closed until the rest of the year, many residents took it upon themselves to construct their own permanent or temporary above-ground pools.
"We're reacting to the increased number of these pools and the increased number of concerns that we've received from neighbors about these pools," said City Administrator Jasper Kruggel. "In general, zoning regulations are in place for a reason, because you have 10,000 gallons of water and a ruptured pool could adversely affect your neighbor's property."
"This is crazy the amount of pools we've seen this year," added Community Development Director Samantha DiMaggio. "When Jasper and I were looking at this, we fielded 10-15 pool calls this year. I had one last year."
While the city of Le Sueur has regulations in the zoning code for pools, residents have not been required to apply for permits until now. As more pools are constructed, DiMaggio believed the city would receive more complaints and hoped to prevent those with a permitting process.
"I think what's going to happen now is we're going to have some people who put in pools maybe too close to the neighbor's property line who are now having neighbor issues and we're going to have to go out and double check that," said DiMaggio.
Temporary pools, like those purchased at retail stores, that are deeper than 24 inches and more than 5,000 gallons will require a single lifetime permit. As long as the pool is put up in the same location annually and the size of the pool doesn't change, permit-holders will not need to apply for a new one.
Permanent pools must be constructed ten feet from all property lines. A six foot high security fence no more than 3 inches off the ground with a self-latching, lockable gate must surround pools at all time and be placed within a minimum of 30 days after the pool is completed.
While pool-owners must apply for a permit, those who constructed a pool before the city began permitting will not have to pay the $60 fee. The fee pays for the time it takes for city staff to review and inspect permit applications and pools.
City staff proposed that the $60 fee kick in for residents who constructed pools that were not in compliance with city regulations, but Councilor Marvin Sullivan believed it would be unfair to residents to charge them for a permit if there wasn't one available when they built it.
"We're essentially implementing a $60 fee starting today and charging these people when, yeah, they failed too because they put it in the wrong spot, but we didn't implement a fee until today either," said Sullivan. "I think we need to set a fee starting at a certain date whether that be the start of next year or whatever."
Both Councilor Scott Schlueter and Mayor Gregory Hagg voiced concerns that people who installed pools needed to be in compliance with the City Code.
"'I think if somebody is in violation, those have to be corrected immediately," said Hagg. "Because you're going to have neighbor issues, you could potentially end up with safety issues. The last thing you would want is for some child to drown because a fence wasn't around a pool."
"I agree with council member Schlueter that there are those situations where, from a perspective of safety, we have to be proactive on this rather than reactive," Hagg added. "But council member Sullivan brings up a good point, too, as far as maybe we establish a timeframe for when we should charge that."
Councilor John Favolise proposed that the $60 fee be waived for those who had installed pools prior to the permit process, but that anyone wishing to construct a pool in the future will need to be charged. Those that have already built pools will still need to contact the city so that staff can verify they are in compliance. The proposal was unanimously supported by the City Council.
"We're not going to charge them for it, because we didn't have a fee for it," said Favolise. "We eat the cost for not having a fee prior to this, but it still has to be inspected to make sure they're safe."