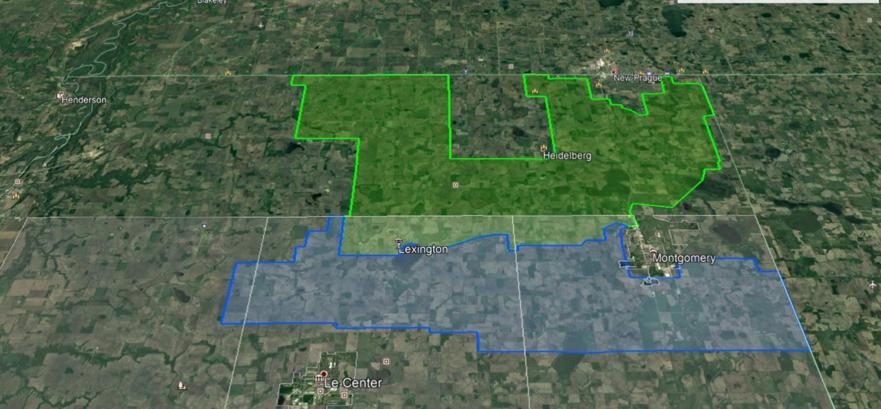 Earlier this year, internet service provider Bevcomm, in partnership with Le Sueur County, received a near $2 million grant to build a fiber optic network to upgrade internet speeds for more than 400 households across Le Sueur, Rice and Scott counties. Now, Bevcomm is looking to expand its fiber optic network even further into Le Sueur County and has requested assistance from the Board of Commissioners.
Construction on the fiber lines from the original $2 million in funding is still in process, but that's not stopping local organizers from looking to the next project to expand internet access in the county.
On Sept. 1, Bevcomm brought plans to the county to pursue a second Border-to-Border grant from the state of Minnesota. The proposed fiber optic network would improve speeds for 239 homes in Lexington and Montgomery Townships and parts of Sharon Township.
It would cost $1.6 million for Bevcomm to install the 100% fiber optic network supporting 1Gbps speeds in the area, a price that Bevcomm CEO Bill Eckles said was too high for the company to pursue on its own.
"Even with the state giving us a 50% matching grant, it just doesn't work out for us to overbuild the Frontier in that area without some support in the county," Eckles told the Board of Commissioners.
Eckles requested a $300,000 commitment from the county toward the project to offset some of the costs. The pledged dollars would only go to Bevcomm if the internet service provider was successful in earning a Border to Border grant from the state. $20 million in state monies are available to grant applicants.
The Le Sueur County Commissioners unanimously approved the $300,000 pledge with plans to split the costs 50/50 between the county and townships. Councilor John King said that county townships had already been notified and were supportive of the project.
"All of the townships that would be impacted by this proposal, their meetings have been attended and they are aware of the situation and they have agreed in principle to collectively pay half of the $300,000 that would be the county's obligation," said King.
What complicates Bevcomm's plans for expansion is that the area is currently served by Frontier Communications. By law, Bevcomm was required to notify Frontier of their plans to expand and give the service provider a chance to respond. If the current service provider wishes to boost internet speeds, that could prevent another service provider from receiving state monies to expand into the area.
Eckles said that he was told by Frontier Communications that they were planning to upgrade speeds in their area to 10 mbps. However, the Bevcomm CEO was unconcerned with this, noting that areas with 10 mbps speeds are considered unserved by the state of Minnesota.
"When they say they're going to upgrade to 10 mb a second, it doesn't even meet the state's definition of broadband," said Eckles. "If all they're doing is the 10 mb service, I don't anticipate the state is going to exclude us because of that."
In the Border to Border grant, the state of Minnesota defines an unserved area as an area of Minnesota in which households or businesses lack access to wire-line broadband service at speeds that meet the FCC threshold of 25 mbps download and 3 mbps upload. In an underserved area, households or businesses do receive service at or above the FCC threshold but wire-line speeds of 100 mbps download and 20 mbps upload.
If approved, Bevcomm would begin working on the network in 2021. It would border the southern edge of the fiber optic network currently being constructed, which is intended to bring high speed broadband to 417 unserved households, 88 unserved farms, 59 unserved businesses, and 4 community anchor institutions in rural areas around the communities of Montgomery, Heidelberg and New Prague in Le Sueur, Rice, and Scott counties.