Educators, police officers and health care workers walked into the Le Sueur County Courthouse one by one on Thursday to get their dose of protection against the coronavirus.
This week, the second floor of the county offices were converted into a clinic to distribute the Moderna vaccine for COVID-19. Le Sueur County Public Health staff has been vaccinating hundreds of patients per week over the last two months, working down the priority list to school faculty, law enforcement and some residents ages 65 and up.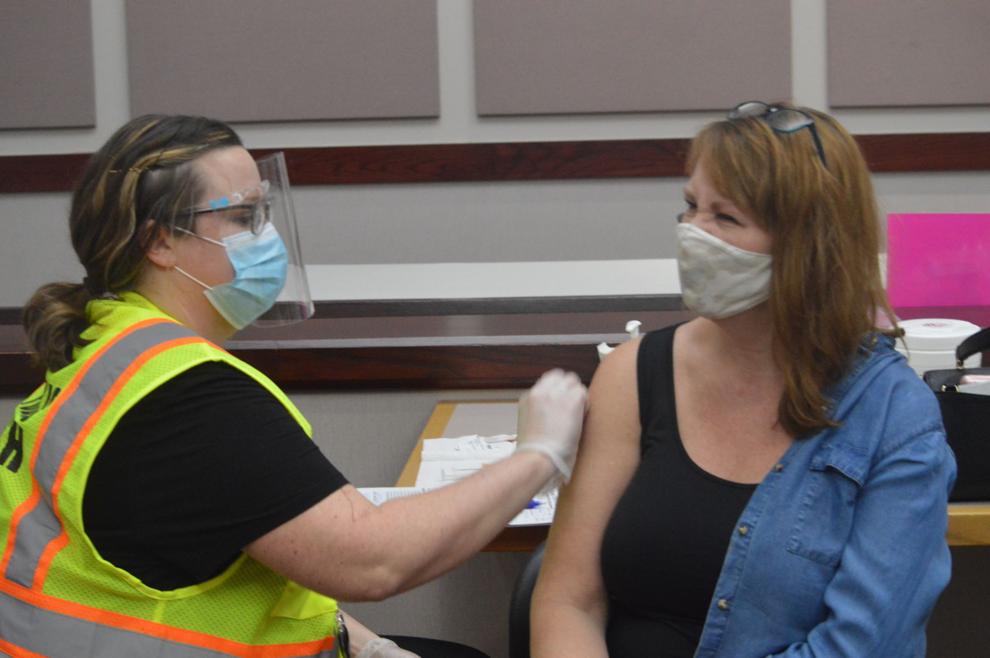 For local educator Susan Michael, receiving the vaccine was a welcome opportunity to receive protection and stem the spread in her community.
"I want to do my part to stop the spread of the virus," said Michael.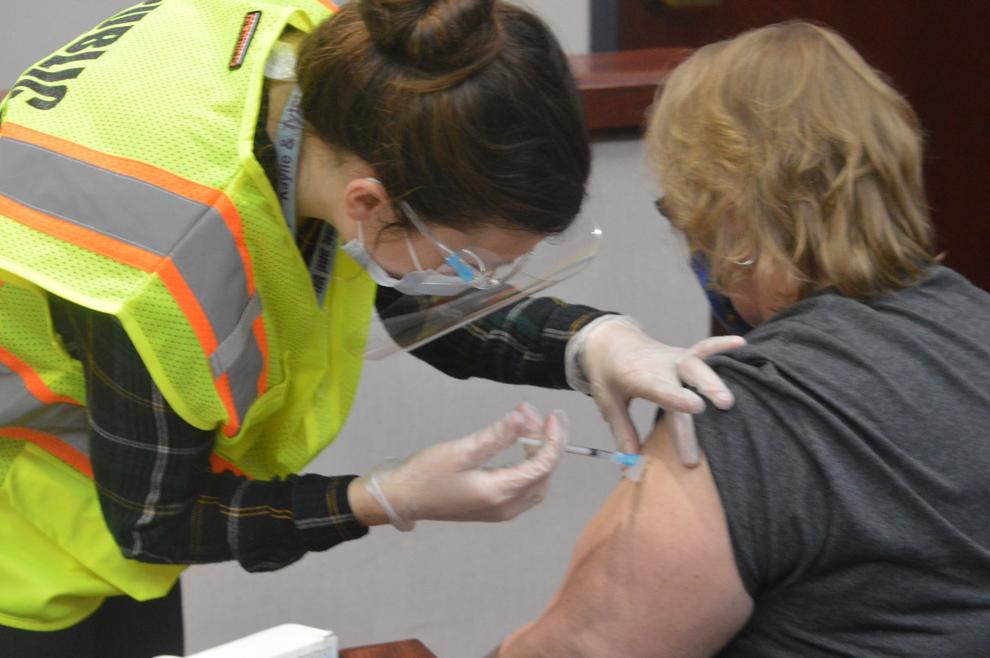 As she walked into the county courthouse, Michael and another educator, Le Sueur-Henderson Special Education paraprofessional Mona Walker, were instructed to enter the elevator two at a time to reach the second floor. After arriving, patients wrote consent forms and waited outside the vaccination room.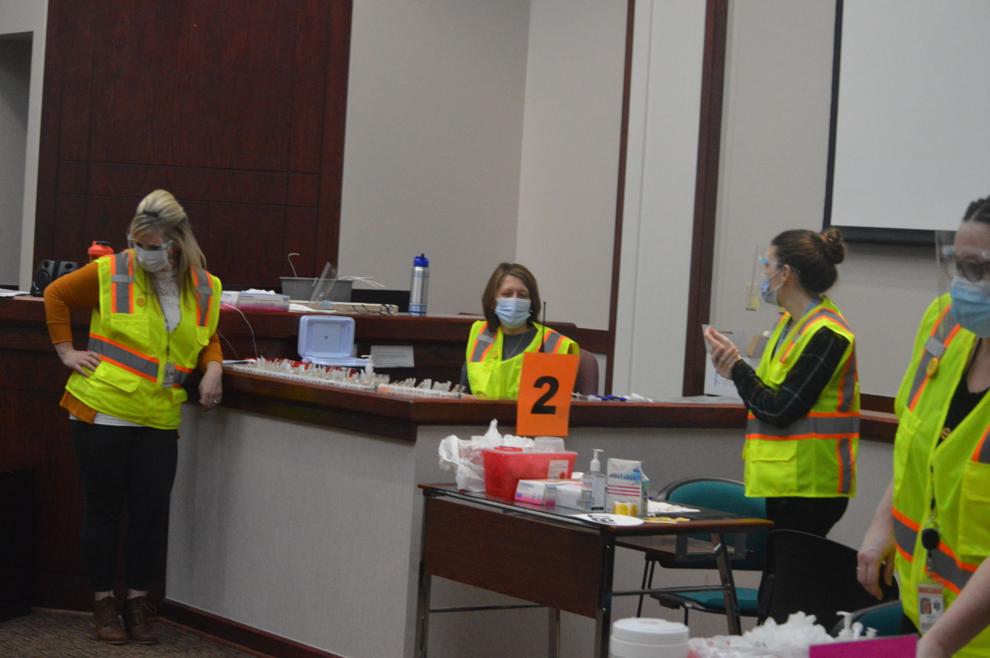 Public health workers donned yellow safety vests and welcomed patients into a room with five stations spread out across the space to ensure social distancing.
With this kind of space, public health officials are capable of vaccinating up to 100 people an hour. But how many the county can vaccinate in a given week ultimately depends on their supply of vaccine.
"Early on, they would only send 100 or 200 doses a week," said Public Health Director Cindy Shaughnessy. "We're saying that we could handle 600 doses a week, probably more, but we're also doing our public health work. This is all in addition to our regular public health work."
The supply chain sent the county an extra large amount of doses this week, approximately 500 in total, to make up for vaccines that were delayed the week prior due to winter storms. This is the only time supplies to the county have been delayed.
"We are able to get more people through for sure," said Preparedness Coordinator Megan Kirby. "And we're hoping the vaccine stays steady so that we can increase those numbers."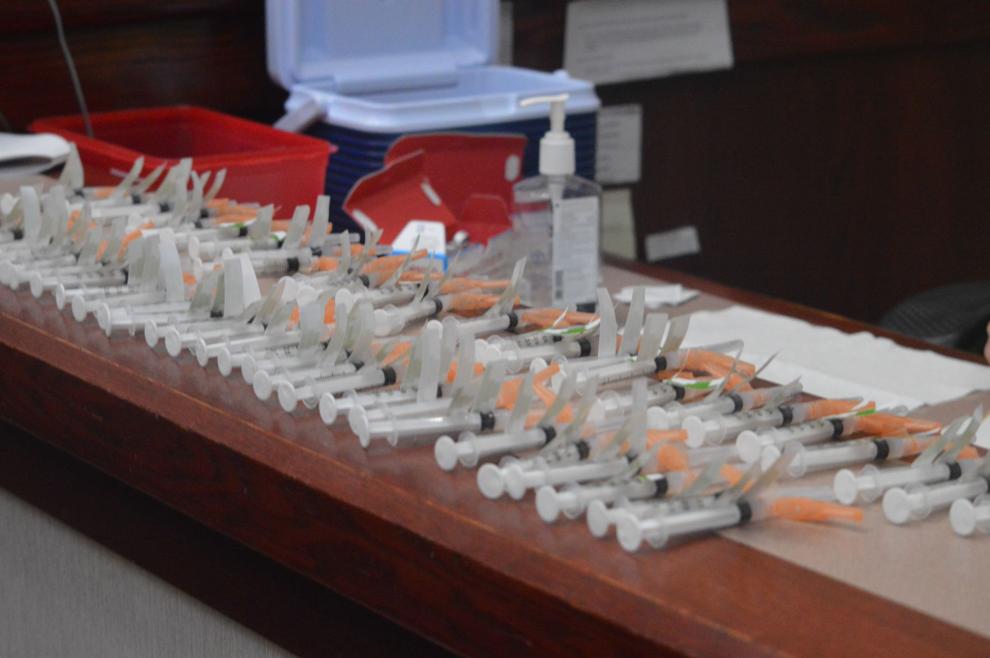 Receiving regular shipments of vaccine is especially important since vaccines must be distributed in a timely manner. The Moderna vaccine requires two separate doses 28 days apart. Each syringe also carries 10 doses of the vaccine. Once the vaccine is used on a patient, administrators only have six hours to use the remaining doses before it expires.
Because of this expiration date, Le Sueur County Public Health keeps a waiting list of residents in high priority groups that they can call in if they have an extra dose.
"We've been following those groups that we're required to vaccinate. So we'll have a backup list within those groups," said Kirby. "Just this week, we'll be opening up to 65-plus, which is why we started that 65-plus survey for Le Sueur County residents. If we do have extra, we'll be going off of that survey that we have."
Once residents receive the vaccine, they are led to the neighboring courtroom, which has been converted to a waiting room. Patients are monitored by staff for any signs of side effects or an allergic reaction, such as rash or dizziness. In case of an anaphylactic shock, staff carry a dose of adrenaline that can be administered on-site. Having a 15-minute waiting time is standard procedure for non-COVID vaccinations, but Director Shaughnessy said it was especially important since the Moderna vaccine is new.
As of Feb. 26, 11% of Le Sueur County residents — 3,100 people — have received at least one dose of the vaccine, and 1,400 of those have received two doses.