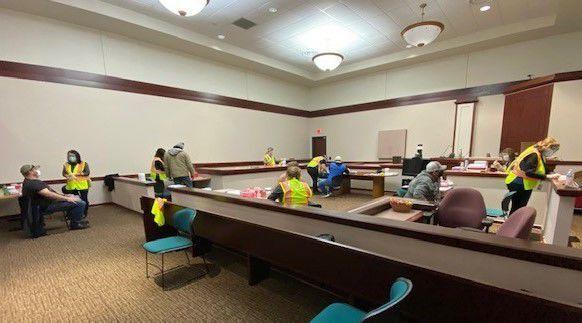 Those confronting COVID-19 on the frontlines are now getting their own frontline protection in Le Sueur County.
On Dec. 30, Le Sueur County began its first distribution of the Moderna vaccine, issuing 129 doses to local EMS workers and fire and rescue. In addition, 20 members of Le Sueur County Public Health's vaccination team received doses on Dec. 28.
Le Sueur County Public Health transformed the old courtrooms and the Courthouse into a makeshift clinic. County staffers helped guide patients to the vaccine stations, which were spread out in the courtrooms. For Public Health Director Cindy Shaughnessy, it was a welcome sight after nine months of waiting for a vaccine.
"They were all so very grateful and gracious and just very happy to get their vaccination," said Shaughnessy. "It was very joyful and hopeful."
Over the past three weeks, Le Sueur County Public Health has received 300 doses of the Moderna vaccine in three separate shipments of 100 doses. The treatment boasts a 94.1% efficacy rate guarding against the coronavirus after two doses, the second given 28 days after the initial dose.
Shaugnessy assured Le Sueur County residents that the vaccines are safe for use and that there was no risk of contracting coronavirus from them. Unlike traditional vaccines, mRNA vaccines do not inject a weakened or inactive form of the virus to boost the immune system. Instead, the COVID-19 vaccines use a harmless spike protein found on the surface of the coronavirus. Immune cells that come into contact with the protein break it down and use the information to build a response against the coronavirus.
After the first distribution, Le Sueur County began a second day of vaccinations on Jan. 6. Like in the first clinic, the county is prioritizing members of the 1a vaccination group — people working in health care settings who are at the highest risk for COVID-19 exposure and residents of long-term care facilities who have suffered serious disease outcomes.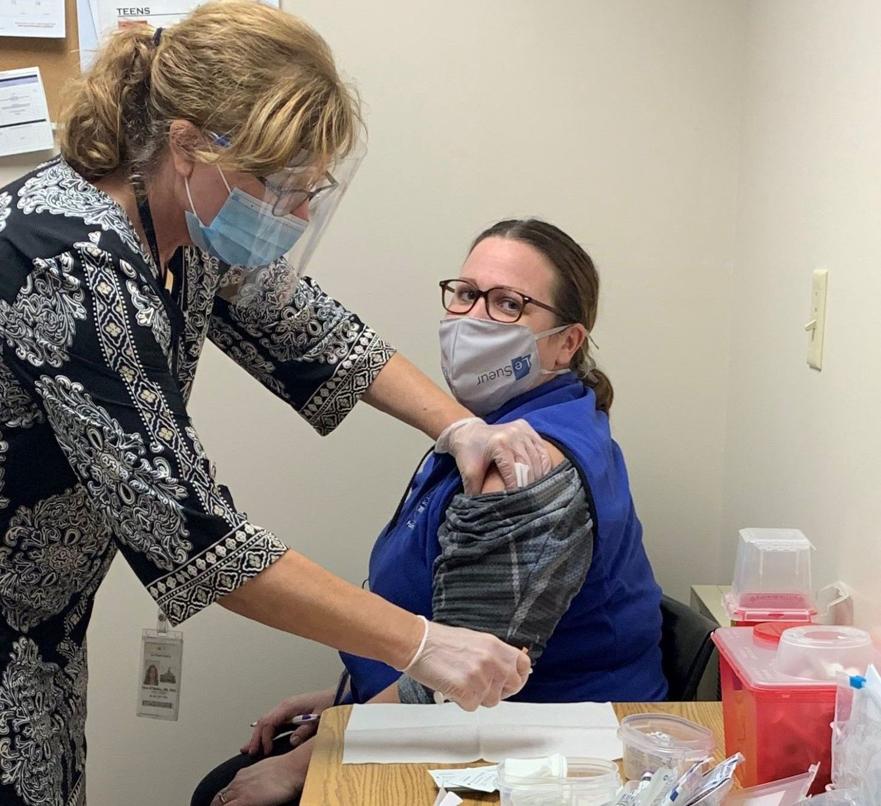 Some people outside of that immediate group may receive vaccinations though. The Minnesota Department of Health has directed distributors not to waste vaccinations, said Shaughnessy. Each vial of the Moderna vaccine comes with 10 doses, but when the vial is pierced, all doses have only six hours before they expire. In scenarios where a vial is pierced but not all of the doses can be used on-site, the county maintains a waiting list of people who can come to the courthouse on short notice and receive the vaccine.
"We have people we know that we can call and say 'Can you get over to the courthouse fast," said Shaughnessy. "We have done law enforcement to finish out those vials."
Minnesota is expected to transition into phase 1b of vaccinations in late January or early February. That phase includes frontline essential workers and adults ages 75 and up. Adults between the ages of 65-74 years, adults with high risk medical conditions and other essential workers will be vaccinated in phase 1c. Vaccinations will eventually expand to the general public by phase 3 of the distribution.
"When their group is next, they will be contacted," said Shaughnessy. "These things will roll out in the next weeks to come. Everyone will have an opportunity. I try to tell people patience and grace. Everyone is trying their best to get people vaccinated as best we can."
Le Sueur County is not the only organization distributing vaccines. Hospitals like Ridgeview Le Sueur began receiving hundreds of doses of the Pfizer vaccine to distribute to their patient facing healthcare workers. Hospitals have been the main recipients of the Pfizer vaccine because it needs to be stored in ultra cold storage at temperatures lower than -70 degree Celsius.
While the county is putting its focus on EMS workers and hospitals are taking care of their health care workers, pharmacies are focused on delivering vaccinations to long term care residents and staffers.
Le Sueur County Commissioner Steve Rohlfing expressed some concerns that not everybody who was eligible to get a vaccine was receiving one. The commissioner told Shaughnessy at a Dec. 5 board meeting that he knew of several frontline workers that were not getting vaccinated.
"What percentage of these EMS and firefighters are getting vaccinated?" asked Rohlfing. "I know that all of them aren't doing it. Do you have that number?"
Shaughnessy responded that she didn't have a number, but that the level of vaccinations varied from department to department.
"We would have a department where just about everyone came and another department where just one or two came," said Shaughnessy. "So it really varies. It's not something we can make anyone do. We certainly try to educate about the importance of the safety of the vaccine. We do have to go through the clinical trials. It's safe, it's effective, but for whatever reason we have people that aren't taking it."
"It would nice to be able to keep that tracked and the age of that group because for whatever reason they're not believing in it," said Rohlfing.