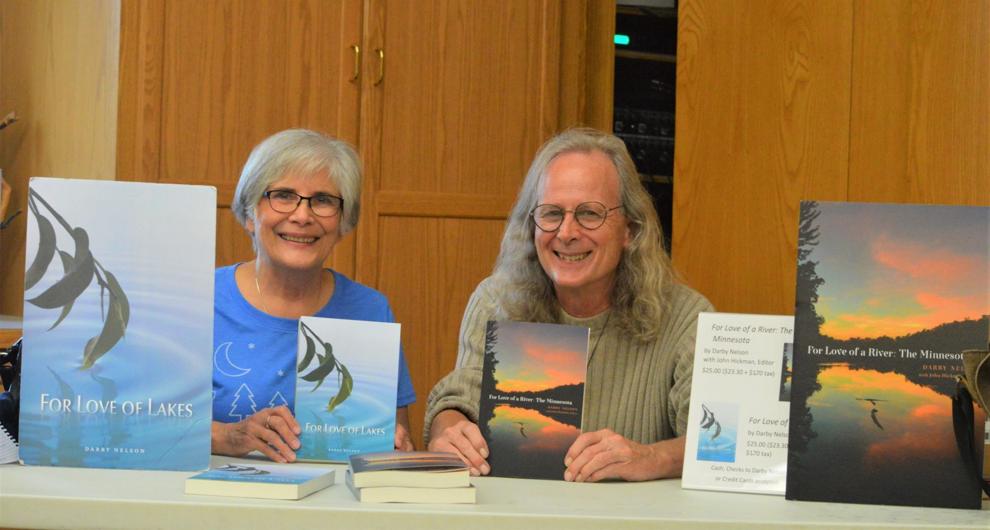 From his days as a youth picking plums along the riverbank and peering at the minnows and mysterious creatures lurking below the surface, author and aquatic ecologist Darby Nelson has been enamored with the Minnesota River. His days exploring the riverbanks southwest of the small river town of Morton, Minnesota inspired a long career as a conservation activist, biology professor emeritus at Anoka-Ramsey and three terms as an elected member of the Minnesota House of Representatives.
But for all the Minnesota River's rich biodiversity and scenic views, the water has been notoriously dirtied by sediment clouds and an abundance of phosphorus that produces algae and nitrogen that may pose risks to humans and fish.
Nelson's 2019 book "For Love of a River: The Minnesota" was shared at a Henderson Ney Nature Center event featuring his wife Geri Nelson, editor John Hickman, and Scott Sparlin, executive director of the Coalition for a Clean Minnesota River. In his new work of creative nonfiction, Nelson not only addresses the river's water quality challenges, he also explores why the Minnesota River is worth preserving in a chronicle of its history and a two year canoeing trip from its source near the Minnesota–South Dakota border to its confluence with the Mississippi in the Twin Cities.
At the Ney Nature Center discussion, Coalition for a Clean Minnesota River Director Scott Sparlin commented on causes of pollution in the Minnesota River and recent legislation to help restore it.
As a geologically young river in an area with large rainfalls and numerous tributaries delivering sediment into the main body of water, the Minnesota River is already susceptible to unhealthy water quality. Human activity has accelerated the erosion timetable through the elimination of forests, prairie lands, wetlands and industrialization of agriculture.
According to Sparlin, one of the most significant causes of pollution in the river today is near-channel erosion. Tributaries are widening, increasing water flow into the Minnesota River, and with it, large clouds of sediment.
"We have too much water coming from the landscape to our first, second and third order tributaries that feed rivers like the Le Sueur, Cottonwood and the 13 tributaries in the extended south," said Sparlin. "This near channeling erosion is the most significant delivery of sediment that we have to the river."
More water pouring in also leads to more frequent flash floods. Nearby communities like Henderson are all too familiar with the consequences of an erosive river. The Rush River has flooded Hwy. 93 more than 15 times since 2001, and more than half of those flood events occurred within the past three years.
To address increasing water flows, Sparlin and a number of water conservation groups successfully lobbied the Minnesota Legislature to launch a state program that would subsidize landowners for the development of water storage facilities.
The omnibus environment and natural resources bill signed into law in June appropriates $2 million to the Minnesota Board of Soil and Water Resources over the next two years to establish the program and distribute financial assistance to local governments.
These dollars can be used to support the construction of retention structures and basins, wetland, channel and floodplain restoration and management, soil and substrate infiltration and acquisition of flowage rights. The Minnesota River Basin and the lower Mississippi River Basin in southern Minnesota are prioritized to receive funding.
"The most important areas we're going to do that is areas where [basins] were historically located," said Sparlin. "We're not going to build a dam in some drainage ditch to hold water back, this is all going to be done in such a way where it doesn't affect the agricultural community on a grand scale, but has an ability to cut those high peaks."
How program funds will be distributed is still under development and the $2 million over two years won't be enough to address the state's needs for water storage, said Sparlin. But once basin development projects are underway, Sparlin sees an opportunity for the federal government to support and expand the program. The CCMR director said he has scheduled meetings with Minnesota Senators and Senate Agriculture Committee members Amy Klobuchar and Tina Smith, to discuss potential federal funding.
"The federal government can give us the kind of money for it to be effective on a grand scale, because $2 million won't do much for storage," said Sparlin. "What it will do is establish it and demonstrate it and then our federal friends will give us the kind of money that they did for the crops for conservation program, which dedicated 100,000 acres of cropped floodland."
Sparlin estimated the water storage program would require $1 billion in financing to reach a statewide scale.
Nelson was no stranger to authorship, having written For Love of Lakes, a 2012 Minnesota Book Award Finalist for Creative Nonfiction. But before writing For Love of a River: The Minnesota, Nelson had a new hurdle to overcome: Alzheimer's. In 2011, the aquatic ecologist was diagnosed with mild cognitive impairment.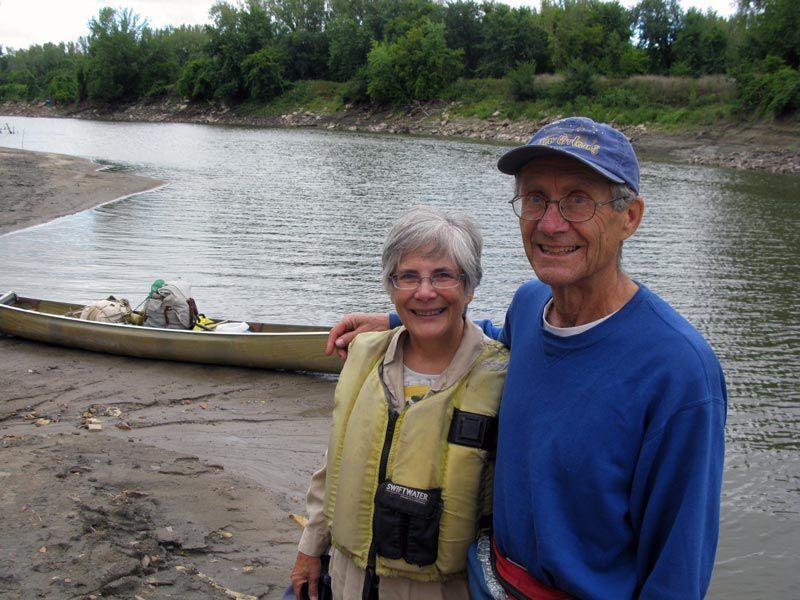 Under the advice of his neurologist, Nelson kept his mind sharp through writing. Between 2014-16, Darby and Geri Nelson paddled coast to coast down the Minnesota River and diligently wrote their observations at various spots. Their account included local sites, such as the confluence of the Rush River, Henderson, High Island Creek and mention of the deformed frogs found at the Ney Nature Center.
"What I've always loved about Darby is he never just thought about things, he would actually do things. He would go on an adventure and bring me along for the ride," said Geri Nelson.
Darby Nelson wrote the entire manuscript for the book himself, while Geri Nelson typed what he had written, but during the revision process, Nelson's symptoms slid from a mild cognitive impairment to Alzheimer's. It was harder for the author to hold onto a line of thought, and Nelson often couldn't decide how he wanted to phrase a sentence in revisions.
The couple sought outside help, and it wasn't until they contacted John Hickman that the Nelsons found someone who could channel Darby's voice. Hickman was not only an editor and filmmaker, he shared Nelson's passion for the Minnesota River as a 25-year conservation activist.
From 1992–94, Hickman served on Governor Arne Carlson's Minnesota River Citizens' Advisory Committee and wrote the recommendations for the committee's influential final report, Working Together: A Plan to Restore the Minnesota River. In 2011, he was an executive producer of the film River Revival: Working Together to Save the Minnesota River.
Over three years of revisions, Hickman aided Nelson in refining the language and organizing the manuscript. Hickman is credited on the cover for his editorial work, but Geri Nelson said the book is Darby Nelson's and Hickman's edits are true to his ideas and voice.