There was no denying the anxiety building inside Faribault junior swimmers Abby Larson and Verity Wray-Raabolle on Friday afternoon in the Section 1A Championships at the Rochester Recreation Center.
Larson and Wray-Raabolle were the final two legs of the 400-yard freestyle relay, and before the pair entered the pool, it was shaping out to be a tight three-team race for two state-qualification spots with Faribault, Mankato East and Mankato West.
The Falcons pair bested the final two swimmers from Mankato West, with Larson swimming a blistering anchor leg of 52.9 seconds, to claim second in 3:44.51 — more than five seconds faster than the team of Larson, Wray-Raabolle, junior Grace Rechtzigel and freshman Ava Nelson swam in Wednesday's preliminaries.
"I love being the last person to dive into the pool," Larson said. "I know my team is counting on me to really push myself to get to the wall as quick as I can before anyone else."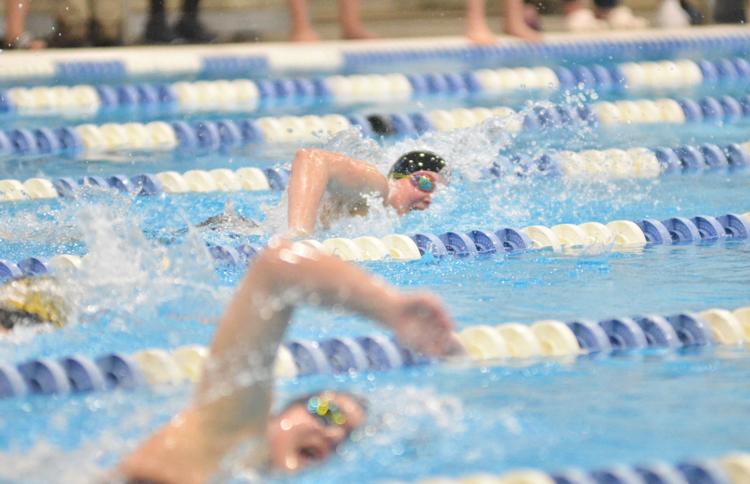 On top of the 400 freestyle relay, the Falcons qualified four other entrants into the Class A state meet Nov. 15 and 16 in the Jean K. Freeman Aquatic Center at the University of Minnesota, with prelims slated for Nov. 15 and the finals scheduled the 16.
Two of those entrants belong to Larson, who won the 200 freestyle in 1:54.73 and the 500 freestyle in 5th:16.66, with the time in the 200 establishing a personal best and a school record. It was the fourth year in a row Larson won section titles in both events, resulting in her being named the Section 1A swimmer of the year for the third year in a row.
"It's always in the back of my mind a little bit, but coming into this today there's so many other great swimmers here that had amazing swims," Larson said. "I didn't know how it would pan out, but just to hear that solidifies everything that I've worked for this year."
Wray-Raabolle qualified in an additional two events as well. She started the meet by leading off the 200 medley relay, which finished fifth but posted a time of 1:53.39 — a tenth of a second faster than the state standard, which automatically qualifies the Falcons for state regardless of their placement.
"It was really nerve-racking," Wray-Raabolle said. "As soon as they finish you look up at the time and it takes you a second for it to register, and then it's like, 'Oh my goodness, that's crazy.'"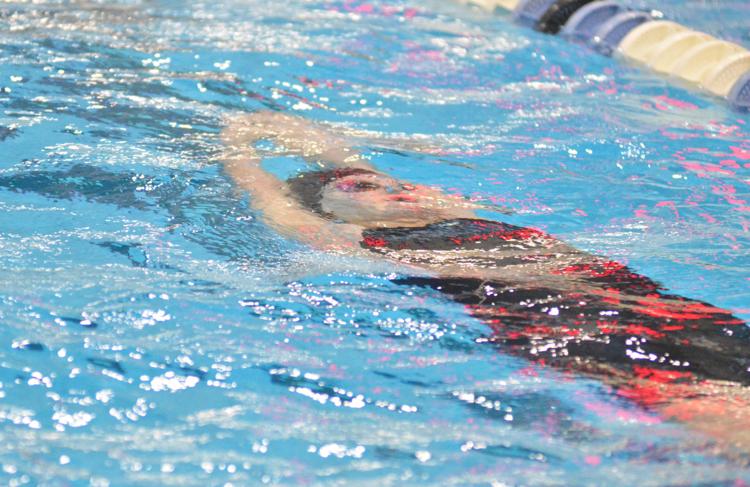 Wray-Raabolle was joined on that relay by Rechtzigel, Nelson and junior Kayla Kenow — a group Faribault coach Charlie Fuller credits for maxing out their potential to creep under the state standard.
Then, Wray-Raabolle sped to a section title in the 100 backstroke in 58.44 seconds to reclaim a crown she won as a freshman but missed out on as a sophomore.
"It was a really great time so I was really, really happy with it, and I knew that I could go faster," Wray-Raabolle said. "It was really, really nice to go a lifetime-best and see it happen again. Like Abby said, that's something you wait for all season. To see the three months of work we put in show up like that, it's wonderful, amazing."
It will be the third straight year Larson and Wray-Raabolle make the trip to Minneapolis together for the state meet, but it will be the first time Rechtzigel, Kenow and Nelson make the journey.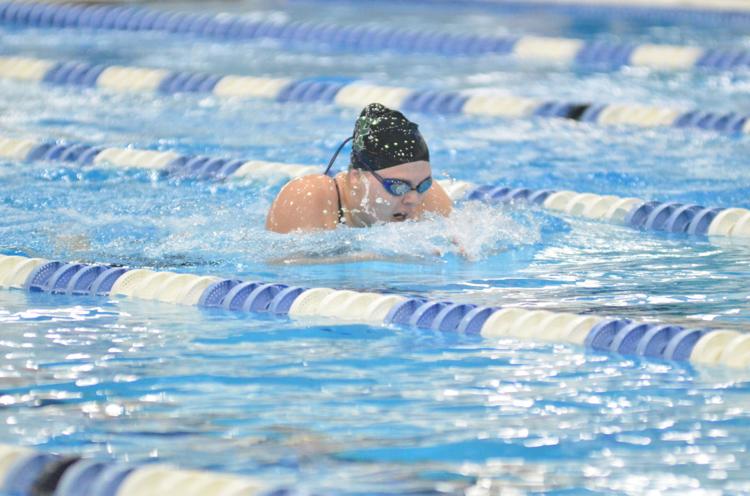 Qualifying that large of a group, and everything else in between, meant Friday was as close to Fuller's version of perfection as possible.
"Everything I wanted to have happen, happened," Fuller said. "You never see that, but everything I wanted to have happened did, and the final thing was having Abby get swimmer of the year. I said, 'Now, I've got everything I wanted.' It just couldn't have played out any better."
Reach Sports Editor Michael Hughes at 645-1106. Follow him on Twitter @NFNewsSports. © Copyright 2019 APG Media of Southern Minnesota. All rights reserved.