It was a pleasant surprise amidst a year full of them.
Medford senior middle hitter Kinsey Cronin recorded her 1,000th career kill Friday against Maple River at Medford High School much to her surprise. Cronin, a starter on the team since her freshman year, knew coming into the season she had a shot at recording 1,000 career kills, but after the season got shortened she thought her chance at the milestone was gone.
"Going into the season I thought I was too far away," Cronin said. "When I got the 1,000th kill my teammates were all hugging me, I was like, 'What are we doing?' I had no idea why it was happening."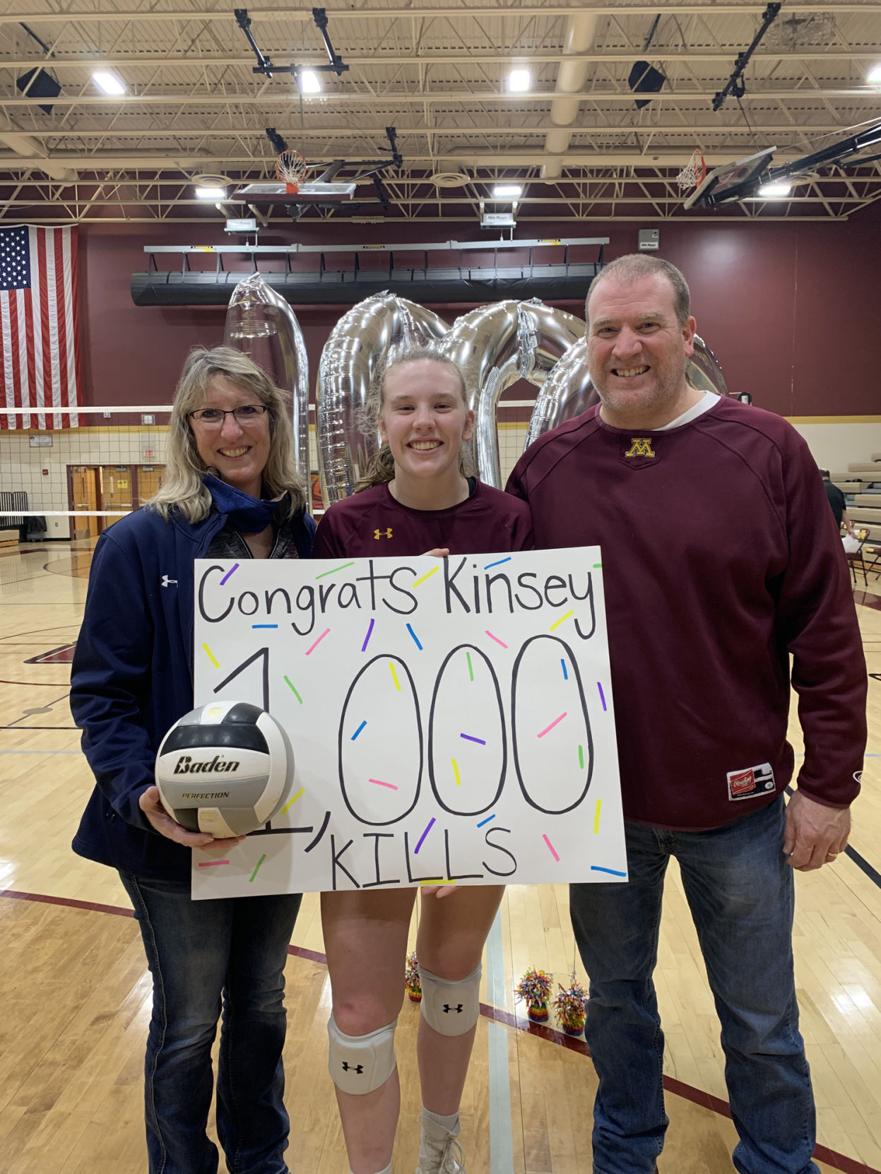 Teammates rushed to hug her while the teams took a break to present Cronin with balloons and reveal posters that were made for the occasion, which coincided with senior night. Cronin entered the match four kills shy of 1,000. She finished the match, a 25-20, 25-19, 25-17 victory, with 17 kills.
Cronin quickly pointed out she couldn't have reached the mark without her teammates. It's a group that ushered in unprecedented success for the volleyball program.
Two years ago, the Tigers advanced to the state tournament for the first time in school history. And Medford didn't settle for just making it to state. The Tigers upset second-seeded and defending state champion Mayer Lutheran in the first round and then third-seeded Belgrade-Brooten-Elrosa in the semifinals. That win set up a matchup with top-seeded and No. 1-ranked Minneota for the Class A state championship. The Vikings prevailed 25-20, 25-14, 25-11 in their first of what became back-to-back championships. Medford finished the season with a 29-6 record.
Cronin captured the attention of commentator Andy Guggisberg, a coach with Northern Lights, who called the opening match of the tournament against Mayer Lutheran. Guggisberg at one point during the match asked for a signed Cronin jersey, Tigers head coach Missy Underdahl said.
Last season, the Tigers returned to the state tournament, this time as the No. 3-seeded team. Medford swept Belgrade-Brooten-Elrosa in the opening round before meeting Gopher Conference rival Waterville-Elysian-Morristown in the semifinals. The second-seeded Buccaneers defeated the Tigers 25-20, 25-20, 25-20 in the fourth meeting of the season between the teams. WEM won each meeting and went on to finish runner-up to Minneota. Medford, meanwhile, defeated fifth-seeded Fosston for third place.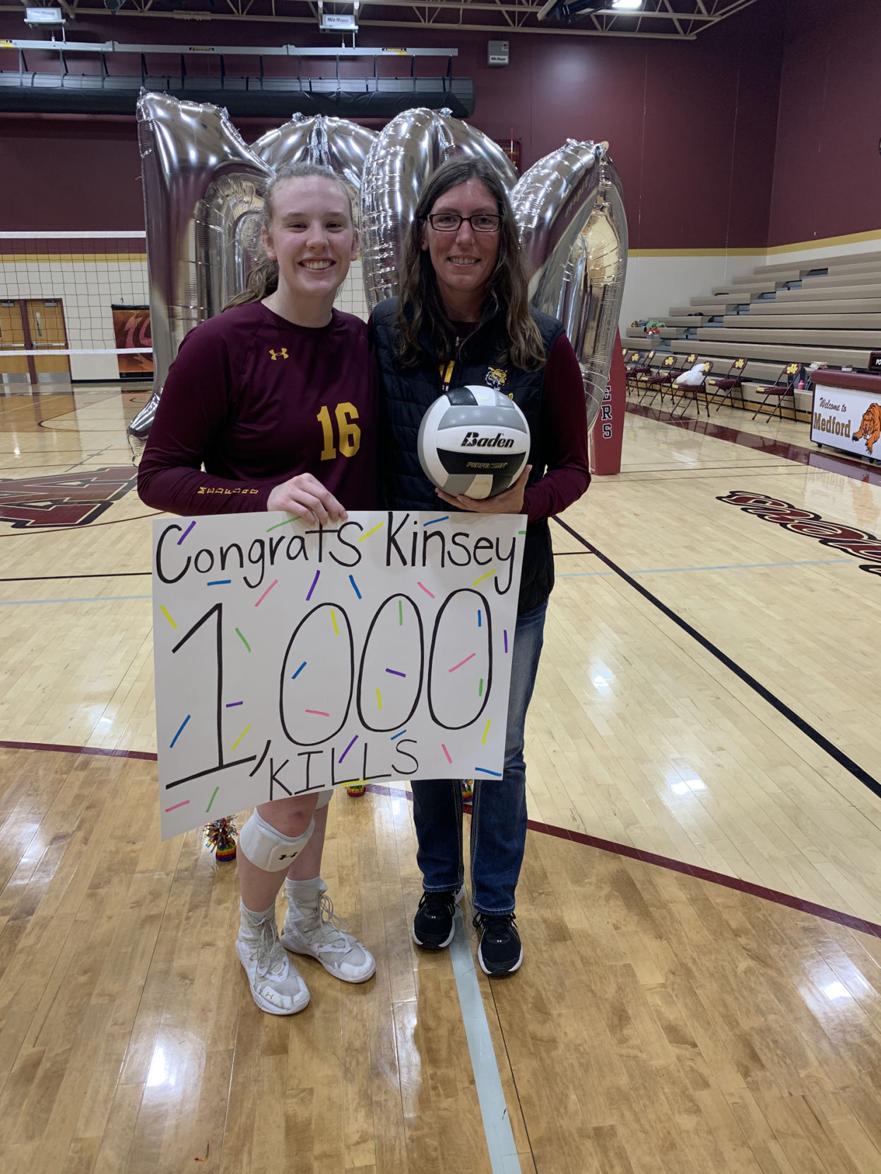 "As a coach looking at it, I was truly blessed to have a group of athletes who had the drive and dedication and the never give up attitude," Underdahl said.
Cronin became a focal point of the offense this season following the graduation of outside hitter Emma Kniefel. Cronin took on the role with aplomb and emerged as the team's leader.
Cronin has come a long way in just a short time on the volleyball court. Up until a couple of seasons ago, Cronin's first sport was basketball. She didn't join club volleyball until last year when she played with Northern Lights Red.
What makes the group's accomplishments more special is that in an age of sport specialization, only Cronin played club volleyball. Much of the roster is filled with three-sport athletes who share a tight-knit bond that has aided the Tigers.
"It is that bond that you create with your teammates," Underdahl said. "If you can take a team and build them together, you can have so much more success."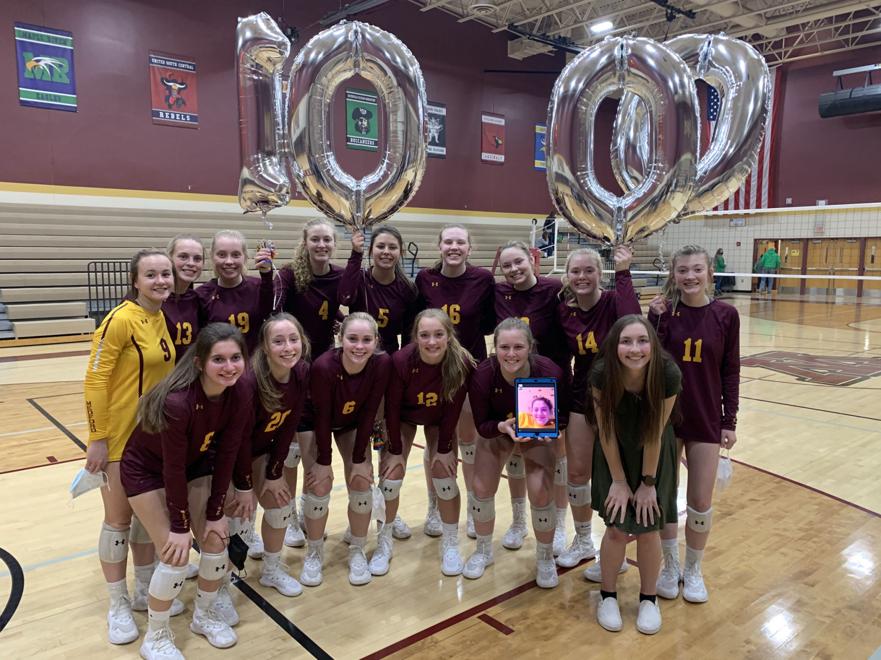 While you can count on Cronin being the loudest on the court following a kill, she's much more reserved away from it. Prior to matches she can be found with her headphones on.
"You wouldn't expect her to be this beast on the court," Underdahl said.
Cronin wants to continue to play volleyball collegiately. Thus far, she's drawn interest from Smith College, a private liberal arts Division-III school in Northampton, Massachusetts. She'd like to pursue a degree in biochemistry and a career as a clinical research physician.
"With the pandemic and my interest in science that sounded like a good plan, to prevent new diseases from coming up," Cronin said
Though her senior season got cut short, Cronin cherishes the victories over Mabel-Canton in the section championships and the upset victory against Mayer Lutheran in the state tournament.
"Knowing at any point we could be shut down, it kind of made each game more special," she said.