While other fall sports are forced to be more mindful of social distancing and might face more stringent rules regulating summer workouts and early-season practices, cross country coaches and runners will have the benefit of participating in a naturally distant sport.
For the Faribault boys and girls cross country programs — that might both be a bit smaller than in years past — that means they can continue any forward momentum already gathered this spring and summer.
On the boys side, the Falcons are projected to field a team of about 15 runners, while the girls team is set to be around 10-12 runners.
"Hopefully we'll get a bunch of newcomers, but you never know," Faribault boys cross country coach Mark Bongers said.
Both programs will also be replacing state qualifiers from last year, with Madelyn Skjeveland off to run at Minnesota State, Mankato, this fall and Mitchell Hanson on his way to run at the University of Wisconsin-River Falls.
Helping to fill in for Skjeveland this year, Faribault will have the benefit of a three-time state qualifier herself in Ruby Gernandt.
"She went to state in past years, but last year because she was injured she didn't make it," Bongers said. "She went in her 10th-grade year and I think her seventh and eighth grade years, so hopefully she gets back in her senior year."
Gabrielle Yetzer was also named to the Big 9 all-conference team last fall as a junior, while incoming freshman Mariana Foxhoven nabbed an all-conference honorable mention as an eighth-grader to help Faribault to a second-place Big 9 finish — the program's highest since 1997.
The boys team might not have the direct benefit of a returning state qualifier, but the Falcons possess a good amount of depth to help make up for Hanson's departure. That starts with Tanner Longshore, who last year consistently clocked the second- or third-fastest Faribault time and has been gaining speed ever since the season ended.
"Tanner Longshore has been doing really well," Bongers said. "He got down below 17 (minutes) this last year, which was great. He was really running really hard and really well in the beginning of the summer, here, and in the spring. He really wants to compete and get to state this next year and I think he has a good chance of getting there."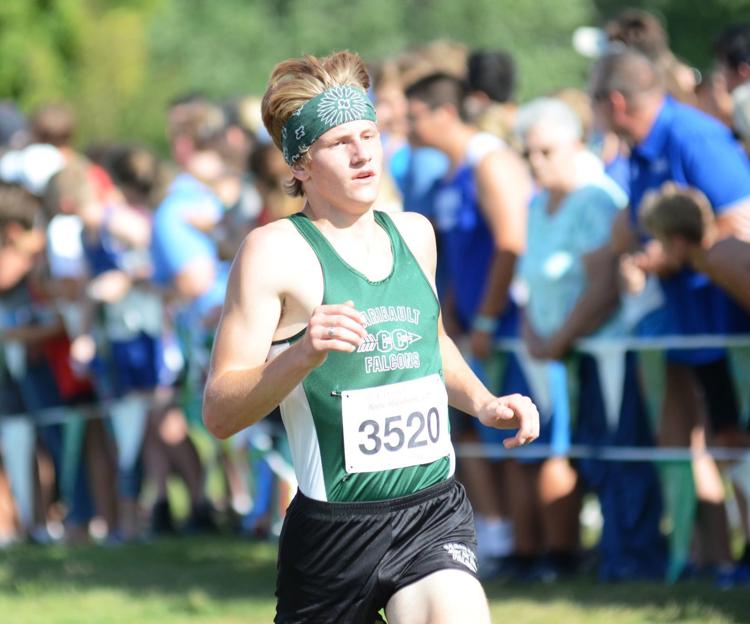 Helping Longshore, who finished 20th at last year's Big 9 meet, will be incoming junior Brody Enget (23rd at Big 9), who helped the Falcons claim fourth at the Big 9 Conference championships last year.
Faribault also finished fourth at last year's Section 1AA championships, with Longshore claiming 21st, Enget 34th and incoming junior Thomas Malecha 41st.