Winning begets more winning.
That's been the case for the Waterville-Elysian-Morristown volleyball team, and especially so with next year's eight-player senior class that has lost only five regular-season matches in the last two years.
"With winning comes confidence and the more you play with confidence the higher your success rate is," W-E-M coach Crystal Lamont said. "It kind of goes hand-in-hand, and the more confident you are the more likely you are to succeed. This group just keeps growing and growing in their confidence the more they have success, not just in volleyball but in all sports."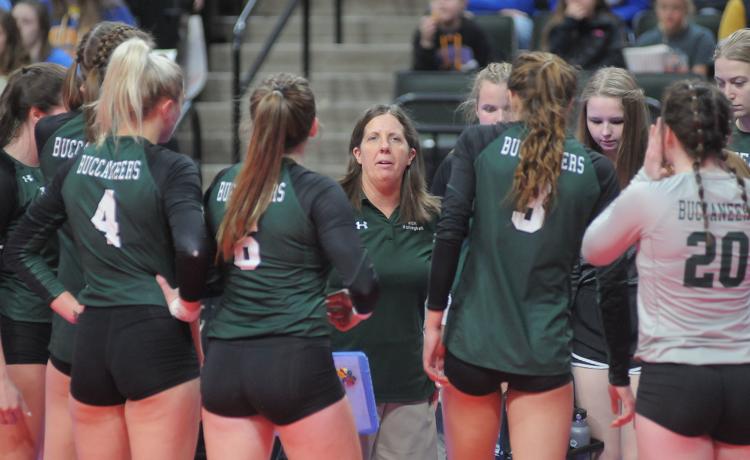 Those seniors helped the Buccaneers finish as last year's Class A runner-ups after a 3-0 loss against two-time defending state champs Minneota in the championship match, and many played major roles in either the girls basketball team qualifying for the 2020 Class A state tournament or the softball team advancing to the 2019 Class A state tournament.
Now, the senior group of Lindsay Condon, Lily Grohman, Ella Michael, Kylie Pittmann, Ellie Ready, Toryn Richards, Allison Rients and Autumn Taylor is set begin a barn-storming farewell tour this fall.
"This is a team that really has just gelled together as a group and I think that helps them," Lamont said. "They're obviously very good athletes as well. Not overly tall, not exceptionally fast, but just athletic in all areas and just play as a team."
Losing only two seniors — Delaney Donahue and Trista Hering — from last year, W-E-M projects to sustain that level of success.
The Buccaneers figure to be in the thick of a tightly-contested battle for the Gopher Conference championship — which W-E-M claimed last year by one match thanks to a sweep of Medford — and do the same in a highly-competitive Section 2A — which W-E-M won last year with a dramatic five-set victory against Mayer Lutheran.
Backing up that senior class are healthy numbers throughout all levels, Lamont said, even if that younger group will be bottlenecked into only a couple open spots on the varsity floor this year.
"We know we've got some athletic kids coming up in the younger groups, but there's not a lot of high turnover at the varsity level since we're only graduating two (seniors)," Lamont said. "That should make for a fun fall."
While Lamont said participation numbers from varsity to youth levels have always been strong since she took over the program prior to the 2007 season, they also received a slight uptick after the Buccaneers won their first state title in program history in 2015.
If this year's group is able to continue, and possibly build, off the success from the past two seasons, the cupboards should remain fully stocked for the foreseeable future.
"The younger kids get very excited, and we run a lot of youth camp programs and have a youth fall league and our junior olympic program in the spring as well," Lamont said. "You see an initial surge, but with WEM being a small community we tend to have pretty high numbers in our youth programs and have sustained them over the years."