St. Peter-area locals are taking to the air and the ground on a smaller-sized scale.
Logan Miller, 26, and Rickey Biehn, 28, both are area residents and St. Peter High School graduates, joined the Key City Bald Eagles flying club this year, making new friends flying radio controlled model airplanes at the Lake Crystal flying field. They are two of the youngest members in the 16-member club.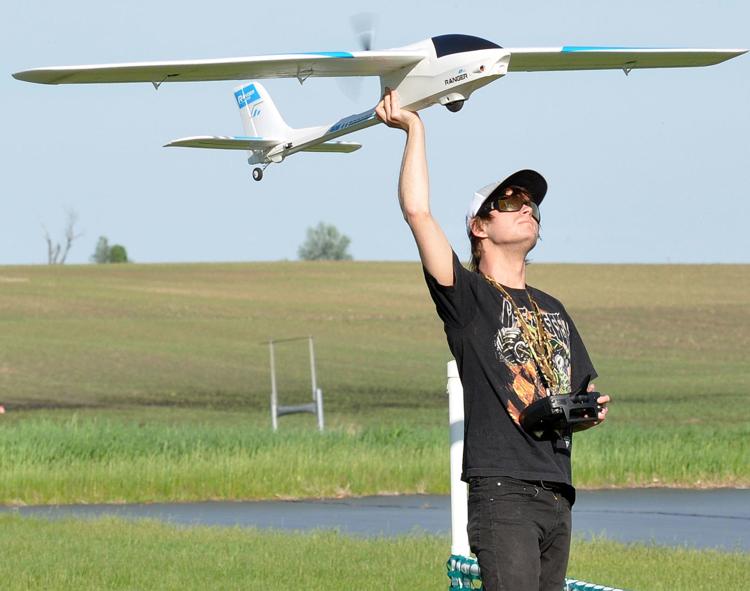 Key City not only has a runway, it has a model car dirt track that opened last year and a rock crawling car course, an extreme form of off-road driving using highly modified four-wheel-drive vehicles over very harsh terrain.
Flying for 12 years, Miller finally joined the club in January.
"I usually fly on an old country gravel road in front of my house and on Lake Washington when it's froze over," he said.
Biehn started flying at about age 10 when his parents bought him a toy Air Hog radio-controlled plane.
"I've always loved it," he said. "We used to live out on the Kasota Prairie, so we had plenty of field room. I flew drones for a couple of years."
Although Miller and Biehn haven't gotten into cars yet, they're thinking about it. On a recent outing, while members raced cars, they each stood on opposite ends of the track turning cars right side up that flipped over.
"I haven't done cars yet," Miller said, "but every time they come out here, they keep me getting more interested. It's just a matter of time."
Biehn said car racing "looks like a fun thing to do. I might have to someday."
"The cars are taking off," President Layne Johnson said. "We've been having a lot of fun with those. If it's windy, they can still race cars." They also can race cars in summer and winter.
"We built a track out here in the winter," Johnson said. "We got the snowblower out and made a nice oval track. We studded up our tires and we were drifting the corners. It was a lot of fun. We fly year round, too. If they snow isn't too bad. We still get out several times during the winter."
Most of other members are model car enthusiasts, including Jim Clouss, of Madison Lake.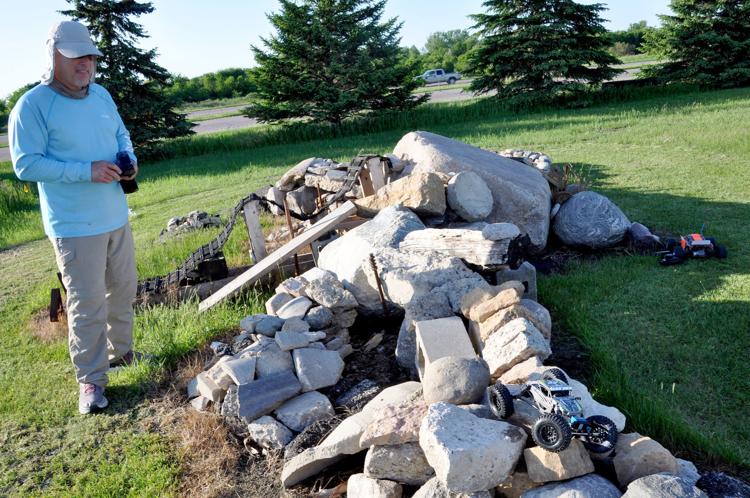 He created the rock crawling course in which vehicles try to make their way over and around a variety of sizes and shapes of rocks. The cars can crawl up and down the rocks. Regular-sized vehicles also do this sport.
"It's a huge phenomenon in the country," Clouss said. "It's bigger than airplanes. It's very slow and methodical. It's the opposite of all this other stuff. You make it if you're still standing upright. There's a technique to driving them. It takes a bit of finesse, and you choose your route through the rocks. The last part is the hardest."
The articulation in the axle is unbelievable, Clous said, as he maneuvered a truck over the rocks.
Also a radio-controlled airplane flying enthusiast for a dozen years, Clous said they have become more flier friendly, such as how they automatically adjust to the wind.
"It makes all of these hobbies so fun because there is so much technology can do to make all of these things work better, like all of those planes have a giro in it, and it's correcting for the wind," Clous said. "It's easier for people to learn to fly today than it was years ago. They even have radios that will take off the plane and land it now. And it will stay within a defined area."
But it's still a learning experience for beginning pilots, who often crash multiple planes before they have a successful flight.
"We run them. We break them, and we fix them, and that's all part of the fun," Clous said. "And then we modify them."
Miller added, "I've smashed five planes before I was able to make one last. It's expensive."
Learning to fly, Biehn said, "I probably crashed close to five or six planes before I considered myself a pilot. It takes a lot of practice. It's not an easy thing to learn, but nowadays they have a lot easier things to fly. They have a safe mode where it all levels itself."
Miller and Biehn have experience flying together in the wind. Miller lives on Lake Washington (with Biehn not too far away, closer to Mankato).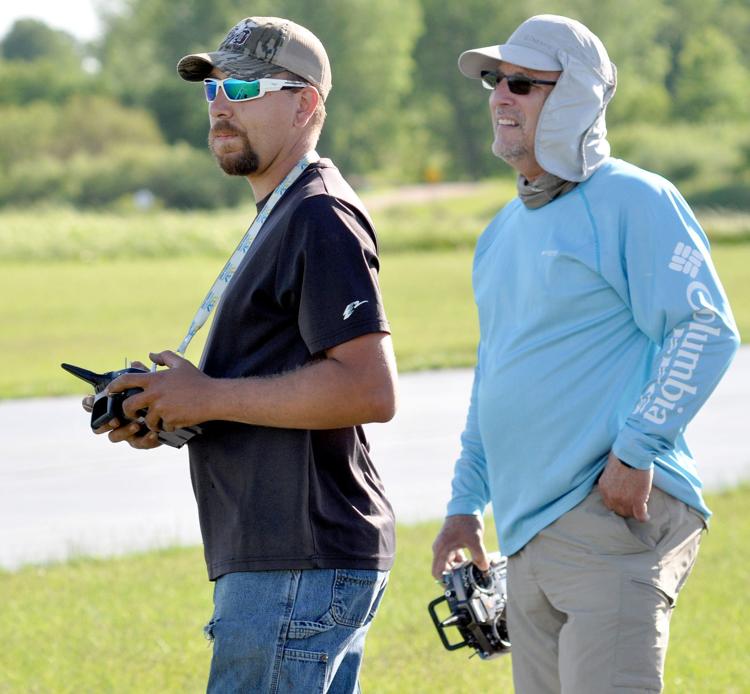 "I've gotten pretty good with flying in the wind, being on the lake where it seems like there's always wind. It's nerve racking in the wind," Miller said after landing his glider in the grass in 20 mph gusts. "With the wind today, it's super bouncy, so you've got all this draft coming off the ground. Then it gets a lot harder to aim, plus we have a cross wind. I'm going to try to get 'em on the ground today in one piece."
Miller broke his landing gear landing recently.
"He's crashed five or six times, and he keeps putting it back together," Biehn said.
Miller added, "This year alone, I've been halfway to that red barn twice laying on the ground. Had a radio malfunction the first time and it crashed. The second time one of my electronics in the plan failed, so I ended up crashing."
Also flying on that windy evening, Biehn managed to land his plane softly without any damage.
"It was difficult," Biehn said. "A lot of updraft, but I had a soft landing in the grass. I had to add a lot of weight to the nose of the plane to keep the nose down. I'm not an expert, but I fly in the wind on occasion."
Club President Johnson, 64, of Lake Crystal agrees that is a challenging sport to learn.
"When I started it was a lot of crashing," Johnson said. "But nowadays we can buddy box and put transmitters together. If you want to fly, I just take my own plane out there. I have a transmitter and buddy box to it. I have a button on my radio, and 'OK it's your plane now.' I can release the button and gain control again. I've been an instructor for 30 years. I've trained in a lot of guys. I always start on my plane first. When they get good at it, we'll guide them into what plane to buy, so they've got a fighting chance of learning the hobby."
Some of the members, including Rick Rahmeyer, of Lake Crystal, are actual pilots, and he said it's more difficult to fly a model airplane. "Flying the big ones is easier than flying one of these. You have more depth perception when you're sitting in a plane. Out here you don't have that. It was really hard for me to learn."
Most pilots have multiple planes.
Johnson has 39 that are flyable. And he has four cars and a tank.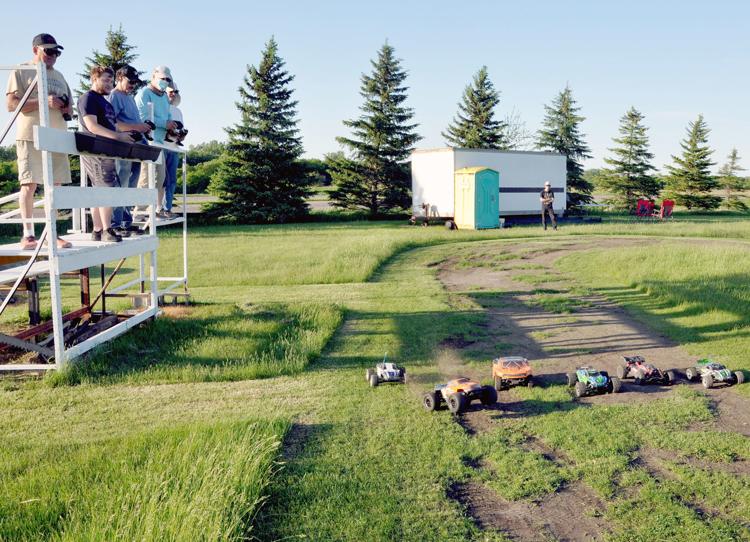 "There's so much for sale now, because a lot of people are getting older," Johnson said. "It's an older man's hobby, and people are dying off. You can get it for 25 cents on the dollar, and it's in perfect shape. That's why I have 39 airplanes because I keep buying them off."
Miller said he has "five planes that fly, and I'm in the process of building another one. First one I've built. The rest I bought already put together. Building is fun. It's something different to do. You don't have to work on it all day. I'd prefer to build them. You get more satisfaction out of it. As long as it flies when I'm done, I'll be happy."
Biehn buys his planes pre-assembled, so all he has to do it put in the electronics. His planes are made of foam or plastic. Some are balsa, which is a lightweight wood.
"Most guys are not building their own plans now," Johnson said. "Most are buying them almost ready to fly or ready to fly. They come right out of the box with everything you. You put a battery in, and they're ready to go."
Clous said model airplanes and cars are relatively affordable today.
Johnson said a basic flying starter package is $400: "It's been that way since I started in 1993. Four hundred bucks can get you a membership ($45) for the club, the Academy of Model Aeronautics (AMA) insurance and a real basic airplane and radio."
AMA insures the flying field and fights for model airplane enthusiasts in Congress. AMA makes sure they don't take their radio frequencies.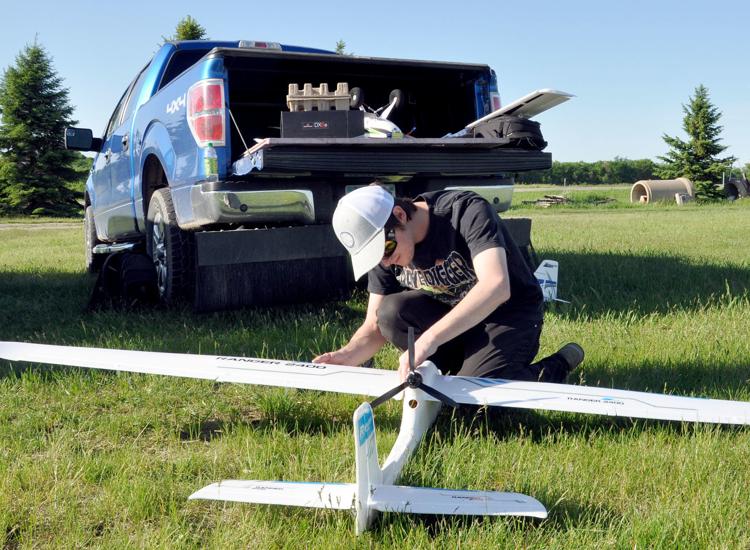 Biehn said he bought a plane for $200, plus $30 for a battery. He started out flying a drone.
"I have a drone," he said. "I don't fly it as much as I used to. It's a fun thing to have, too. Drones are able to take pictures and videos. I bring it with me when I ride my motorcycle. Drones are a lot easier to fly."
However, he added, "Flying airplanes is more fun."
Miller has never flown a drone, but said, "It's definitely more interesting in the six wing actually flying it. Eventually I'd like to fly a 3D pattern flying tricks and aerobatics in a circle or figure 8s, snap rolls, avalanches, flat spins and inverted flying."
Miller likes flying because it's "a challenge, learning new planes, new tricks, trying different stuff. It's just fun to come out and meet new people and travel around to different clubs. I'd like to travel to some of the bigger shows eventually. For now, I stick within an hour of home and meet different people. I went to Owatonna a couple of times and ended up joining their club."
Biehn said flying is kind of a thrill: "It's something I've always liked since I was a kid."
Although he started out learning my himself, Biehn has gotten a lot of help from the more experienced pilots.
"I like learning from these guys," he said. "They've been doing it a lot longer than I have. This is the first one I've been a part of, so I'm learning a lot."
Biehn thinks other people should get involved in flying, because "You get to enjoy the outdoors, you meet a lot of friendly people. It's a really relaxing thing to do, too."
The club is a mixture of young and old members, and Johnson welcomes newcomers.
"They're always welcome to join the club, and we'll train them in," Johnson said. You don't have to have a plane. I just put them up on mine. At least give them a try to see if they want to go into it more. Once they get a plane, they can join the club. On private property, anyone who flies here has to be a member."
They usually do a half dozen picnic outings a year, and then they cap it off with a campfire and have planes they fly at night. Everybody in the club finds out the schedule when people are coming on a group text.
They also can practice on their own, but it's not as fun, Johnson said. "It's a social event. I'm a member of four different clubs and traveled to events all over the United States and everywhere I go, I meet nice people.
He continued "We're not country club style people. We like to do stuff with our hands. There's a lot of stuff we can do with the airplanes. You build on them, you're tweaking on them constantly and making them better. It's a lot of hands on in the shop, tinkering to make them faster and more maneuverable.
"There's so many different things. There's float flying. You can fly off snow with skies. You can piggyback a glider off another airplane. There's scale models. What people build with scale is unbelievable. It's artwork you can play with. It's absolutely limitless what you can do with this hobby. I fly helicopters. I flew soaring planes, gliders, I travel out west to fly in South Dakota. I went up to Bemidji for a float fly. And we can combine camping with it. A lot of these places have camps right at the flying field. I can put two hobbies together."