Through all the stops, starts and reschedules, Kenyon-Wanamingo football coach Jake Wieme wants to emphasize one thing: he's happy there was a season to be stopped and started at all.
"First of all, we're just happy we got to have a season," Wieme said. "It was up and down and here and there, but we had a good group of juniors and seniors that were happy to have a chance to play football, and they put a lot of time and effort leading up to it this year. I thought overall it was a very good season."
The season started with a 20-12 loss at Goodhue in Week 1, and ended with a 16-6 defeat at Triton in the first (and ultimately final) round of the Section 1AA playoffs. Those were the only two losses the season for the Knights, who won their other three games in order with the help of a defense that surrendered only seven points in those three contests to shoot into the Class AA state rankings.
K-W (3-2) shut out both Fillmore Central and Randolph — the latter of which upset Goodhue 22-20 in the Section 1A playoffs — and allowed a touchdown to Bethlehem Academy in a 20-7 victory.
"Those first four games, the defense was great," Wieme said. "The nice thing about our defense is they were able to adapt to some different changes from week-to-week. One week we played zone defense, one week we played man defense, one week we played a 3-5 and the next week we played a 4-4. The guys were very willing to learn and make changes and able to use those changes and put them to use on the field."
Individually, Carter Quam headlined the defensive effort for the Knights 33 solo tackles and 17 assisted tackles, both of which were team-highs. He also picked up a pair of sacks.
Alec Johnson and Owen Hilke both finished with 18 solo tackles, while Hilke also powered to three sacks, and forced and recovered a fumble. Evan Brossard tallied 19 solo tackles and seven assisted tackles, while Bray Olson finished with 17 solo tackles and 10 assisted tackles.
In the secondary, Trevor Steberg snatched a team-high four interceptions, while Tyler Craig and Laden Nerison both snagged an interception as well.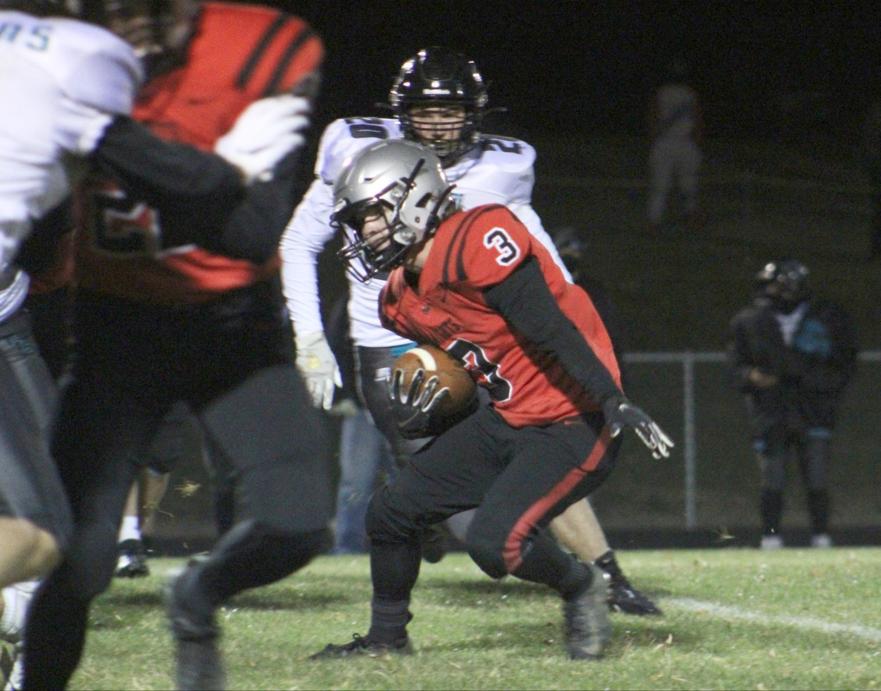 Offensively, Craig was the team's motor out of the backfield.
The running back finished with 457 yards on 108 carries in addition to a team-high six touchdowns. Quarterback Luke Berg also scored three times on the ground to supplement his efforts through the air, where he completed 29 of 65 passes for 524 yards and touchdown and three interceptions.
Olson also added 192 rushing yards on 40 carries. On the outside, Casey Wesbur hauled in 12 receptions for 142 yards and a touchdowns, while Nerison grabbed eight receptions for 187 yards.
The offensive production peaked against Randolph in a 37-0 victory, which preceded a two-and-a-half-week stretch in which K-W was unable to take the field again before the section tournament due to COVID-19.
"The adversity the kids dealt with this year with shutting things down for two weeks, not having a season and having a season, I thought they did a great job of dealing with those highs and lows and rising to the challenges of getting to play when they got to play," Wieme said. "Those are things they're going to take away. They might not realize it right now, but those are things that are going to make them great people down the road, great husbands, great fathers. It was good to see they handled that and dealt with that very well."
Even after the forced and extended layoff, Wieme said he was proud of the way the Knights pushed Triton in the section tournament.
"I thought our guys did a good job, especially with that Triton game," Wieme said. "To be off for two weeks and not know if the game was even going to happen, but they came to practice every day and worked at what we wanted to accomplish, and I thought we had a very good game with Triton and almost won it."