With seven seniors returning this season, Dean Weasler said he feels his Faribault boys hockey team is well equipped to handle the challenges posed by an altered 2021 season.
After practice starts Jan. 4, the Falcons will play in their first game 10 days later at home against Rochester Lourdes and two days later face off with Big 9 Conference title contender Owatonna.
"We're going to have to get after it right away," Weasler said.
That's where those seven seniors come in, including defenseman Jordan Nawrocki, who has been playing and starting with the Steele County Blades in the USPHL since early October. While playing in all 21 of the team's games, Nawrocki has racked up seven goals and 11 assists.
Last year, Nawrocki notched 13 goals and 18 assists in 25 games for a total of 31 points, which was the second-highest point total for the Falcons.
"He'll be playing mainly defense this year again, but I expect to see some additional scoring out of him," Weasler said. "He's been skating and playing junior hockey this whole time, so I expect him to be ready to go."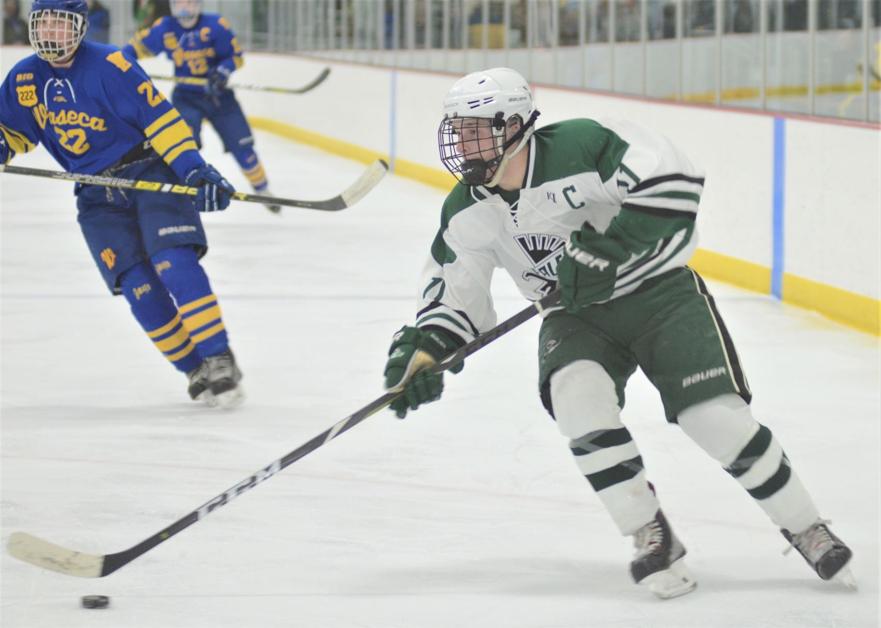 Faribault also returns its leading scorer from last year with senior forward Zach Siegert, who piled up 25 goals and 15 assists in 25 games, in addition to junior forward Zach Slinger (16 goals, 7 assists) and junior defenseman Grady Goodwin (7 goals, 10 assists).
"'I'd also like by see (senior forward) Kory Johnson throw a few more pucks to the net, (senior forward) Brody Pavel throw a few more pucks to the net," Weasler said. "Those guys are all capable of getting chances, we just have to find a way to bury them this year."
One area where the Falcons will lack returning experience is in net, where they graduated both of their primary goalies from a year ago.
Junior Jack Knutson played sparingly last year, while sophomore Maclain Weasler will form the other half of the goaltending tandem.
Together, Faribault will look to build upon last year's fifth-place finish in the Big 9, which might be wide open this season. After Rochester Century won back-to-back conference titles in which it did not lose a regular-season conference game, it graduates nine seniors including a trio of players that scored 87 of the team's 135 goals.
Second-place Owatonna graduates its starting goalie but returns both of senior Dom Valento and senior Zach Kubicek, who combined for 43 goals and 39 assists last year and each played nine games with the Steele County Blades this fall, while third-place Northfield also graduates its starting goalie but brings back seven of its top eight payers in terms of points, including senior Carson Van Zuilen and junior Spencer Klotz, who both reached the 50-point mark a year ago.
"This year is a complete unknown," Weasler said. "There's other teams that graduated a lot of guys, we're set to play Owatonna right out of the gate, we're set to not play Northfield until the second-to-last game. We don't have any non-conference or non-section games scheduled. I think we're competitive with the top half of the league and can make some noise. We made some noise last year and I think we can continue on that momentum."