Each one of Mia Potter's 816 digs this season started well before she made contact with the ball.
The Bethlehem Academy senior stepped in as the starting libero for the Cardinals for the first time this season and was well prepared for the shift in position thanks to, well, her preparation.
That early prep work and laser-focused attentiveness made it so by the time an opposing attacker struck the ball, Potter was already on her way to keeping the ball off the floor and delivering a pass to set up her own team's attack.
"A big part of it is reading the ball before it actually comes," Potter said. "A lot of times their shoulders will tell where they're hitting it or if they don't show a big swing and go for a tip, you can cheat up a little bit. Their shoulders just shows you where they're going to swing, so it's easier to get under it."
That's part of the reason Potter was named the Faribault Daily News All-Area Volleyball Player of the Year, and why Bethlehem Academy coach Chris Bothun was so confident in Potter's ability to step in as the team's starting libero for the first time this season. Last year as a junior, Potter played at just about every spot on the back row, and even rotated in as a right-side hitter, but she was behind Brianna Radatz on the libero depth chart.
Potter's work as a junior varsity libero, and her experience playing the position with her club team, Northern Lights, meant that she grabbed onto the role and never let go during the team's summer workouts.
"We knew with our summer workouts that she would be our top choice," Bothun said. "She works really hard. She's a great communicator in the back row and she reads well. We were pretty confident with her."
That confidence was rewarded, as Potter spearheaded a defensive back row and serve-receive that not only kept the ball off the floor, but set the Cardinals up for big swings a few seconds later.
In that serve-receive, Potter partnered primarily with junior Kate Trump. The pair adjusted to each other quickly to form one of the most efficient serve-receive units in the area.
"I think a lot of it is her communication and her ability to adjust and make adjustments," Bothun said. "Her and Kate, we did a two-person serve-receive most of the year, and they did a great job talking to each other between down balls and just making adjustments they needed to make."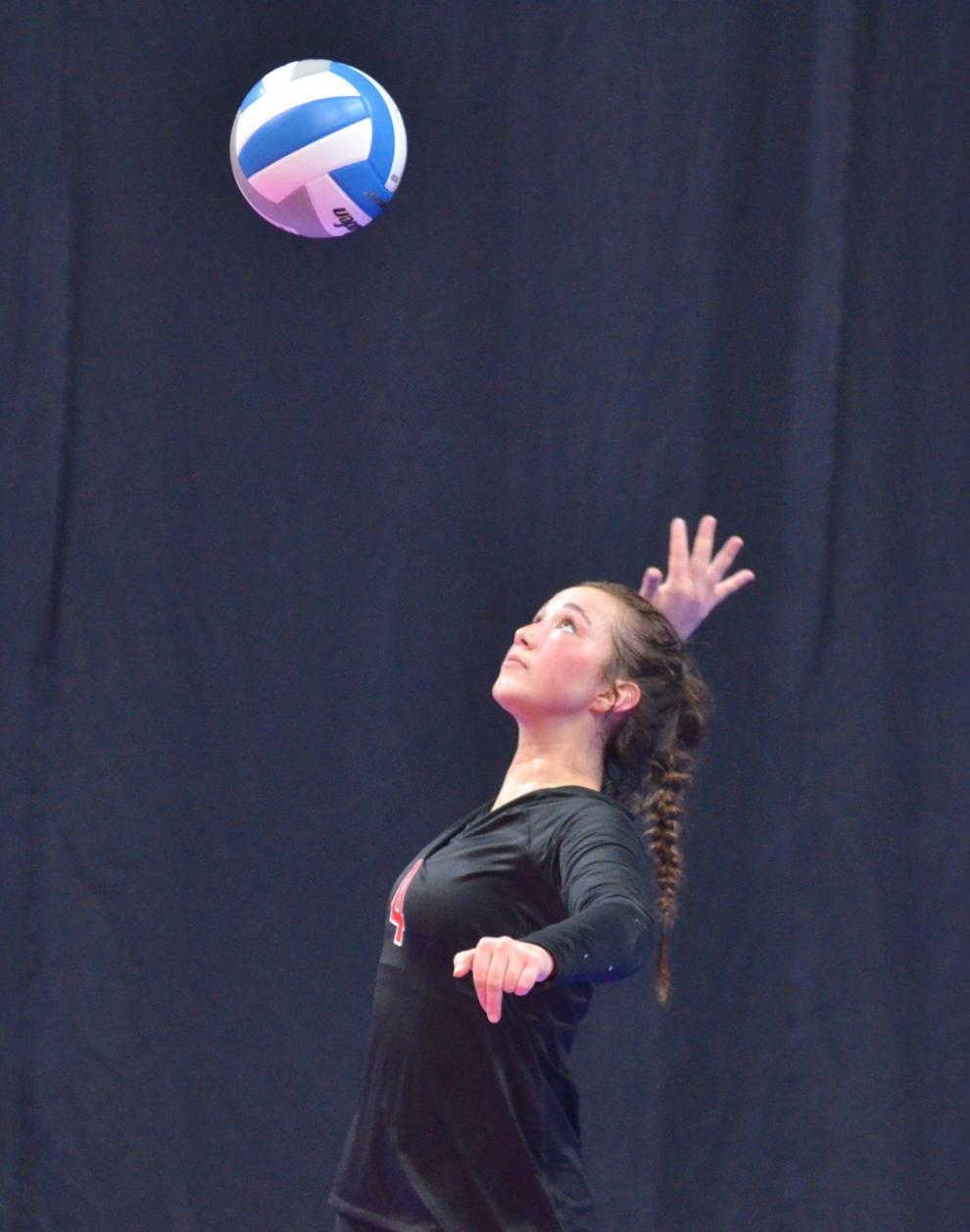 A serve-receive is categorized into three scores. A three means the player delivered a pinpoint pass to the team's setter to allow the attack to flow to any number of options. A two means the pass was on target, but the setter only has a couple options, while a one means the pass was delivered to a player other than the setter, or the setter only has one place to set the ball. A score of zero results in an ace.
In 762 serve-receive attempts this season, Potter allowed only 27 aces and delivered just 75 passes rated as a one, while dishing out 464 passes (61%) that rated as a three.
"Before they serve it I tell myself I want the ball and I want the serve-receive," Potter said. "I know there are some people when they step back for serve-receive, they don't want the ball to come to them. I used to be like that, but I switched my mindset and that really helped my serve-receive game."
In terms of digs, Potter's standout senior season allowed her to reach the 1,000-dig mark for her career despite starting this fall with only 202 career digs.
She reached the milestone in her final match, a four-set victory against Walker-Hackensack-Akeley in the Class A third-place match.
"I think we ended pretty much the best way possible, and I'm really proud of myself and my team for making it as far we did," Potter said. "With my 1,000th dig, I couldn't have done that without my team. I wouldn't have got there unless we had made it to state."
While Potter credits the rest of her team with allowing her the opportunity to play that many matches, the Cardinals likely don't reach that point without Potter stepping in so seamlessly as the team's libero.
"She was a big component of our success," Bothun said. "She's also one of our top servers and reliable and consistent servers. Just her defense, she had over 800 digs and that's very good for a season. She reads the ball really well and is able to make the play we need her to make at important times."