After last season's disappointment, Toryn Richards was determined to get back to work.
She and the Waterville-Elysian-Morristown volleyball team lost only three times in 37 matches last season. The final defeat in the 2019 Class A state championship against Minneota squashed a chance at the program's second state title.
So, even throughout a spring and summer dominated by COVID-19, Richards continued working to make sure she was ready for a potential rematch against the Vikings. That didn't come in the state tournament, which was canceled, but Richards still ended her high school volleyball career with a 3-1 triumph against Minneota to cap off an undefeated senior season.
"She took a big step forward from last year to this year," W-E-M coach Crystal Lamont said. "She was a very good player last year, but you could tell she added some strength and a little bit more to her vertical and became more of a powerful hitter this year and she fine tuned her placement. It's disappointing we didn't get to have a full regular season and a state tournament, because she could have put together one of the best seasons that we have had here."
Even without a full regular season, Richards still posted a stat line with 196 kills, 142 digs and 14 aces in only 11 matches. That, along with impressive career numbers that include more than 1,000 kills and 1,000 digs, was more than enough for Richards to earn the honor of Faribault Daily News All-Area Player of the Year.
That's even led to opportunities to continue playing after high school. Richards is considering offers to play volleyball at St. Thomas, Concordia-St. Paul, North Dakota State and Minnesota State, Mankato.
"I'm just very proud of the career she's put together," Lamont said. "It's a very small list of players that have achieved 1,000 kills and 1,000 digs. I think she's the third player to do it at our school, and it takes a special player to do that."
Richards' diverse stat line is a byproduct of a lengthy high school career in which she played all over the court. While she finished her senior year as a fearsome outside hitter, Richards first stepped onto a varsity court as an eighth-grader that didn't possess the size or strength to fill that role on a varsity level.
Entering the starting rotation for the first time as a freshman, Richards posted a career-high 494 digs. As a freshman and sophomore, she started to garner offensive opportunities at the net, but struggled with efficiency compared to what was coming in her final two seasons.
"The game's a lot faster when you're going from junior high to varsity all of a sudden," Richards said. "I had good teammates along the way that helped me out and everyone was always really nice to me and helped support me, but it was definitely a transition. You have to know your place when you're that young and you have to let yourself be coachable to learn. You don't know that much and there was a lot I needed to learn very fast."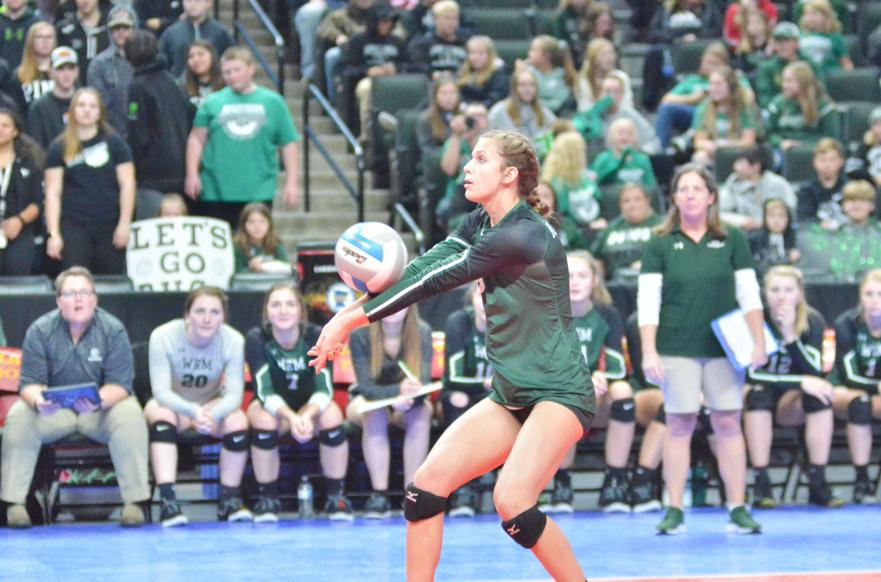 Toward the end of her sophomore year, Richards said the mental part of the game started to come into focus. She recognized what the opposition's block was setting up for, and began processing how she needed to adjust her attack accordingly.
As a sophomore, Richards was part of a team with nine seniors. That meant entering her junior year, she went from a secondary option to the primary source of W-E-M's offense.
"Last year it needed to become her team," Lamont said. "She needed to take over and become the top player on the team and lead us on the court as far as her work ethic and all-around play."
With 416 kills and a .308 hitting percentage, Richards accepted and handled that extra responsibility. She even tallied 406 digs and 20.5 blocks, in addition to 41 aces and a 96.1% serving percentage.
"Everything just changed so much," Richards said. "I know the game more now. It's just knowing volleyball more because I've seen it so many times and played it so many times."
That expanded role extended past her on-court production. With that many seniors departing, there was a leadership void for the Buccaneers. As a captain through the last two seasons, Richards stepped into that capacity with lessons learned from her sophomore season.
Richards credits Alexis Morsching with setting the example of the importance of communication to the entire team in a variety of situations.
Lamont also credits Richards, and the entire senior class, for their accomplishments off the court, where the seniors finished with a cumulative grade point average of 3.9 and continued what's evolving into a storied tradition for the volleyball program.
"Toryn's a tremendous role model for everyone at our school," Lamont added. "She's a great athlete and an all-state player in all three sports — volleyball, basketball and track. Away from volleyball, she's involved in a lot of extracurriculars like choir and she's made it to some state competitions for art. She's involved in her church and some other community events, so she's just a very well-rounded young lady."