Ray Sanders has always been able to relive large parts of the past 40 years by just peering into a box in his garage.
That box wasn't a portal or time travel device officially, but rather a simple cardboard box filled with baseballs signed by Faribault's American Legion baseball teams and delivered to Sanders, Post 43's baseball chairman for the past 40 years.
Now, Sanders is sharing his time travel skills with anyone that visits the Rice County Historical Society, donating his box of 26 signed baseballs to be displayed to the public.
"I've been a (Legion) member 69 years and next year will be my 70th year," Sanders said. "Half of my life has been around baseball, and that's really my pride and joy because I love baseball and I spent most of my time at Bell Field and other area fields around."
Sanders, 92, proudly said he was first affiliated with Faribault's American Legion baseball team during the summers of 1945 and 1946, when a high-school aged Sanders took the field for Faribault.
Two of his sons also played for Post 43 while he was baseball chairman, but Sanders said he and his wife Mary Anne's fandom with the Legion baseball program extended well beyond blood relatives.
"Legion is my second home," said Sanders, who joked that he was initially upset when his father first told him the family was moving from Northfield to Faribault prior to his sophomore year of high school.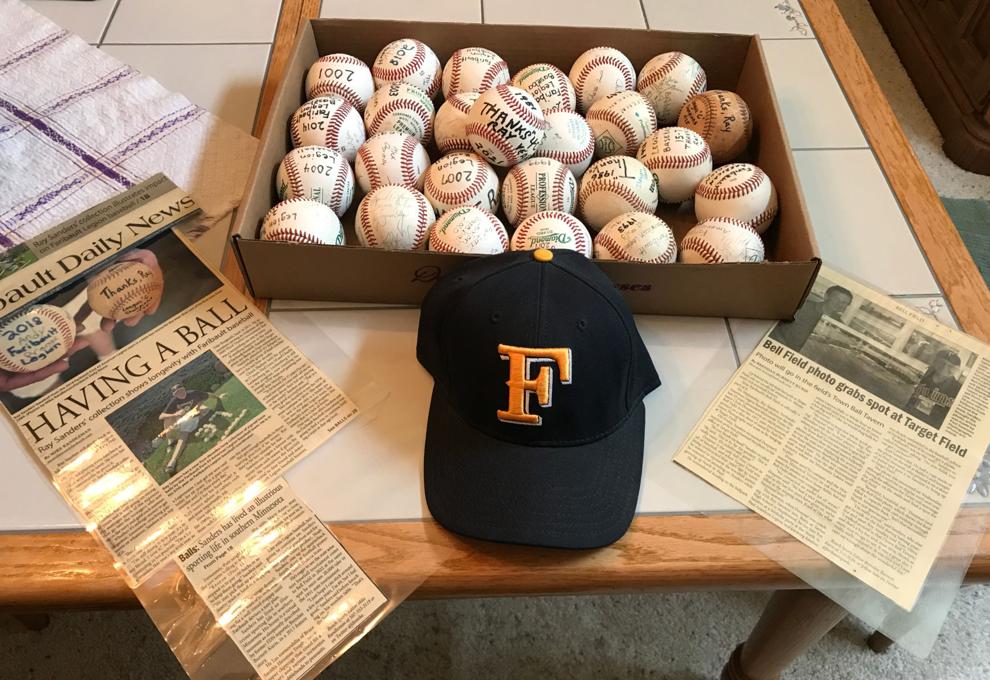 Speaking from his home Thursday afternoon, Sanders traveled through time to recall various memories surrounding his time with Legion baseball. He picked up the ball from 1985, when Faribault won the League C championship.
"This is one of my oldest ones back from 1985," Sanders said. "You can tell from the color."
Then there was 2011, when that year's group helped honor Dale Borgstahl, who Sanders calls a friend and strident supporter supporter of Legion baseball up until his death prior to that season.
The team dedicated a game to Borgstahl, complete with one of his daughters singing the national anthem and one of his sons firing the first pitch.
"That was probably one of my highlights," Sanders said.
Sanders, who was inducted into the Faribault High School Hall of Fame in 2019, insists there are far too many highlights to recount.
That was due in large part to the class of coaches he's worked with as Legion baseball chairman, from Ned Louis, who was one of the first to gift Sanders with a signed ball every year, to the current coach Charlie Lechtenberg.
Those handful of coaches made Sanders' job much easier, he said, and allowed those positive memories to multiply.
"There's been so many good things," Sanders said. "One of the things I remember from the last 40 years is that in all those 40 years I never had one parent call me and criticize the program or why their kid wasn't playing or something with Legion baseball. When you can say that, that's something."