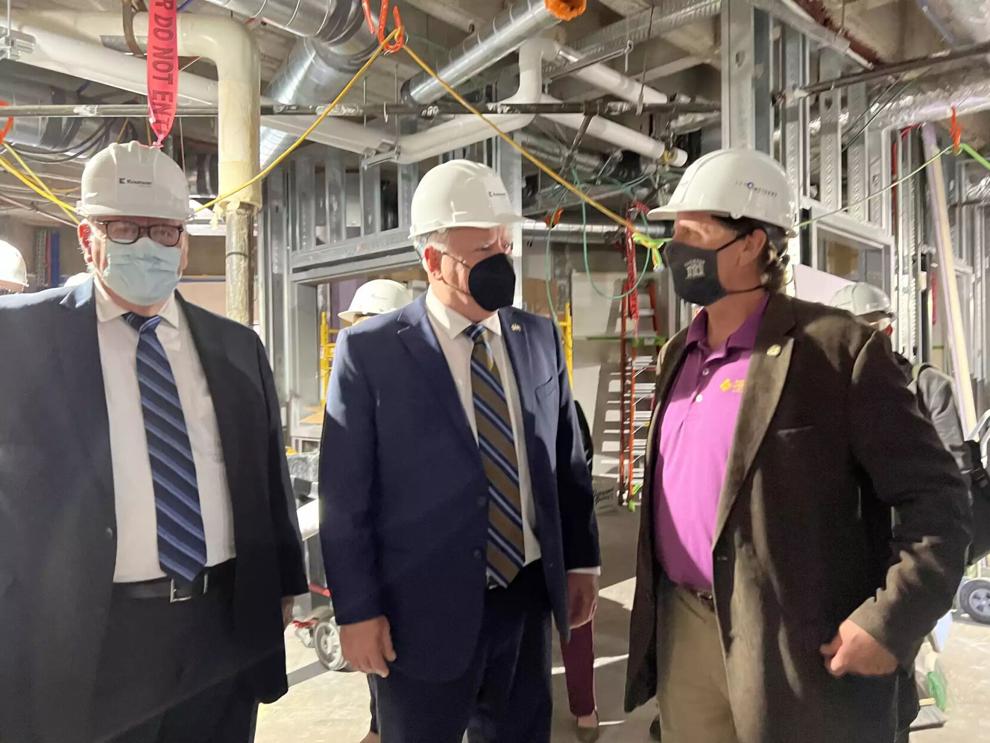 While the Minnesota Legislature failed to reach the needed consensus to pass most major tax and spending bills, a package of historic investments championed by a local legislator could help to close major gaps in how the state approaches mental health care.
The Legislature's $92.7 million mental health omnibus package includes a grab bag of policy measures focused around two areas: increasing access to a variety of treatment options, especially for youth, and addressing the shortage of mental health providers.
Sen. Rich Draheim, R-Madison Lake, was the chief author of the bill in the Senate, where it passed unanimously. Since first entering the Senate, Draheim has backed key items included in the package, such as a limited suspension of the state's hospital bed moratorium.
Draheim said that the urgency of the issue has been laid bare to him by constituents who have driven six to eight hours to get needed mental health treatment for their loved ones. Meanwhile for the uninsured and underinsured, care is too often unavailable until challenges become crises.
Due to the lack of access to mental health resources, an alarming number of Minnesotans have found themselves with little choice but to go to local hospital emergency rooms, draining crucial resources at a time when hospitals have been badly overtaxed.
Under the bill, new adult mobile crisis services will seek to treat Minnesotans struggling with mental health challenges where they are. It also provides a range of new initiatives designed to help mental health challenges faced by children, through their schools and independently.
As a direct alternative to the use of Emergency Rooms in mental health crises, the program will also create a new pilot program of "mental health urgency rooms," providing a family friendly safe space for minors experiencing mental health crises.
In addition, the legislation will fund programs which seek to identify mental health issues in youth earlier, and to provide additional resources for care in schools, with a particular focus on helping those children whose families are otherwise unable to afford care.
Another specific grant program will seek to help residents of shelters and the homeless. To recruit more providers to the profession, a student loan forgiveness program was also included as part of the legislative package.
In addition to those broader investments in mental health care, a significant part of the bill was devoted to addressing the thorny issue of representation for criminal defendants deemed incompetent to stand trial due to mental health challenges.
Under the current system, some of those defendants have been released into communities without significant care or supervision. Roughly a quarter of the spending under the new law will be devoted to hiring "forensic navigators" tasked with coordinating the provision of appropriate mental health services to such defendants.
Not all priorities of mental health advocates were included in the bill. For example, no funding was included to help ensure that more receptionists at the national 9-8-8 mental health crisis hotline, set to launch next month, will be from Minnesota.
Jon Schlenske, of Southern Minnesota Behavioral Health, said that the bill could provide a welcome off-ramp from what has become a crisis-based model of care that has proven ineffective, leading to more and more patients becoming sicker and sicker.
Due to limited funding, Schlenske noted that local districts have been hard pressed to retain much needed mental health services despite rising demand and even though many families are staunchly in favor of additional investment.
At the Northfield Public Schools District, Superintendent Matt Hillmann said that feedback received during the district's budget prioritization process earlier this year showed that, for students and families, additional investment in mental health is the top priority.
"We know mental health is essential for students' success," Hillmann said. "With the Legislature struggling to be able to get anything done, we are pleased that this was one area where compromise could be found."
Hillmann said that, while the district is still evaluating how it may be able to use the funding, he hopes that it will be available to be used in a flexible manner. One item he hopes the district could use such funding for would be to bring back a life coach.
Over the last year, Hillmann said that the district's life coach has worked with students in a non-therapeutic manner to help them gain additional stability in their lives. Unfortunately, funding has not yet been available to retain the position.
"We had some success with a life coach," he said. "Unfortunately, the funding was not available for us to be able to continue with it."