Parents have a lot on their plate. Is their child happy? Fed? Warm? Kind? Upset? The list of questions is never ending and cycles through their heads day in and day out.
But one question may be the most terrifying: Where is my child?
While it is fortunate that this is not a common question for many families, when it comes to children with cognitive or developmental disorders – such as autism or Down syndrome – their sometimes compulsory nature to wander off and the panic that follows is known all too well by their caregivers.
But there is a tool to help with this anxiety, and it lays in the toolboxes of area law enforcement. For a number of years, sheriff's offices in Steele, Rice, Waseca and Nicollet counties have been proud members of Project Lifesaver, a program that helps family members or authorities to locate their loved ones if they wander off.
"A lot of agencies commit to the program – why wouldn't you?" said Steele County Sheriff Lon Thiele. "It just makes sense. A lot of people who are known to wander are vulnerable, and when it comes to your loved ones and making sure they are OK, you're going to do whatever it takes."
Thiele, along with leadership from his investigators Mary Ulrich and Kari Woltman, implemented Project Lifesaver in 2016 in an effort to provide an additional sense of security not only for families with children who have cognitive and developmental disorders, but those who care for elderly individuals who may have other cognitive disorders such as Alzheimer's. The program connects the client with a bracelet that emits a unique radio frequency that law enforcement can then use to locate the individual if they wander away from their home or caregiver.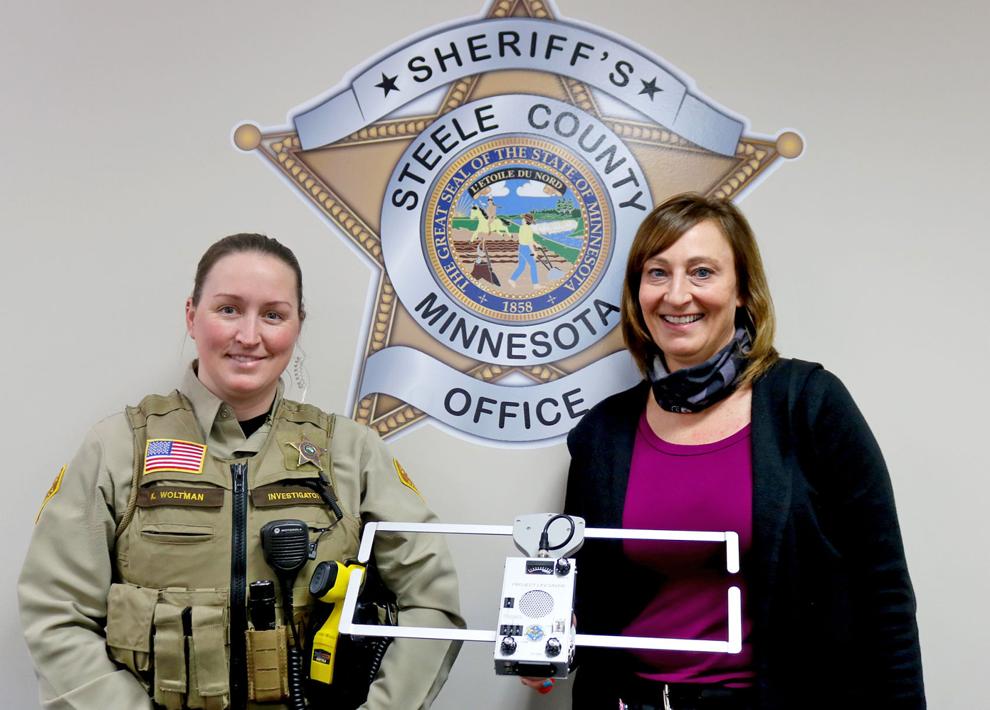 "We have had clients ranging from age 4 to in their 80s and for a really wide range of reasons such as high functioning ADHD or dementia," Ulrich said. "Fortunately we have never had to actually use the equipment to locate someone who is lost, but I know it brings a peace of mind to caregivers."
In Nicollet County, where Project Lifesaver has been around for a number of years, Sheriff Dave Lange said they too have never had to use the equipment to locate anyone enrolled in the program – which is a good thing.
"Our caregivers are still putting all their usual precautions in place that they normally would do, but for them to know that if their family member slips through the cracks, that they have this secondary means to locate them, then that's very reassuring," Lange said. "We've made the investment, we've got the equipment, we are going to continue to provide this service and offer it to anyone interested."
Lange, who has taken part in searches for lost individuals not enrolled in the program, said Project Lifesaver is also a huge benefit to law enforcement and other agencies when it comes to locating a lost person.
"Search parties can be very labor intensive depending on the situation," Lange said, recalling a time a young child was lost in a cornfield and several law enforcement agencies and fire departments had to come together to locate them. "A program like this allows us to pinpoint a general location of a person a lot sooner."
And time is of the essence when it comes to someone who is lost. Dan Berndtson, an investigator with the Rice County Sheriff's Office, said the quicker a lost person can be located the more likely the results will be favorable.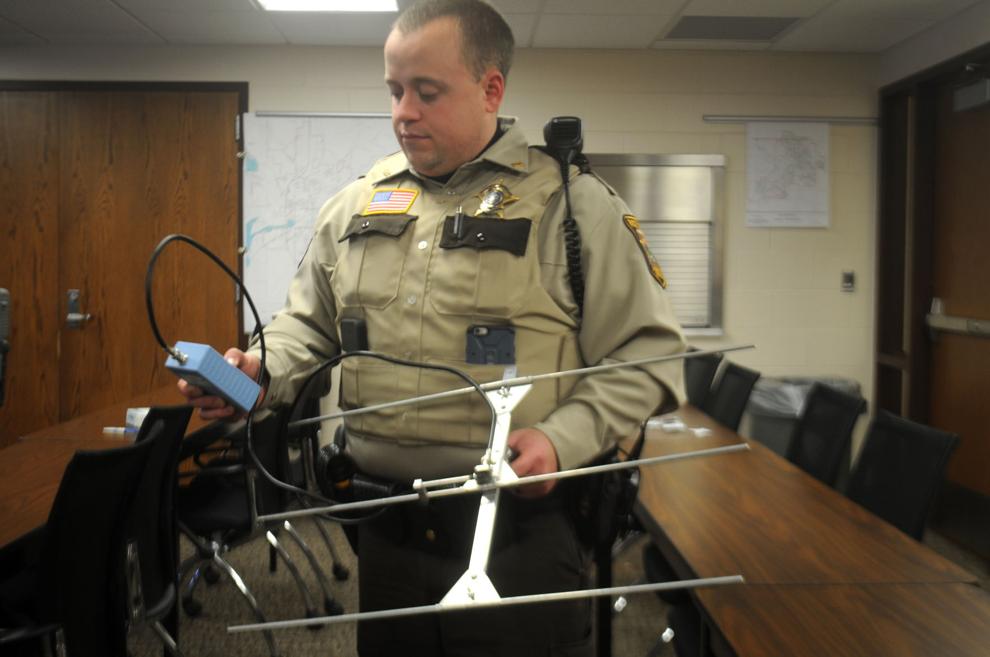 "You can get a search group together and you can use drones, but any tools on the table that will help a search go faster and give as an idea of which direction to go is crucial," Berndtson said. "Time is off the essence in an emergency situation, so the more resources we can bring to those efforts is always better."
Rice County is one of the few counties in the area that has had to use the equipment to locate an individual since first implementing the program in 2010, and Emergency Management Director Jennifer Hauer-Schmitz said the response time was always quick and efficient.
"Part of it does rely on the family, too, because the sooner they call us and we can have our team of searchers dispatched to the last place the person was seen, the sooner we can find them," Hauer-Schmitz said.
The equipment used by law enforcement, which is a hand-held antenna device, can pick up the unique radio frequency for the individual's bracelet in about a one-mile radius. There are also antennas that can be placed on top of squad cars that broaden the range a bit further. Hauer-Schmitz said the frequency will play a sound, which should sound like a chirp, that will get louder as the searchers hone in on the lost individual.
"I can't imagine how stressful and the horrible feeling it must have for the family when someone who is attracted to wander off is lost," Hauer-Schmitz said. "We definitely fear a bad outcome, but these tools help us prevent that."
Hauer-Schmitz said one of the most important parts of the project is building the rapport with the clients and their families. In one specific case, the agency was able to learn quickly that the individual who kept wandering off was drawn to a specific pool in town. By the third and fourth time they were dispatched to search for the client, they instinctively learned to head towards the pool to locate them even quicker.
Woltman said building a relationship with the clients, which they are able to do through the regular maintenance visits every couple of months, also helps build an important level of trust in the chance that the individual does go missing.
"The hope is that if they see one of us and they already know us that they will be comfortable," Woltman said, adding that it has been important over the years to get the individuals accustomed to the site of a man or woman in uniform.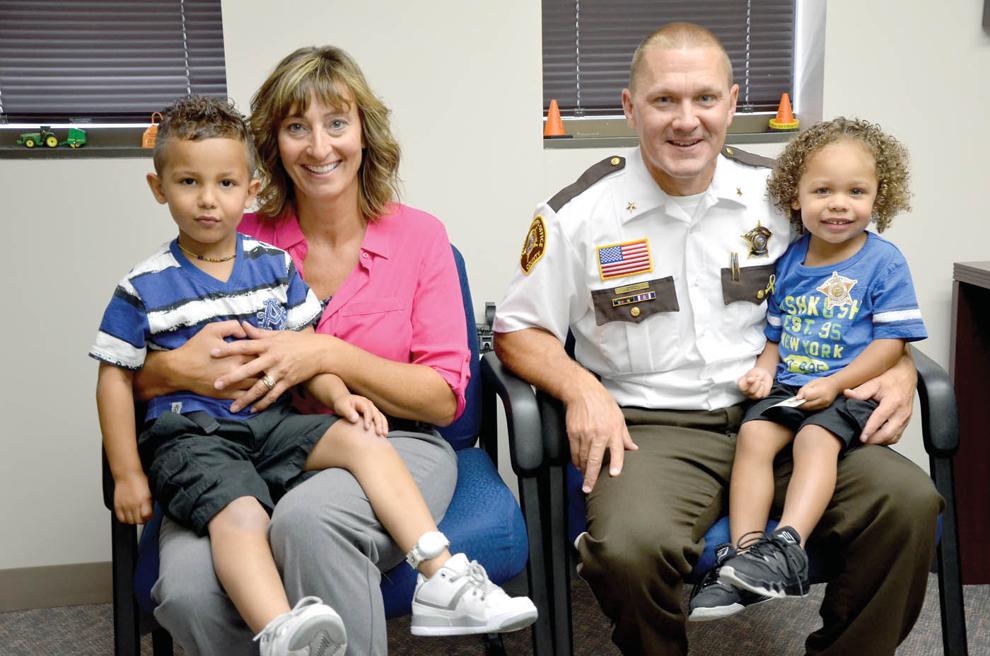 "The uniforms are the ones looking for them," Hauer-Schmitz said, adding that someone who wanders off is already vulnerable and now in a stressful situation, so anything to help bring a sense of calm to the scenario helps.
One of the biggest benefits the program brings is the ability to share information across agencies. In Steele and Rice counties, one individual enrolled in Project Lifesaver resided in Steele County while attending school in Faribault. The two agencies were able to exchange information – specifically the client's frequency number – to add another extra layer of security.
"In the past we have had people come down for the Steele County Free Fair who were enrolled in the program in another county," Thiele said. "The family is able to call us up, give us the information we need just as an extra precaution. Just in case. That works really nicely."
Hauer-Schmitz said the program even allows for easy transfer of information out of state, stating she has helped several families prepare for vacations to Florida by providing the client information to the law enforcement agencies in the cities they were traveling to.
"This lets whatever agency be able to go in and take over right away with no problem," Hauer-Schmitz said. "It's set up really well that way."
As far as funding goes, all the area agencies were happy that the program is highly affordable. While there is usually a one-time fee to get the bracelet, Lange said by calling the local agency they usually can help set a family up with a more affordable options if there is a financial concern. Those already receiving help from social services can also qualify for a waiver from the state.
"It runs relatively cheap and provides a solid, concrete way to locate someone," Ulrich said. "It's a service we are happy to provide, even if we never have to turn on the equipment."