Get your fill of antiques, collectibles, homemade products and concessions at one location this weekend.
The first event of the day, the Rice County Historical Society's Spring Flea Market, lasts from 8 a.m. to 2 p.m. in the museum parking lot and behind the RCHS building at 1841 Second Ave. NW. The event will go on rain or shine, and the museum will also be open for visitors to tour.
RCHS President Brian Schmidt said 36 vendors signed up for the event so far, and space is still available up until the day of the event. Crafts, wood benches, kitchen appliances and glassware are just a few of the products vendors plan to sell at the Spring Flea Market. The flea market serves as a fundraiser for the museum, which preserves Rice County history.
This is the first time the RCHS Spring Flea Market has coincided with the Cannon Valley Farmers Market, which Schmidt called "a grand idea."
Pushing back its usual time to accommodate the other events, the Cannon Valley Farmers Market begins at 10 a.m. and lasts until 2 p.m. on the fairgrounds.
This final farmers market of the winter/spring season offers locally made products like honey, maple syrup, soap, shampoo, bread and baked goods, canned goods and wool yarn along with beef, pork, chicken, cheese, plant starts and more. A complete list of the 20-plus vendors is posted online at cannonvalleygrown.org/cannon-valley-farmers-market. Shoppers may place orders in advance at the links on the website.
Cannon Valley Farmers' Market Manager Tiffany Tripp said the Saturday event will be one last chance to see many of these vendors for a while. Since many are not from Faribault, she said they won't return for the Faribault Farmers' Market this summer.
One of the newer vendors Tripp mentioned is Keesey Farm near Cannon Valley, which sells tomato and cucumber plants, squash and fresh-picked cucumbers, among other vegetables.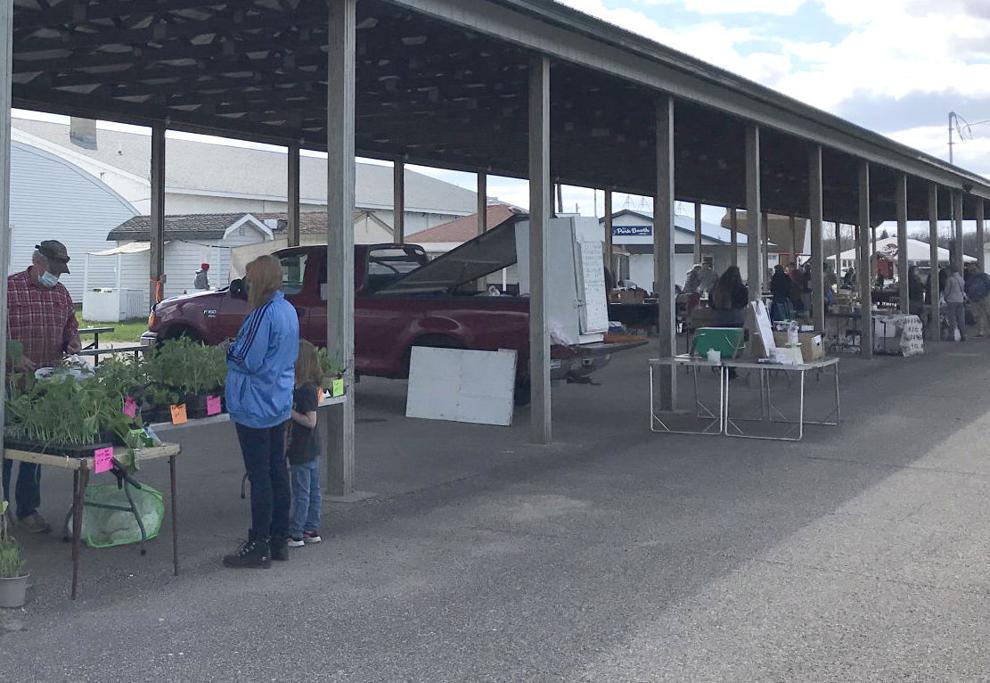 "The market is open to new vendors offering a local food or farm-raised item not currently offered by the existing vendors," Tripp said.
The Cannon Valley Farmers Market also has its own food truck called The Local Plate, which uses locally sourced products, many from market vendors. Owner Gwen Anderson uses eggs and bacon from local vendors to make breakfast sandwiches, local asparagus to make risotto, and duck eggs to make Scotch eggs. Rhubarb crisp is a specialty available this season.
Seven other food vendors will set up their trucks at the fairgrounds from 10 a.m. to 4 p.m. as part of a special Rice County Fair Food Truck Event. These concessions will be open both Saturday and Sunday, or until food runs out. Vendors include Cavemen Grilling, Delicious Potatoes, El Rey Del Taco, Lopez Concessions, Pretzel Wiz, Schroder Concessions and Temple Concessions.
Schmidt said the RCHS Spring Flea Market normally offers donuts and hot dogs, but he expects a full range of food trucks to attract a strong crowd. Even after guests leave the fairgrounds, he hopes those visiting from out of town take time to enjoy the rest of their day exploring Faribault's other offerings.
"It's kind of a community event, not just about the flea market," Schmidt said "That's always my plug: 'Thanks for coming to the flea market, but come find the other hidden treasures in Faribault.'"