Retiring Bethlehem Academy band director Scot Gardner felt a bit like a graduating senior last week, experiencing everything in the building for the final time.
But instead of going on to an increasingly busy life like many graduates, Gardner plans to take it easy and dedicate more time to family after 44 years as a teacher. He feels relieved to put an end to paperwork and early mornings, and playing different instruments isn't as easy with his body slowing down.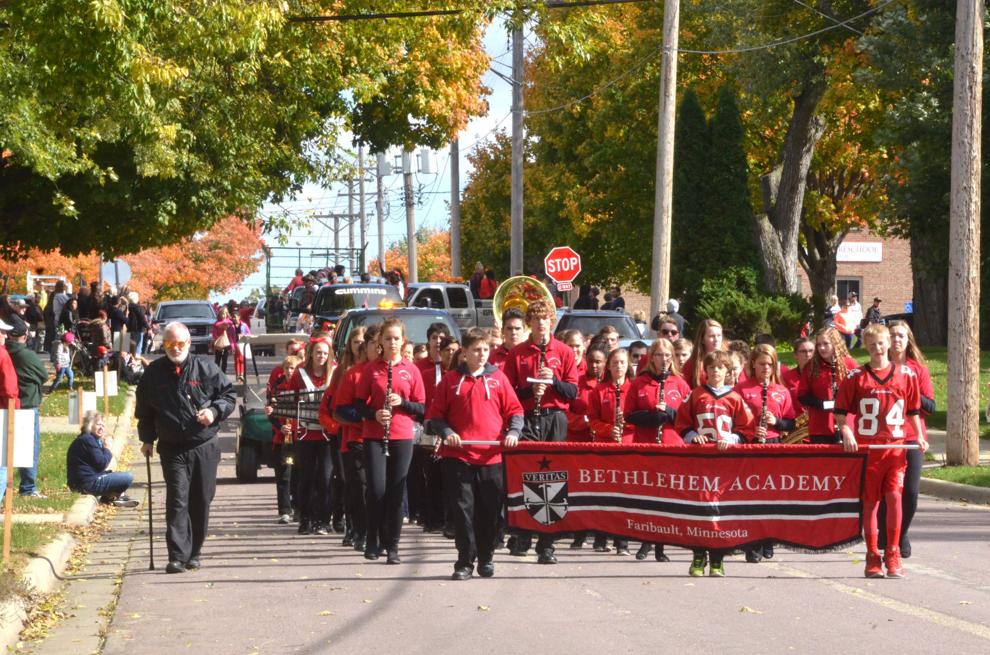 On the other hand, he said, "It's really sad."
Gardner's lengthy career is coming full circle, but he remembers vividly the details that brought him from aspiring musician to long-time music educator.
"I knew since I was little I wanted to be a scientist, a comedian or a musician," Gardner said. "I found out that most of the sciences had way too much math for my brain, and I found out I wasn't funny, so that left musician."
Growing up, Gardner's dad often played orchestral music on records and the radio. He explained that neither his mom nor his dad could carry a tune or keep a beat, but they supported him in his pursuit of music. Being adopted, Gardner traced his natural ability to his birth mother, who he was told played piano quite well.
Gardner grew up in Minneapolis, but his family moved to Virginia due to his dad's job with Skippy peanut butter. Even after attending college in North Carolina at East Carolina University, and meeting his wife, Peggy, Gardner knew he wanted to move back to Minnesota eventually. From the time he stepped off the plane as a ninth grader, he said, the south's humidity was too much for him. The only place in his high school with air conditioning, he said, was the band room.
Throughout high school, Gardner explored instruments like the drums and the euphonium but ultimately attended college on a cello scholarship. Early in his college career, however, he realized the formation of his wrist bones made for a difficult cello-playing experience. Instead, he developed a stronger passion for percussion and graduated being able to play every other instrument.
Before teaching at BA, Gardner started his career midway through an academic year substitute teaching at suburban schools around the Twin Cities. But these jobs weren't usually related to music, and Gardner also realized he would prefer teaching at a private school. Though not Catholic, Gardner accepted the band director position at BA and said, "I always felt very comfortable here."
When Gardner arrived at BA, he taught high school students and walked across the street to teach band to middle school-aged students at Divine Mercy, which was then called Consolidated Catholic Schools. He also taught band students at the former Sacred Heart School and directed the BA jazz band. In the middle of his career, when BA was out a choir teacher, Gardner filled that position as well for about 20 years.
Although he felt like "a fish out of water'' as a choir director, Gardner said, "It was fun; I loved it. I had students go on to become music teachers and a couple went on to become choir teachers and instrumental teachers."
One such student is Erin Holmes (nee Gartner), who graduated from BA in 1995 and had Gardner as a band director since fifth grade. Even after 21 years of serving as a director of bands herself at Farmington High School, Holmes said Gardner's impact continues to stick in her memory.
"He was such an amazing connection for me in terms of being able to trust a teacher and having a place to go where I felt at home," Holmes recalled. "I always felt safe in his place in the band room."
Holmes remembers when Gardner invited her to play with the high school band when she was a sixth grader. She felt nervous and shy surrounded by older students, but as she played her saxophone, Gardner gave her cues to let her know he believed in her. As an eighth grader, she also remembers telling him she wanted to be a band director herself some day. He never let her forget that, she recalled, and pushed her to do what she sought out to do.
"It's always remarkable to see someone give so much of their life to teaching, and I'm hoping to reach as many students as he reached," Holmes said.
Two particular incidents stand out to Gardner as moments of pride in his career at BA. The first, chronologically, was the band's first concert under his direction. Being the school's fifth band director in eight years, Gardner said he didn't feel pressured to meet high expectations. But the community was pleasantly surprised.
"The first concert was just exciting," Gardner said. "It was my first concert as a teacher, and their first decent concert, apparently, ever. It was just so exciting I was just riding high for days after from something as simple as a concert."
The second memorable moment Gardner shared relates to a particular middle school student he never forgot. The student was an excellent musician but somewhat of a social outcast among his peers, even in the band room. In speaking with the student one day, Gardner encouraged him to be himself during a time in life when everyone wants to be the same. He explained to the student that middle school issues don't apply to high school and college.
The student's mother gave Gardner a call about a week later to say, "I don't know what you said to my son, but he's a completely different person." The student moved away before graduating, but the next time Gardner saw his former student, he was excited to introduce his girlfriend to the teacher who, he explained, changed his life.
"If I could teach anyone to appreciate music I feel I've done my job well, but if I can change someone else's life who really needs help, there's nothing more important I've ever done," Gardner said.