Family barbecues and kids jumping on trampolines were a constant in Thelma Jones' Faribault backyard, but during her five years in the rental home, police were called to her residence 82 times, laying the groundwork for her eviction.
The five-bedroom home, which Jones shared with her children and grandchildren, was the "perfect place" for them, she said.
"We had the trampoline in the back with kids jumping on it, having fun," she recalled of the home she was evicted from last year. "The neighbors would call the police and say they were out there smoking drugs or selling drugs."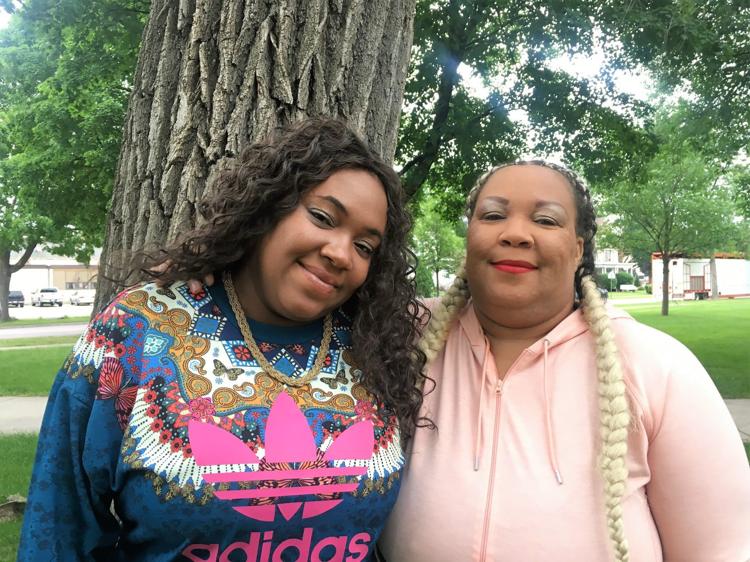 According to data obtained by the American Civil Liberties Union as part of a lawsuit filed Wednesday against the city of Faribault over its Rental Licensing Ordinance, the constant calls to police by neighbors put Jones and her family at odds with the Rental Licensing Ordinance over what was deemed "disorderly conduct."
"For what? For kids?" she asked. "It was really ridiculous. If someone called, you had the whole Faribault Police squad there in no time, down the whole block, and I was like, 'this is so embarrassing.'"
A draft copy of the lawsuit, which alleges the rental ordinance violates the Fair Housing Act and the Equal Protection Clause of the Fourteenth Amendment, was obtained by the Daily News prior to the ACLU filing it in federal court Wednesday.
According to Jones and her daughter Priyia Lacey, who are both plaintiffs in the case against, one of their neighbors was "really nice" and let the family be. Lacey is an employee of APG of Southern Minnesota, parent company of Faribault Daily News. A neighbor on the other side, however, routinely called the police on Jones and her family. She also noticed the neighbor across the street, on multiple occasions, using binoculars to survey her home.
In fall 2016, Jones was evicted, given just two weeks' notice. Health issues kept her out of work for a time, which caused her to be four days late on rent. She said she was on the way to the bank to get the $400 she owed her landlord when she was slapped with an eviction notice.
"I always paid my rent on time, all the time," Jones said. "[The landlord] always got her money."
Jones then looked to Legal Aid for help. About a month ago, she was contacted by the ACLU.
'Disorderly conduct'
Jones thought her overdue payment was why she was suddenly evicted, but what the ACLU told her was that her eviction was because her landlord was charged with a crime and was pressured into evicting her and her family.
According to a complaint filed in federal court Wednesday morning, the Faribault Police Department charged Jones' landlord with two criminal misdemeanors for failing to register a rental dwelling and failing to attend Crime-Free Multi-Housing training. The landlord wasn't convicted, but Jones was still forced out.
According to police records of the case, "The Crime Free Multi-Housing Ordinance is designed to deter criminal activity and, if necessary, to remove problem tenants from rental properties in order to preserve order in a neighborhood."
The records showed that Jones' home was a site of "ongoing criminal activity" because of the repeated and harassing calls from her neighbors. Also, the records said the property was "often found to be unsightly and unkempt."
While Jones has a long list of traffic offenses on her record, none exceeded a misdemeanor offense.
Since she moved into Faribault in 2011, however, only two of those offenses occurred at her home. One was a petty misdemeanor for unlawful vehicle storage and the other was when her miniature poodle escaped out of the front door and approached a passerby and their dog on the sidewalk.
"I could see if we were a bad family, like a cartel, selling drugs or something, but it's not like that," Jones said. "I work hard, 16-hour days in this community."
'Counterproductive'
Jones doesn't believe traffic offenses or a loose dog make her "disorderly," so she could only come to one conclusion as to why her neighbors called the police on her 82 times in two years: race.
"It's color," said Jones, who's black. "And it shouldn't even be like that. It's 2018."
Why being a person of color makes her a target for her neighbors, she doesn't know. What she does know is that the system that led to her eviction isn't working.
"They are never going to get rid of the blacks, the [Somalis] and the Hispanics," Jones said. "What are they going to do? This is not going to go away. It's going to make things worse by having people become homeless. Nobody wants to be homeless on the streets. That's when people take desperate measures."
According to Teresa Nelson, ACLU of Minnesota legal director, Faribault's ordinance is uniquely restrictive, and says Jones is an example of why the city of Faribault isn't helping itself with this ordinance.
"This is really counterproductive," she said. "If the city is really concerned about crime, the last thing they should be doing is making housing less stable for people who have a criminal record … If the city is concerned about crime, making sure that people in the community have stable housing is critical and is something they should be doing instead of pushing them out of housing."
Aliya Kahn, an ACLU communications associate, said the ordinance's vagueness when it comes to "disorderly conduct" led to Jones' situation. And, she said, it could have effects elsewhere, too.
"If you call the police on someone routinely, 82 times, that means you can racially profile people until they are pushed out," Kahn said. "That's what this ordinance allowed an open door to do and why it's so discriminatory and problematic."
Even without a criminal charge, much less a conviction, city ordinances allow police to certify a tenant has violated the Crime-Free Multi-Housing ordinance. This, said Nelson, "all works to the detriment of people of color," who are eight times more likely to be arrested for low-level offenses in the state of Minnesota.
While the Minnesota of ACLU has set its sight on this case, it first came from the national ACLU offices through its Racial Justice Project.
"To quell its discriminatory and misplaced fear of black people, especially Somali immigrants, the city enacted this ordinance aimed at pushing them out of the community," said Rachel Goodman, staff attorney for the ACLU's Racial Justice Program, in a press release issued after the Minnesota ACLU filed the lawsuit Wednesday morning. "Depriving someone of a home because of where they come from or what they look like is illegal and unconstitutional. This country was founded on the ideals of equality and opportunity, and Faribault's ordinance undermines those ideals."
Now, with the ACLU in their sails, Jones and Lacey have joined four other plaintiffs, including the Faribault Somali Resettlement Services organization, in suing the city.
Late last month, the ACLU sent a letter to the city calling for an immediate repeal of the ordinance, calling it "illegal and unconstitutional."
"Should you wish to avoid this lawsuit, the city of Faribault would need to demonstrate the support of the City Council for a full repeal of the ordinance immediately," said the ACLU's letter.
The city on Monday responded, saying the ACLU's conclusions were "unsubstantiated, inaccurate and contrary to law," and that it will not pursue a repeal of the ordinance.
On Wednesday, the ACLU filed the suit, challenging the ordinance and seeking compensation for the clients that have been harmed as a result, as well as their attorney's fees.
Faribault City Administrator Tim Murray told the Daily News that the city's legal counsel will take time to review the lawsuit before making any further comment.
The suit
In its 69-page complaint, the ACLU outlines its suit, claiming the ordinance was adopted with the intent to discriminate against Somalis and blacks.
To do so, it cites a 2014 memo written by Faribault Police Chief Andy Bohlen that denies any uptick in crime downtown, despite public opinion at the time. A later memo from city Planning Coordinator Peter Waldock noted that drafting the Crime-Free Multi-Housing program was city staff's way of addressing "concerns" about crime downtown.
The suit also cited comments by public officials they deemed "coded expressions of racism" in early discussions of the ordinance.
Among those are former mayor, now state Sen. John Jasinski's remarks referring to evicted tenants as "undesirables" and current City Councilor Janna Viscomi saying the city needed to attract those with higher incomes to balance the lower-income people, "or we're going to flip like Detroit in a few years."
Because 90 percent of Faribault's black households are renters, as compared to 28 percent for non-Hispanic white households, the ACLU says that the ordinance has a greater impact on people of color. In addition, the suit claims the mandatory criminal background checks have a discriminatory effect on blacks, who are eight times more likely to be arrested in Minnesota. The suit cites multiple studies comparing the arrest rates for whites and blacks in Minnesota, finding arrest rates for black are "considerably higher" than those of whites.
The ACLU also takes issue with the ordinance's occupancy restrictions, finding they target Somali families, who, on average, are much larger than white families.
The criminal background check requirement, according to the suit, did not take into account the nature and severity of criminal convictions; instead recommending landlords do not accept renters with a criminal history.
As Jones knows, the disorderly conduct label can be cause enough for an eviction. According to ACLU data acquired from the Faribault Police Department, in 2015, the year the ordinance went into effect, black people made up 8.1 percent of the Faribault population, but blacks made up 44.8 percent of disorderly conduct arrests.
Jones and her daughter will now become the focal point in a federal court battle between the ACLU and the city they've lived for the past decade. Despite what lies ahead, Jones said she likes Faribault and brought her family here because she wanted more for them.
"We exist. We aren't going anywhere and we can be wherever we want to be," said Jones. "That's what [the city] need[s] to understand not all black people are bad people. I wanted them a safe place, not a place like Detroit or Minneapolis where they are shot at and we have to be worried about drugs. They think we are trying to turn Faribault into Detroit, but that's not what my family is here to do. I always taught my family to have goals and to be something and to do something with themselves."