A new artwork collection is up at the Owatonna Hospital as the Spring/Summer Healing Arts Program exhibit kicks off.
Faribault resident Janet Moline uses a lost-wax casting technique to sculpt her metal pieces while incorporating other materials to form both organic and figurative sculptures. Moline approaches her casting first by determining the size of her piece and just designing whatever comes to mind naturally. She draws inspiration from nature, her life and random thoughts that come to mind.
If she decides to include rocks into her work, she'll build an armature to hold the heavy rock in place as she sculpts with wax around the mineral. From there she builds a mold around the wax sculpture and then melts the wax, leaving a cavity to pour melted bronze into.
While some artists like to send a specific message through their work, Moline prefers her work be open to interpretation. She understands that everyone will view her work through their own lens and she's comfortable with that.
"So what it might seem like to me, might be totally different than what it would appear to be to somebody else, because they're influenced by their particular experiences in life," Moline said.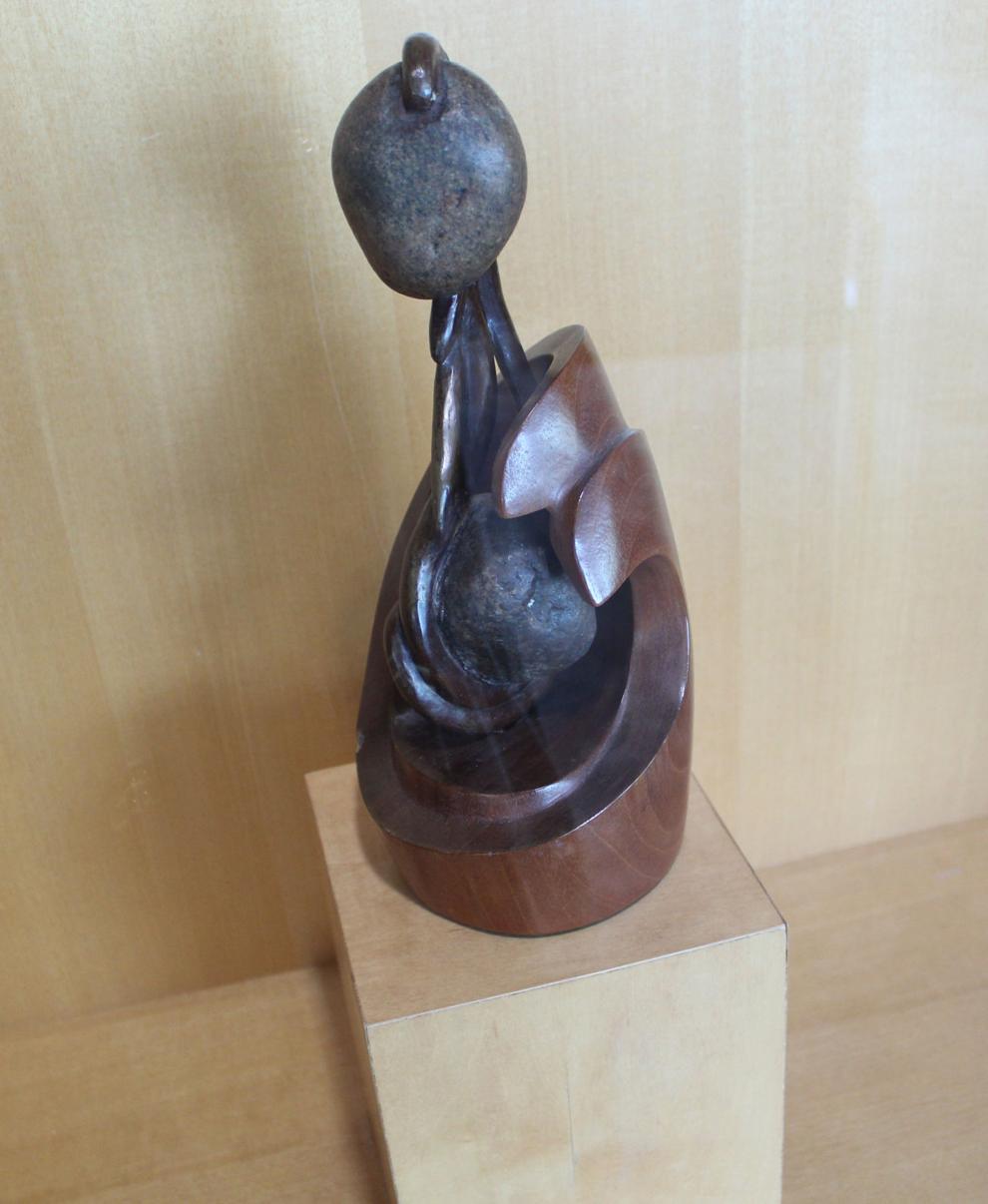 Art has been a passion for Moline, in fact she recalls her first experience with art in kindergarten. Her family had raised the most money in her school's paper drive, so she was asked what she thought the school should do with the raised funds.
"Of course I thought we needed more clay. It was my opinion because I always ran out of clay when I was working on something in kindergarten so I think I've done art all my life in one form or another," Moline said.
She continued her pursuit of art, eventually going on to get her bachelor's degree in fine arts. Although initially she had been a science student, Moline soon changed her direction after coming across the Women, Fire and Iron conference one day. After seeing other women doing the hard work of casting, Moline found herself intrigued. So she volunteered and soon decided to sign up for some casting coursework the following quarter.
Her passion for casting grew from there. She remembers her early casting days, making mistakes and learning from those mistakes. She learned that there is a science to working with metal and that metal shrinks as it cools, so if there is too much pressure on other material within the cast it may shatter.
"So I did break a few rocks before I started to have an intuition about which rocks would stand the heat and coming from which directions," Moline said.
Since then she has gained more experience and technical skills in her craft. Along with her growth in artistic skills, Moline finds it easier to hop into the needed mental framework to do art. The longer she's been creating art, the faster she can get into that mindset.
While she doesn't work with bronze as much as she used to, Moline still finds ways to integrate art into her life. These days she is working on other art projects that are feasible from her home such as making Ukrainian Easter eggs.
"I do think art happens when all of your attention and talents are focused on a series of instances," Moline said. "If you're focusing your attention and talent very hard on that one thing. So I do still make art, but it's different than it has been in the past."