When Shattuck-St. Mary's School sent students home at the start of the coronavirus pandemic last spring, then-junior Gwen Eichfeld activated her inner scientist.
While in quarantine at home in Chicago, Illinois, Eichfeld became curious about the relationship between cross-cultural interpersonal distance preferences and COVID-19 case frequency. This became the topic of her science fair project, which has earned her a chance to compete in the Regeneron International Science and Engineering Fair (ISEF) as a senior.
The project isn't the first that Eichfeld has done as a BioScience student at Shattuck, but this year marked the first time she entered a project in a science fair. As the winner of the Regeneron Southeast Minnesota Science and Engineering Fair Award, Eichfeld is also the first Shattuck student to advance to the international contest.
"Gwen has set a very high bar for the bio students now," said Maren LaLiberty, director and founder of Shattuck's BioScience Center of Excellence. "We've already started planning projects with our juniors, who are our rising seniors, and they have some very interesting projects coming up for next year."
As it turns out, COVID-19 not only inspired Eichfeld's project but will also allow her to compete in the virtual ISEF program in May. Heavily involved in Shattuck's Girls Hockey Center of Excellence, Eichfeld won't have to choose between her two passions. Because she couldn't play hockey this time last year, she shifted her focus to the meticulous research she completed for her project. And the deeper she went into her research, the more she realized the complexity of her subject.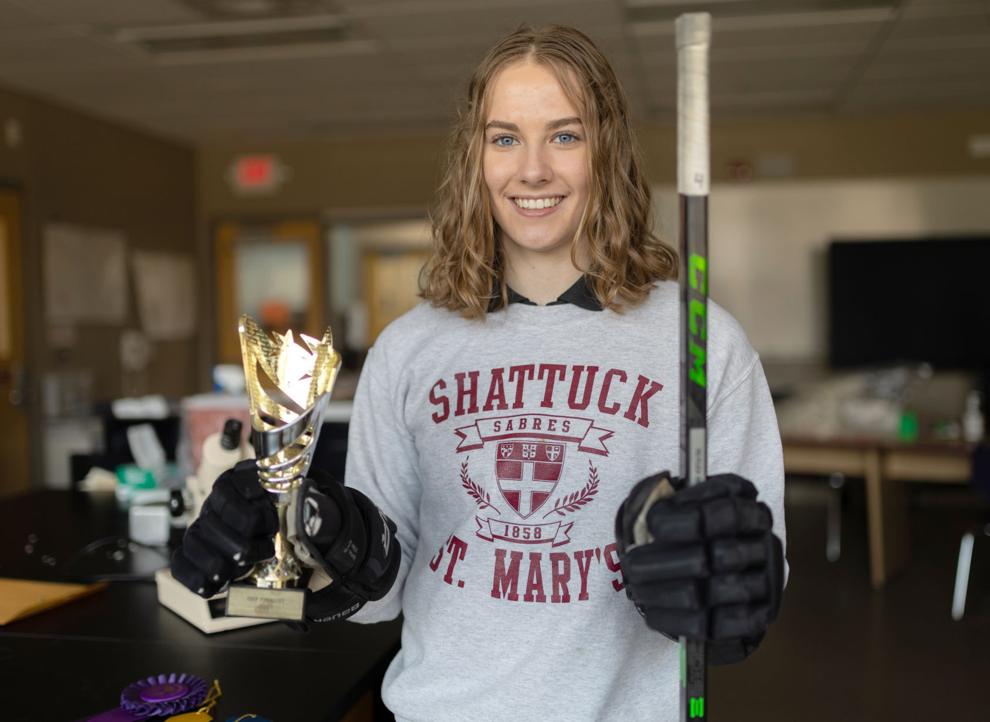 Based on available data, Eichfeld studied 40 different countries in terms of interpersonal distancing among different cultures. This wasn't a study of social distancing guidelines but rather a study of whether the social norms of standing close together or far apart in these countries impacted the initial spread of COVID-19.
"I found out that interpersonal distance is not a factor predicting COVID-19 case frequency," Eichfeld said. "But I also had to control for other factors that had been linked to cases frequently."
Both Eichfeld and LaLiberty said they were surprised by the results. But after researching particle spread, Eichfeld said it made sense that distance didn't matter. Her research suggested particles could spread pretty far, but it's difficult to know for sure as airflow and humidity levels also play a role in the virus' spread.
"We did some very simple statistics first and we were kind of naive with how that would work," LaLiberty said. "When she started realizing this was not going to be simple statistics, she went into multi-variable regression analysis, and it's been so much fun learning along with her. It's kind of fun when my students start learning more than I do. It's a little scary, but it's really cool."
A country's gross domestic product (GDP), total population, individualism and median age were some of the other factors Eichfeld examined. She labeled "Day 0" the day of the 100th COVID-19 case in each country and then looked at the spread after 15, 30 and 60 days. One finding showed tourism was no longer a significant factor in predicting spread after 60 days, as it was earlier.
After realizing she needed to do more complicated statistics than originally anticipated, Eichfeld's mom recommended a software package for the BioScience program. In the meantime, she helped her daughter set up the software at home.
Eichfeld worked on her project for about 10 months and finished up her results in mid-March this year. She's continuing her data analysis and recently met with statistic professors from Winona State University to learn more about what her results indicate and the best way to present it to the ISEF judges. She's also been meeting with former science fair judges for feedback on the materials she'll submit, including a PowerPoint, a short video, a couple of graphics, a poster and a paper.
"This project was pretty out of my comfort zone," Eichfeld said. "It's not something I've done before, looking into statistics and epidemiology. I did enjoy doing it, and it definitely makes me want to pursue science more because there's so many opportunities and new things. So I think I'll have a lot of fun exploring the field, maybe in college."