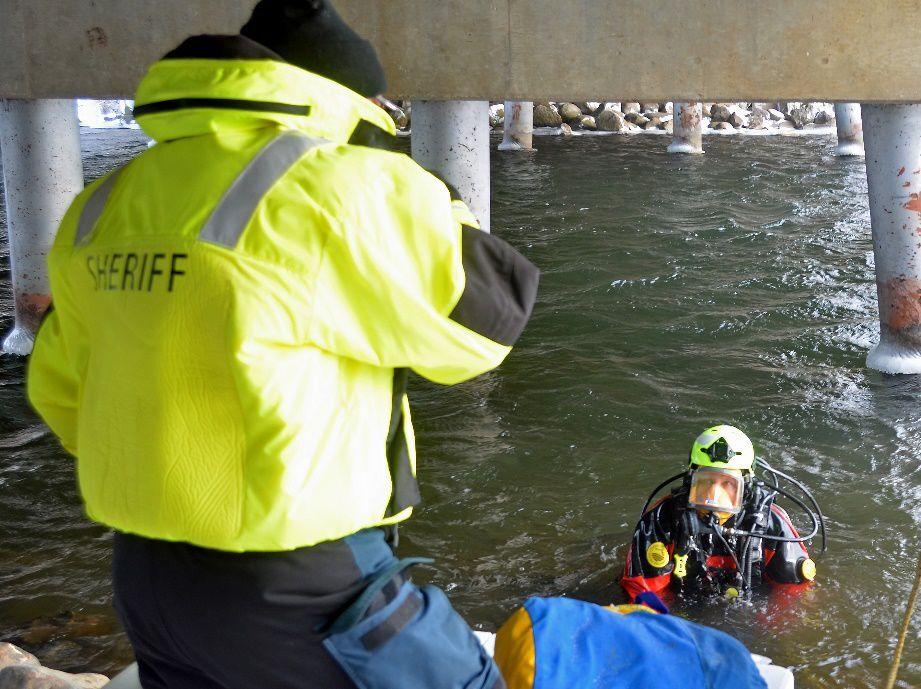 On a day when even the hardiest of Minnesotans would rather stay inside, the Rice County Sheriff's Office Dive Team was out in the elements; preparing for a call they hope never comes in. Team members ignored the thermometer, headed just west of Faribault and set themselves under the County Road 12 bridge that crosses the divide between Wells and Cannon lakes. It's been this way for nearly a decade: the 12-member dive team practicing and preparing, often during the worst of conditions — just in case.
The team is called out infrequently, though the county's aptly labeled "wild and scenic" Cannon River, the Straight River and its two dozen beautiful lakes mean the need for trained responders is ever present.
The team, now in its 10th year, began when the Faribault team disbanded. Several of its members, understanding the necessity, connected with then Sheriff Troy Dunn and got the OK to create a team under the auspices of the Rice County Sheriff's Office.
Most members — divers Nate Hanson, Derek Estrem and Colbey Hullett, and tenders Steve Bauer, Nate Budin, Mac Malecha (who also does sonar) and Chief Deputy Joe Yetzer — are Rice County deputies. Those who aren't, serve as special deputies, ensuring they're insured by the county while working for the team.
Divers Pat DeGrood and Ryan Bauer, and tender John Milewski are Faribault firefighters. Joe Pumper is a firefighter with the Lonsdale department. Nerstrand firefighter Joe Johnson, who works for Northfield Ambulance, serves as the team's medic, doing medical checks on the divers before and after they're in the water.
Team captain is Todd Rost, a retired Faribault firefighter.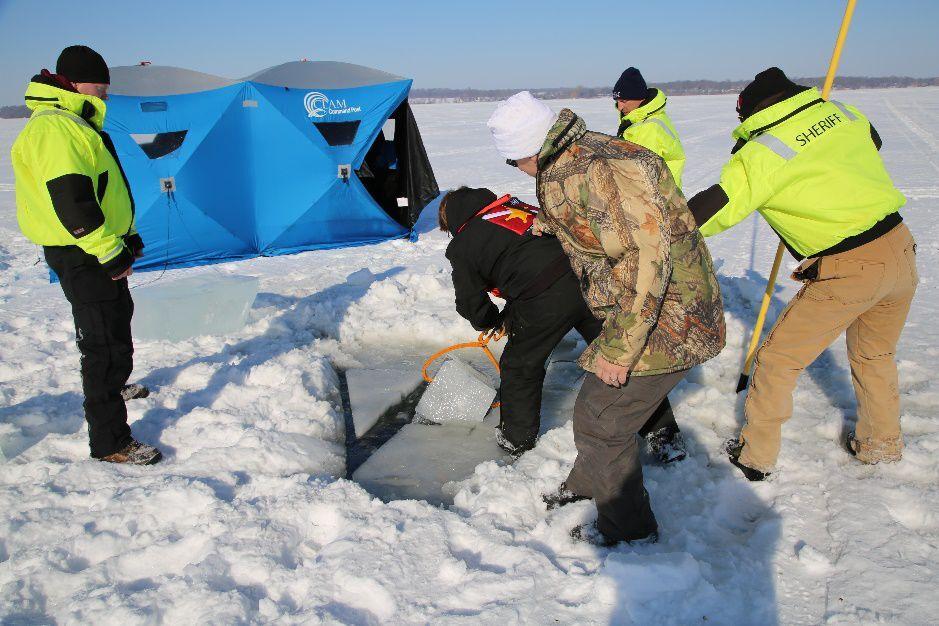 Becoming a dive team member isn't easy. Neither is maintaining a place on the team, which requires monthly training sessions in which they practice potential rescue scenarios.
Divers need recertification every three years and must complete two ice dives annually. Tenders, though not in the water, are every bit as critical: to ensure the divers' safety by keeping tabs on their location in the water and maintaining the line that keeps them tethered to shore.
Local lakes are murky, meaning visibility is often very low, says Yetzer. And sometimes it's worse than that. It's not unusual for divers to get caught on underwater limbs or debris, and there's always the risk that can become detached from the tether.
To help divers keep their bearings under the ice, team members clear paths in the snow-covered lake, allowing divers to see the patterns, such as concentric circles or arrows directing them to their point of entry.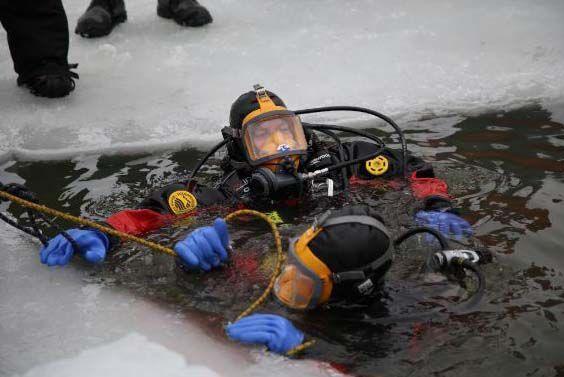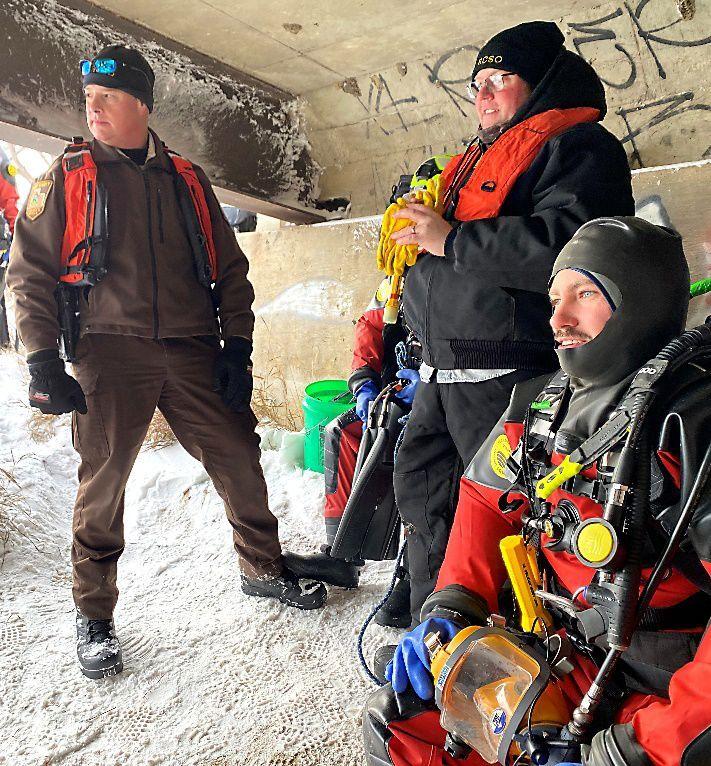 While the divers wear specialized, well-insulated suits that can be inflated to increase buoyancy and catapult them to the surface, there are plenty of hazards — hypothermia, equipment failure and divers running out of oxygen — the team needs to guard against.
Ice dives like last week's make sure the team is always ready. It's ice fishing season in Minnesota. And that can mean vehicles breaking through the ice.
The Sheriff's Office needs to hear firsthand that everyone got out safely, or it sends the dive team underwater to check, said Rice County Sheriff Jesse Thomas.
"If you can't confirm somebody's fine, you have to jeopardize 12 people," said Chief Deputy Yetzer of bringing out the dive team, something they don't want to do unnecessarily. "If the ice is unsafe for them, it's unsafe for us."
Anyone who's involved in or witnesses a vehicle going through the ice should call 911 immediately so the team can deploy if needed and the Sheriff's Office can ensure everyone is safe.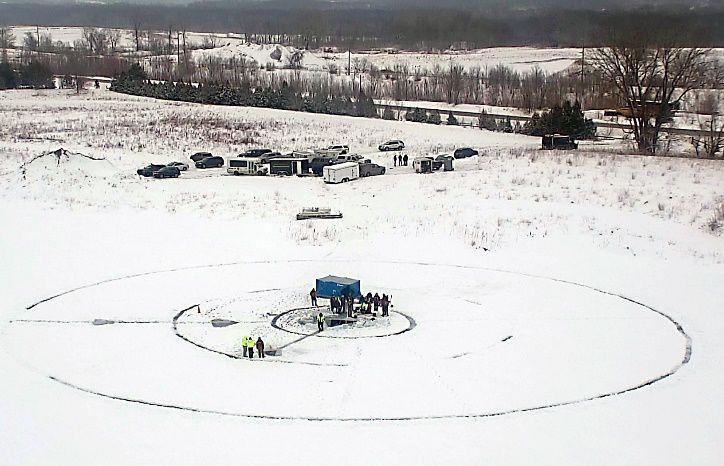 The team works year-round. And isn't confined to Rice County. In recent years, it's had a number of calls to the Cannon River, several for people riding inflatables and kayaks that suddenly got snagged on debris. The 2018 tornadoes increased the downed trees and limbs in the river, says Sheriff Thomas, making it even more dangerous.
"A river is inviting when it's hot to cool off, but there are a lot of unknown dangers associated with that," he said.
It's also assisted with incidents in other counties, including Wabasha, Winona, Blue Earth and Steele, and given water safety lessons at local youth camps. Equipment is costly. Outfitting one diver is about $3,500, and that doesn't include boats, jet skis, sonar equipment. a trailer for gear and a 22-year-old bus the sheriff hopes to replace this year.
While some has been paid for by the county, most of its funding, Thomas said, has come from Minnesota Department of Natural Resources water safety grants. Some day, he hopes for an underwater robot, which can go into areas too dangerous for divers. But that'll cost about $90,000. Most likely, Thomas says, that will come from grant dollars.
If someone falls through the ice and you're the only one around to help: first, call 911. If you don't have a phone, someone nearby may be carrying one. Don't run up to the edge of the hole. That will likely result in two victims in the water. Also, do not risk your life to attempt to save a pet or other animal.
PREACH — Encourage the victim to fight to survive and reassure them that help is on the way.
REACH — If you can safely reach the victim from shore, extend an object such as a rope, ladder or jumper cables to the victim. If the person starts to pull you in, release your grip on the object and start over.
THROW — Toss one end of a rope or something that will float to the victim. Have them tie the rope around themselves before they are too weakened by the cold to grasp it.
ROW — Find a light boat to push across the ice ahead of you. Push it to the edge of the hole, get into the boat and pull the victim in over the bow. If possible, attach some rope to the boat so others can help pull you and the victim to safety.
GO — Non-professionals shouldn't go out on the ice to perform a rescue unless all other basic rescue techniques have been ruled out. Heroics by well-meaning but untrained rescuers sometimes result in two deaths.
Source: Minnesota Department of Natural Resources.