Editor's Note: This is the third and final part of a series on how the global supply chain has impacted the local economy. Previous stories focused on the manufacturing and retail sectors.
The shelves of local grocery stores aren't empty — they just don't seem to have the variety of goods many shoppers have come to accept as normal.
"I have an autistic kiddo. It makes feeding him extremely challenging. He is particular about brands and packaging," said Becky Bain, of Owatonna of shortages afflicting local grocery stores. "I end up having to overbuy everything to make sure he has food available."
In Waseca, where groceries can only be purchased at Walmart or convenience stores, because the city has been without a grocery store since February 2020, residents reported difficulty tracking down soy milk, butterscotch pudding, Ritz crackers and more.
"We need to bring back another grocery store," said Chloe Barnes.
Sam Alderman, of St. Peter, can't find certain dairy products, like the yogurt and half-and-half he prefers.
"It's certainly an inconvenience, but also a reminder that we had taken food supply chains for granted," he said.
At Just Food Co-op in Northfield, shortages aren't seen equally across food categories. According to Joanelle Noeller, human resources generalist at Just Food, they seem to crop up when particular materials like glass and aluminum are involved. This includes pasta sauces, peanut butters, canned items, beverages in glass bottles and more.
In other words, it's not always the food itself, but the materials traditionally used to get that food to consumers.
With Thanksgiving fast approaching, one of Just Food's distributors has even announced that it will temporarily discontinue sales of whole cranberries, opting to prioritize sales of jellied cranberry sauce. This is just one example of many distributors recently deciding to ramp up production of their most popular items while temporarily discontinuing less popular products.
And with demand holding steady while supply chains are strained following COVID-19's disruption to the global economy, prices have predictably crept up.
"We are definitely seeing price increases with every new invoice, so we have to adjust our prices accordingly," Noeller said, adding that she's noticed those increases across food categories.
That might be because while not all food products require materials like glass and aluminum; many require significant labor, like farming, packaging and shipping. The workforce shortage, cropping up during the pandemic and not waning months after vaccines have become widely available, makes those products similarly difficult for grocery stores to get on their shelves.
It might also have something to do with the amount farmers are spending on their own operations. According to Mark Wehe, a business management instructor with South Central College who works directly with farmers on their finances, product shortages have caused fertilizers to increase in price by 170% since this time last year. Herbicide expenses have gone up 130%.
And for livestock production — a "365-day event," as Wehe put it, requiring an enormous amount of full-time hired labor every step of the way — the situation is even worse, as the workforce shortage collides with product shortages in a particularly corrosive way.
According to Wehe, while consumers are bearing some of the increased cost by paying more at the butcher shop and grocery store, they're not paying the whole thing. Part of the cost is falling on farmers.
"What we're dealing with on the producer side is, yes, they're getting more for their product, but their profitability margins are getting significantly impacted," he said, adding, "meat margins are getting crushed in this market."
Fortunately for Noeller, many of the shortages seen at Just Food are largely limited to a narrowing of local consumers' traditionally wide breadth of choices — not a significant shortage in entire food categories.
"We might not have one brand of something, but we always have a different brand of the same item," she said. "We'll always have a type of cracker available or a pasta sauce."
So, where are the materials?
The fact that the novel coronavirus emerged in Wuhan, China — the manufacturing capital of the world — is a useful metaphor for the pandemic's impact on the global supply chain.
When the Chinese government shut down factories to stop the spread of COVID-19, economists at the time predicted that, while the supply of goods would subsequently decrease, the temporary closure of stores and malls around the world would similarly lower demand.
That didn't happen. While supply became depressed and stayed that way, demand didn't stay low for long. For food, of course, low demand wasn't really a possibility. And for other products, former President Donald Trump's $2 trillion coronavirus relief bill in March 2020 — followed by President Joe Biden's $1.9 trillion relief bill a year later — helped keep demand strong.
But with all those factories shut down for so long, and demand having piled up in the meantime, acute bottlenecks — including for products requiring glass, metal and other materials — started causing massive delays as manufacturing groaned back to life. Warehouses began to fill as companies found themselves unable to take in all the product they'd ordered, a problem exacerbated by the recent shortage of truck drivers who normally transport inventory from warehouses to local stores. This caused massive traffic jams at sea as shipping ports were unable to transport inventory to warehouses, and thus could not take in more containers.
Joe Smillie, store manager at Hy-Vee in Faribault, reported similar shortages to those seen at Just Food. In addition to an inability to secure whole cranberries, Smillie said Hy-Vee is also having trouble getting a hold of many brands of macaroni and cheese. Purchase orders from Hy-Vee's Iowa warehouses also aren't coming in on time, causing delays in shipping to its local grocery stores. He said this has been an issue for nearly a year, though it worsened during the summer.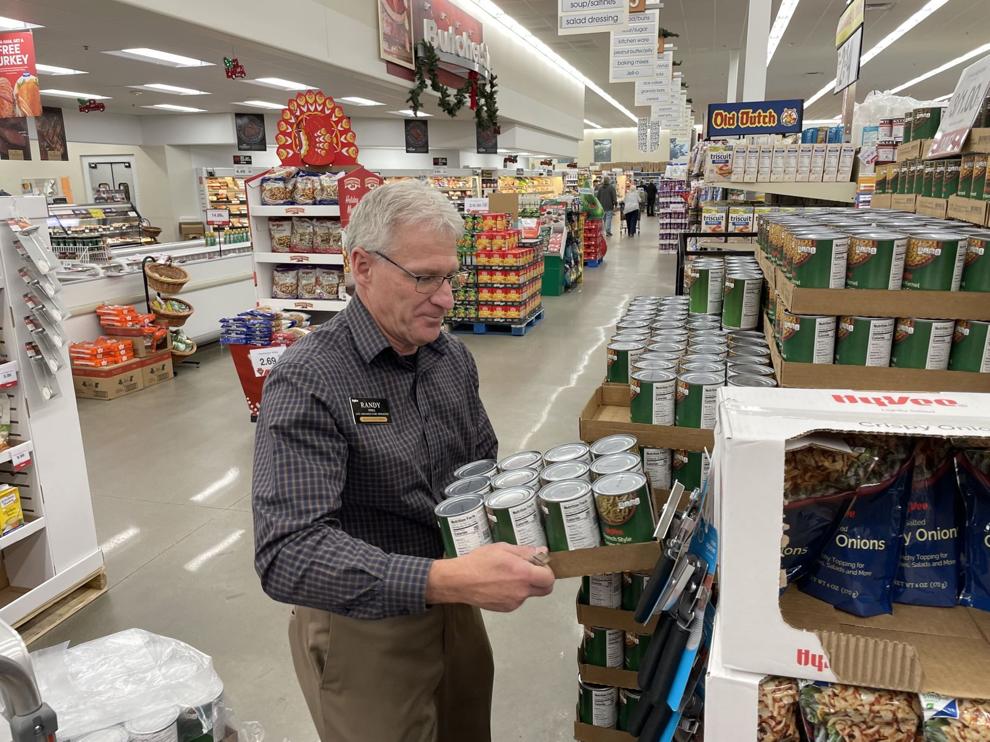 "We get a lot of questions like, 'How come you're always out of stuff?' … We get blamed, and then the suppliers get blamed," Smillie said, though he added, "I think most people are pretty understanding right now of what we're going through."
Tina Pothoff, senior vice president of communications at Hy-Vee — whose nearly 300 locations include Owatonna, Faribault, St. Peter, Mankato and New Ulm — said most Hy-Vee locations are experiencing roughly the same thing with regard to shortages, though she said she hasn't seen its worse effects take hold at the chain.
"Are you going to get that 8-ounce can of your specific brand of corn or cranberries?" Pothoff asked. "We'll still have all those supplies, but it might be that the packages might be smaller or larger."
One way Hy-Vee has avoided some of the worst effects of the product shortage, she added, is by transitioning away from what economists call "just-in-time" management strategies, which is businesses' preference for ordering just enough product at just the right time to satisfy customers without buying anything that won't be sold, or that will have to be stored. The global supply chain disruption forced some businesses to adopt more of a "just-in-case" mindset.
At Hy-Vee, that means planning a year out by ordering further ahead of time and substantially increasing the inventory at their central warehouses, a luxury many smaller grocers do not enjoy.
"That's been a big strategy of ours: order ahead of time, order more, in case we do have problems with supply chains," Pothoff said. "That strategy has actually paid off for us, especially as we head into the holidays."