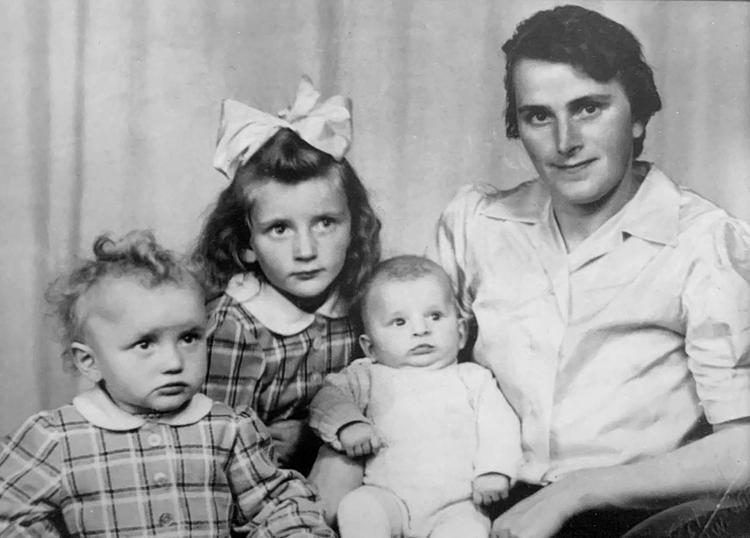 At the age of 8, Liselotte Malecha was sheltering from Allied bombs being dropped in her native Germany. By 19, she was in Faribault, Minnesota, married to Larry Malecha, an American soldier she met not long after the end of World War II.
From living in Germany during a time of war to emigrating to America to marry a man she was just getting to know, Liselotte, better known as Lis, has experienced a lot of life in her 82 years.
"'43 and '44 were the worst years of the war," Lis recalled. "We were short in medicine and food and in '44, we spent most of our time in fallout shelters."
Lis grew up in Ellwangen, a southeast German town about the size of Faribault that was of little interest to Allied forces pushing their way east.
"The planes were bombing the industrial towns," said Lis, 8 at the time.
During school days, around 10 a.m., she and the other children would hear sirens and seek safety in fallout shelters.
"You could hear the planes," Lis said. "They sounded very heavy, like they were carrying something, so we knew they were going to bomb a town. When they came back, the motor sounded different, lighter. We called them 'happy planes' because they made it back home."
Those planes — with the exception of a few coming from England — were mostly piloted by Americans flying out of France. It was 1944, D-Day had passed and the war was nearing its end. American forces began to press the few German soldiers left guarding the prison camp in Ellwangen to surrender, but they refused.
The Germans in Ellwangen took shelter in a cave. Lis remembers the Americans dropping leaflets from planes, telling them to give up or the whole town would be bombed.
Lis, and other townsfolk waited in the cave for three days, listening for the heavy planes. Leaving the cave was so dangerous that women never took their children to town. Instead, they left their children with neighbors so that if bombs began to fall the children would be safe.
"You didn't know what was going on, you didn't understand," Lis said.
But the day the bombing was set to begin, a storm hit and the planes were grounded.
"The storm was so bad, there was water rushing into the cave," Lis said. "We had to stand on chairs and tables."
Despite the storm, a doctor climbed the church steeple and fastened a white sheet to it, signaling the town's surrender.
After the war, Germany was in crisis. Towns across the county were in disarray and food was in short supply. As the oldest, Lis left home at the age of 12 to live with her godparents in Stuttgart.
When she returned to Ellwangen at 17, Lis met Larry Malecha.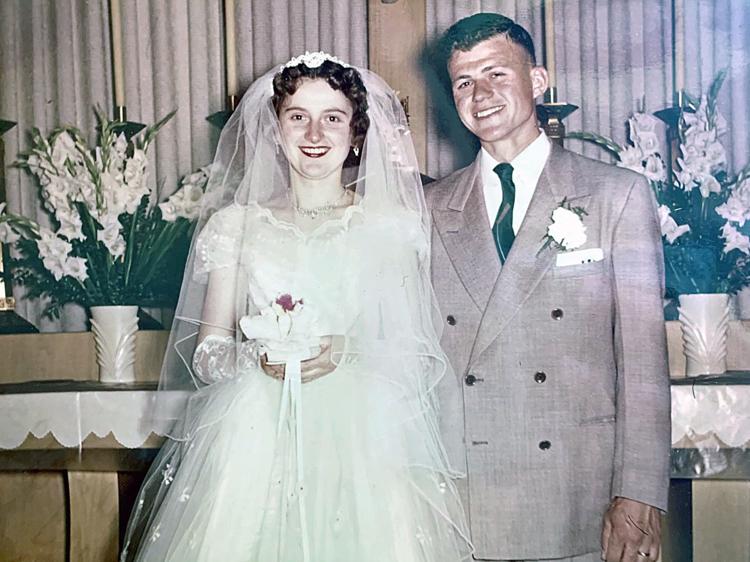 "Larry was stationed in our town," Lis said, "I met him at a New Year's dance."
Sitting on a bench with a woman between him and Lis, Larry asked the woman if she would like to dance. While it was the custom in Germany to not refuse a dance, the woman asked Lis in German to "tell that whippersnapper I'm too old for him, I will not go out on the dance floor."
Lis told him, more politely than the woman intended, that the woman would not dance, so he asked, "how about you?"
Lis had just been given new nylon stockings for Christmas and she remembers how Larry stepped on her toes and put a run in the stockings.
"I didn't forget him after that," she said.
Larry chimed in saying "[dancing with me] was your mistake."
The year was 1954 and Lis said "life was a little better, it was easier. We had more food and there were no ration cards."
Because she couldn't find work, she became a maid for an American family and then worked in a factory making bras.
On Sundays, everyone would go for a walk in town. It was a Sunday in August when she was on a walk with her neighbors and saw Larry for the second time. He was riding in a jeep, headed to the ammunition depot and looking to develop some film. Lis told him to bring it to her house and she'd get it developed for less.
When he returned to her house to pick up the film, he asked if she would like to head downtown with him to say goodbye to an American friend who was leaving. Her mother said to be back by 10 p.m. She and Larry ended up talking on her porch until 11 p.m., but he must have made a good impression on Lis' mother as she was sad to see him go come January.
But Lis didn't believe he was gone. She called his camp and sure enough, Larry was in the infirmary. She visited him and before he left, he asked her if she would start papers. Not sure what starting papers was, Lis asked the camp chaplain what Larry had meant. He explained to her how to apply to live in the United States.
Lis and Larry didn't see each other again for 412 days. During their wait for the papers to be accepted, Larry and Lis wrote to each other. She still has all of the letters he sent her.
"He was the first guy I got along with, we had the same thoughts," Lis said. "I was used to not being home and I thought 'if it doesn't work out and he's changed in the year I didn't see him, I'll work to pay off his sponsorship and then decide to stay or return to Germany."
But it did work out: Lis and Larry have been married for 64 years.
"When you're young you're foolish," Lis said.
To which Larry replied, "Good thing or I'd be missing a wife."
It took Lis 20 days to get from Ellwangen to Faribault. As part of his sponsorship, Larry paid for her passage to New York and then to Minnesota.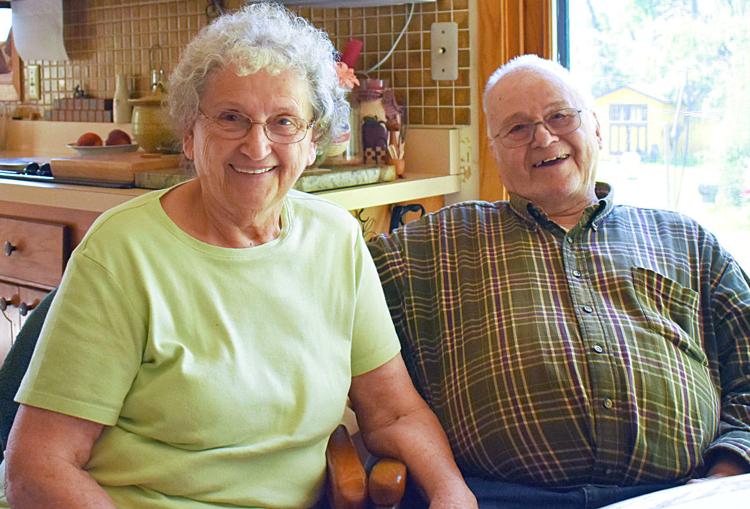 After 11 days on a ship, Lis arrived in New York, only to search the sea of people waiting for Larry's sister, Fran Hellensmith. She found her by a red cap and her similarity to Larry. Once they found each other, they went to Fran's home where she baked her a banana cream pie, the first pie Lis ever had.
Larry picked her up at the airport in Minnesota and brought her to Faribault on March 9, 1955. They were married the following month.
Before the wedding, the priest asked her "You mean you still want to marry him after not seeing him for 412 days?" When she responded "yes," his only response was "There's nothing I can tell you."
With one side of the Immaculate Conception Church full, the other empty and a long aisle in between, Larry said he thought that "if she picks up and leaves, I wouldn't blame her."
But Lis walked down the aisle.
"That's quite a lady I married. The best thing that ever happened to me," Larry said.
After the wedding, the two began their life together in Faribault.
"Thank goodness I never cooked a meal in my life," Lis said when recounting the difficulty of getting used to a new weight and measuring system.
Because of rationing, she and her siblings didn't have the means to experiment in the kitchen. One pound of hamburger was regularly stretched by adding one pound of biscuits to feed her family.
Upon entering a grocery store in the United States for the first time, she asked Larry "can I buy 50 pounds of flour?" And she recalls him responding with "you want 50 pounds of flour, you can have 50 pounds of flour."
She's baked ever since, making homemade goods for her eight children to bring to school for lunch each day. But every concoction wasn't a success. The first time she made dumplings, she used baking soda instead of baking powder.
"You should have seen the mess. Never make dumplings with soda," Lis said. "You can take that when you're young, it's part of life."
With eight children, she also had to sew diapers. Lis said if you walked into a JC Penny store and asked for 50 yards of flannel they would respond with "congratulations!" She also sewed them matching outfits from feed sack designs.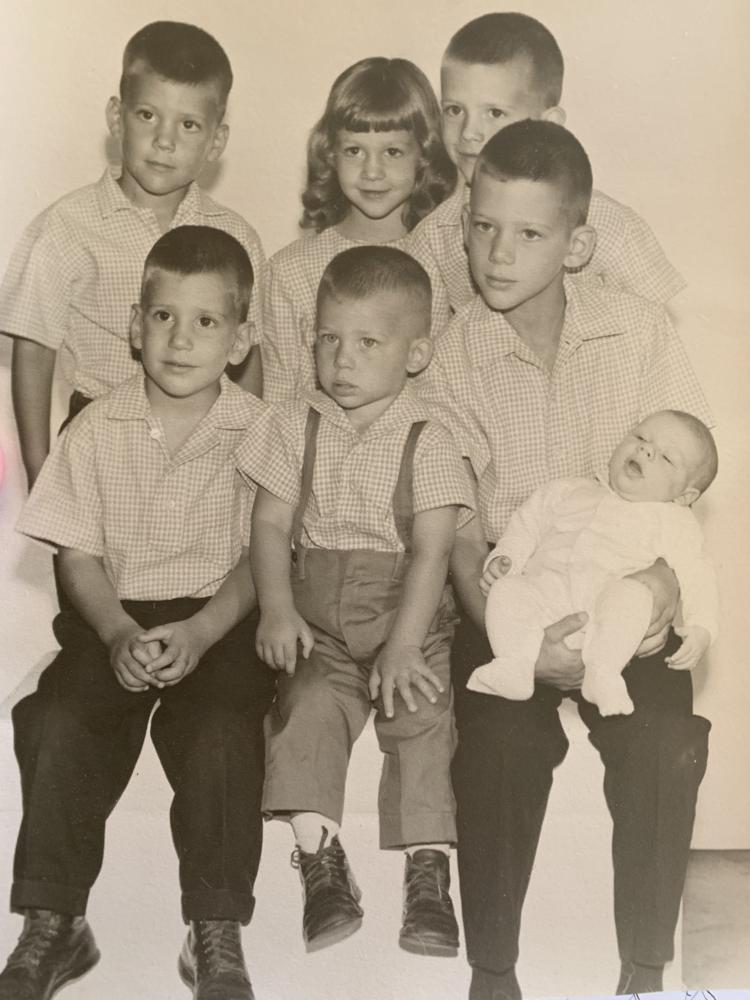 Her family in the United States continued to grow as Larry sponsored her mother and some of her siblings to live in the United States.
Four years after receiving her visa, Lis could have applied to be a citizen of the United States, but instead she waited until she felt the country was moving in the right direction, when she believed the country was taking care of the old and young people, including health care and fewer student loans.
"Why burden them with that?" Lis said. "We're one of the richest countries in the world; it's a shame."
Lis was invited to a Humphrey-Mondale dinner by Faribault's then state representative Patty Fritz, who she had met while demonstrating against the Vietnam War.
Barack Obama was at the dinner and she shook hands with him while wishing him well.
"That's why I became a citizen," Lis said of her meeting with Obama.
Lis says she's unsure whether she'd be able to move to America today, noting that she doesn't have the skills often sought in immigrants.
When she arrived in the United States, Lis was seen as a Nazi by some Americans, and a traitor in her home country. Despite the accusations and the difficulties, Lis is happy that life — and Larry — brought her to Faribault.
"You can't please everybody; you have to go your own way," Lis said. "You have to be whole, see foreign countries, be out of your comfort zone and take it all in to learn the reason why people do things the way they do them.
It's been an interesting life," she added. "Never a dull moment."