Live nativity returns for fourth time, continuing a First Lutheran community tradition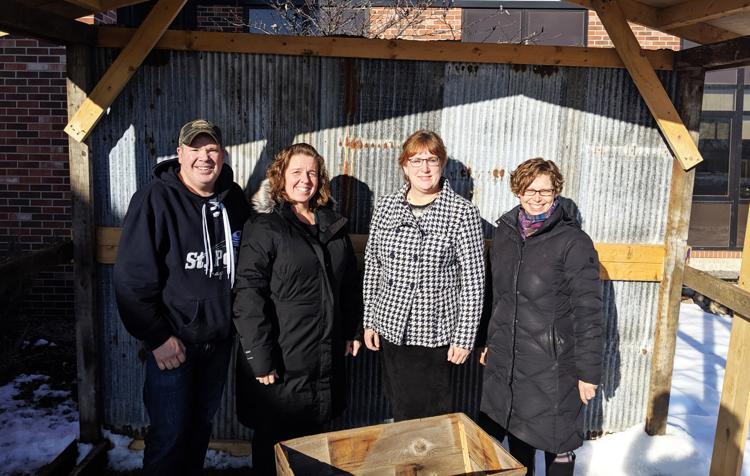 For the greater community, the St. Peter First Lutheran Church live nativity is a chance to experience something a little different during the Christmas and holiday season. For the church community, it's something more: a tradition, a connection to faith, an opportunity to bond.
In 2001 and 2002, Barb and Dale Haack organized the drive-thru nativity scene at the church, and hundreds came out to see the scenes of Jesus' birth, along with handcrafted signs telling the story. There was a 15-year hiatus before Kim Neubauer decided it was time to bring it back in 2017. She and co-chair Amy Pehrson felt it was a perfect time, as the church transitioned pastors.
"It's ministry we're doing with this event, so that the community can come in and see a live nativity," Pehrson said. "But I think we also felt it was a good bonding opportunity in a transition time. It was something solid we could connect to."
Kim, whose family participated in the 2001 and 2002 nativities when their kids were young, added, "I just wanted my kids to know what it was like. Pastor Alan Bray was retiring and Pastor Ten Kunze was hear for a year before the next pastor (Gwen Hermanson), came in. I was mulling it over, and right before he left, Alan said, "Kim, are you going to go for it?'"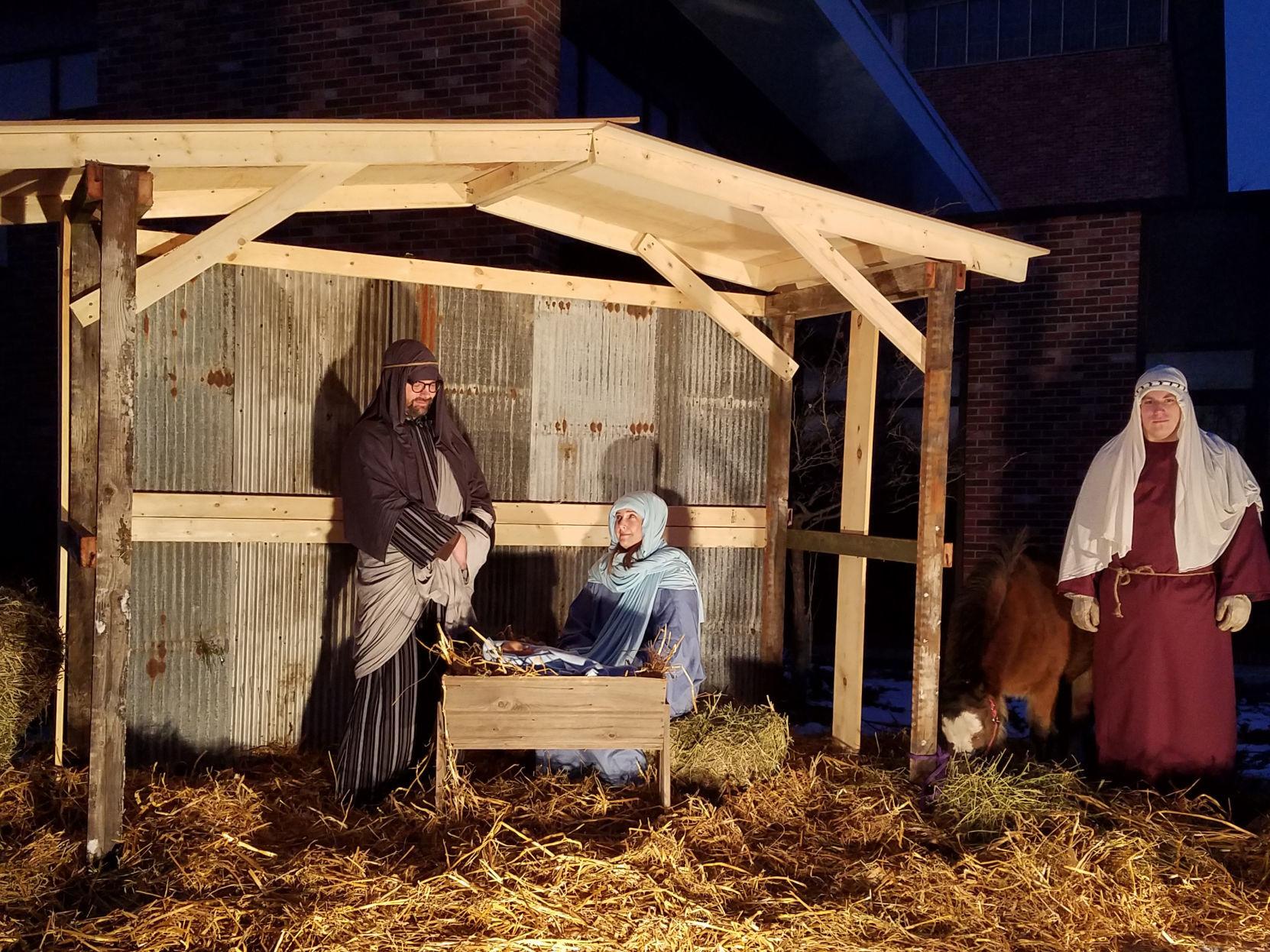 Kim and her husband Jim Neubauer, and Amy and her husband Pat Pehrson, led the way in 2017, following in the footsteps of Barb and Dale before them. They loved it.
"It was fun, oh year," Kim said.
So much so that the team decided they would continue the tradition every other year going forward. They hope new leaders will emerge in coming years, but for now, they're excited to continue offering the community event biannually.
"It was always our intention that we would do it every other year, I think," Amy said. "We were very pleased in 2017 after recreation of the costumes and rebuilding of the stable. We for sure thought we'd take it on one more time."
Successful start
The live nativity began at First Lutheran in 2001, thanks to the efforts of Barb and Dale and a supportive congregation. The inspiration was a deep one for the couple.
"The reason for it was because I had a serious operation, and I lived through it, and we didn't know what would happen; it was a brain tumor," Barb said. " And I was motivated at that time to thank God for saving my life, and I wanted to do something here in St. Peter to show appreciation."
Barb and Dale took care of most everything in the first year, including funding for the project. They went all out, hiring a company to make handcrafted signs, telling the story of the birth. They even brought in dozens of hay bales to build the manger.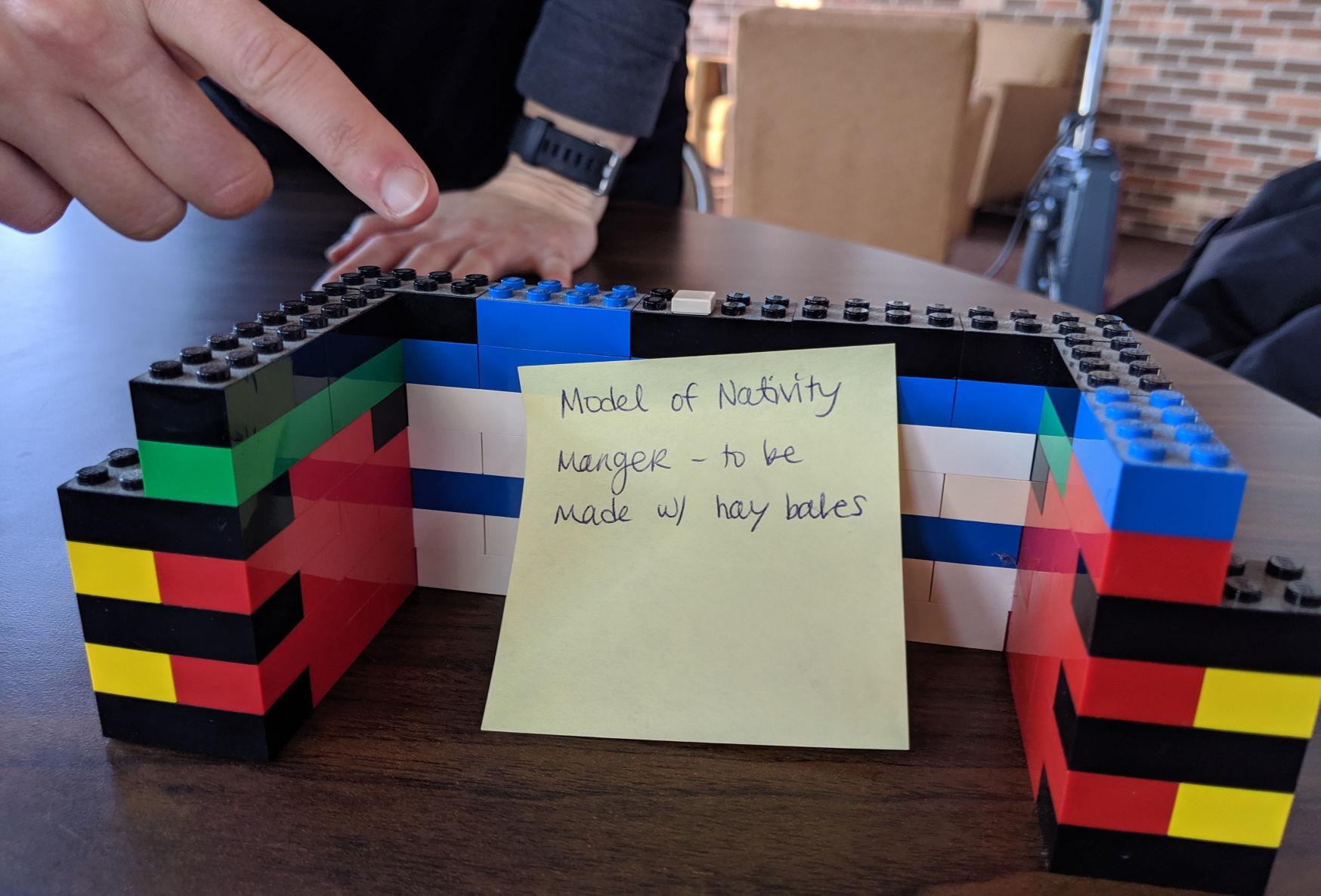 The first year, the show was multiple nights, and it was an instant success, with cars lined up down the block, waiting their turn to catch the spectacle. It took dozens of church member volunteers, but the congregation managed to pull it off.
Kim and Jim played Mary and Joseph in the first reenactment; their young kids tailing along. Amy's family drove through, meanwhile, as she played an angel — "Type cast of course." Friends and family made their way through, sending out greeting to their loved ones that were enduring the cold.
"A lot of people come for their friend or relative," Jim said.
Kim added, "Yes, and then they yell at them, and the actors are like, 'Shh!'"
But it's not just people who know the actors that show up. The greater community has consistently enjoyed the show, starting from the first one in 2001.
"I think what was unexpected to me was the number of members that went through that were not from First Lutheran," Amy said.
Starting again
Even as the live nativity went on hiatus for a decade and a half, church members held on to fond memories. The event was special in many ways. One was the way it connected church members to a story that they cherished.
"You have a lot of time to think about the story you're portraying, and that's what we told actors, 'Remember the story you're telling here,'" Jim said. :Standing there as Joseph, it's like, you know, 'What was Joseph thinking?'"
"It did change the way you perceived it," Kim said.
Then there was the community service aspect. Churches have their own communities, but they don't always get to touch the lives of the larger community surrounding them. The nativity provided a very direct, personal way of doing that. It also provided the chance to do some good for the community in other ways.
Each live nativity includes a St. Peter Area Food Shelf donation, with a stop at the end, where visitors can donate cash or food items. In 2017, Scouts, led by Jim, were able to collect over $700 and over 750 pounds of food from the event.
Perhaps the most motivating benefit of the live nativity is the way it brings the church community together. Kim had thought about bringing it back for a few years before she finally pulled the trigger. She was inspired be her memories of participating as a family and her desire to see her kids do it again. She and the team wanted the rest of the church to feel the same, whether they were members 15 years ago or joined on since.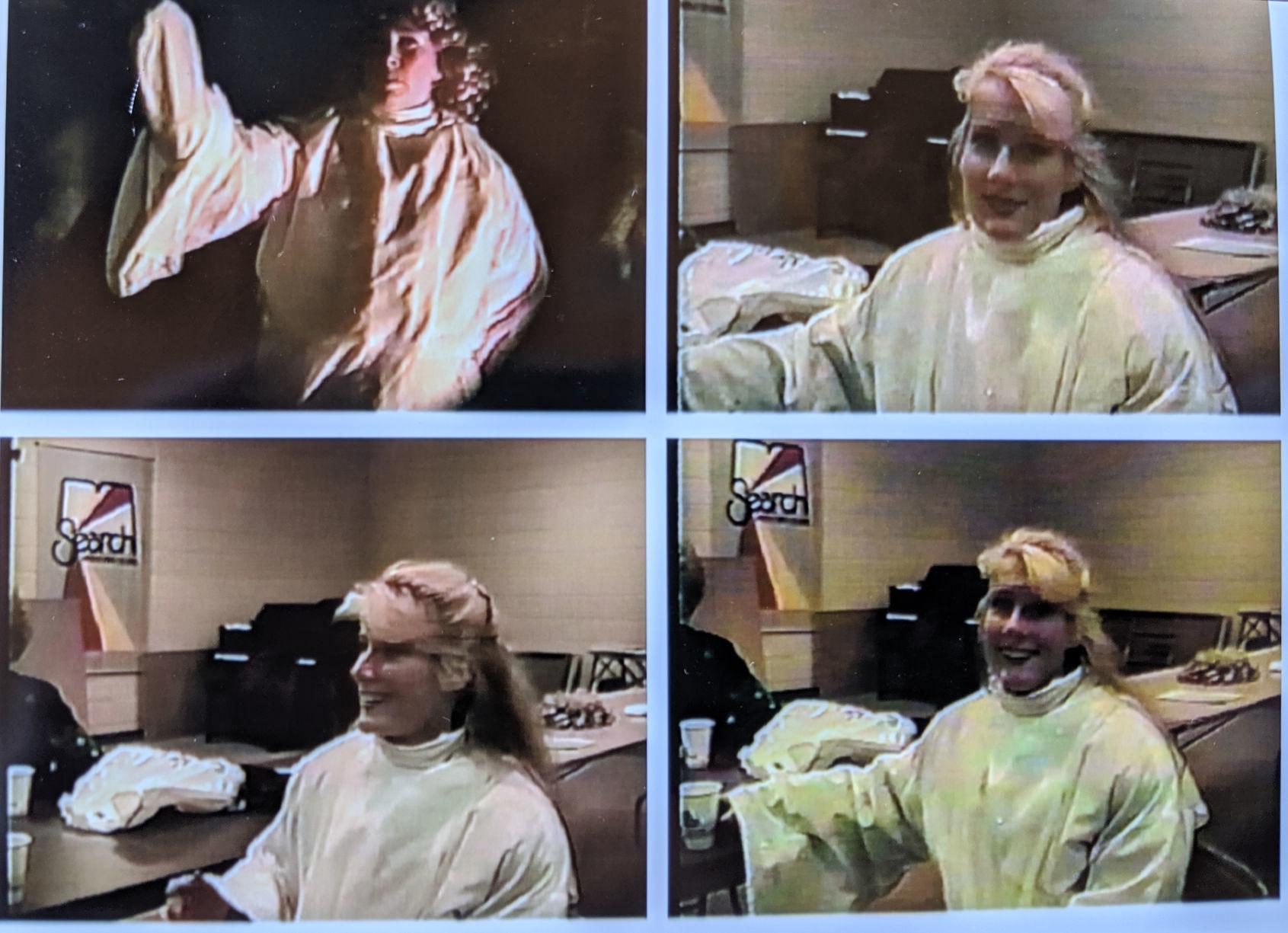 "I think it was really fun for some of us that had young children that were in it to think those kids could do it now, or for sure see it and understand what's happening," Amy said.
Jim added, "It was also nice to bring new members that had no idea what it was like to participate in it."
Making it happen
Kim, Jim and Amy established Thrivent Action Teams in 2017, which each were given $250 to work on different aspects of the renewed live nativity. It was enough funding to get it done, with the help of Amy's husband, Pat, building a new wooden manger, and some 50-60 church members volunteering their time on the day/night. The original founders, Barb and Dale, were also eager to see it get going again. Barb was asking Kim, "What do you need? What do you need?"
"When you have something that is really important to you, you like to see it continued, and you like to see the young people feel they're participating in something they feel is alive, instead of just scenery," Barb said. "It means so much that they would continue it."
It's fair to say the congregation was pleased with the results in 2017.
"It went very well," Kim said.
To make it happen each year, the lead team does a lot of organizing. They all agreed that gathering volunteers was the most difficult task. They need bodies to play the parts — in a few sets of actors, so they can all switch off and not spend too much time in the cold. They need people inside controlling traffic, people in the kitchen, people handling childcare, people bringing treats, people dressing the actors, and then the Scouts taking donations.
Beyond the volunteers, the team also needs to take inventory each year. In 2017, there were a whole lot of costumes needing to be reworked or made for the first time; they went thrifting and headed to Halloween stores to find what they needed. Then there are the props, the settings, the signs and even some live animals that need to be counted and displayed. The team event puts out carpet squares to help the actors stand in the right positions.
Lights and a sound system finish off the preparations ahead of time. For the leaders, Kim and Amy, it's two full days of work, in addition to all of the build-up, planning and organizing ahead of time.
"We'll be here Friday night before the show, ironing, sewing and all of that," Kim said. "We spend the entire Saturday setting up."
"Now that we've been through it, it should go more smoothly," Jim noted.
Still, it's quite an operation. But it's one the First Lutheran congregation is proud to put on, and one the community eagerly awaits. For newbies like Pastor Hermanson, it's as exciting as it was for the congregation 18 years ago.
"I'm participating, and I'm just very curious," she said. "I've really been hearing about the live nativity since the day I started."