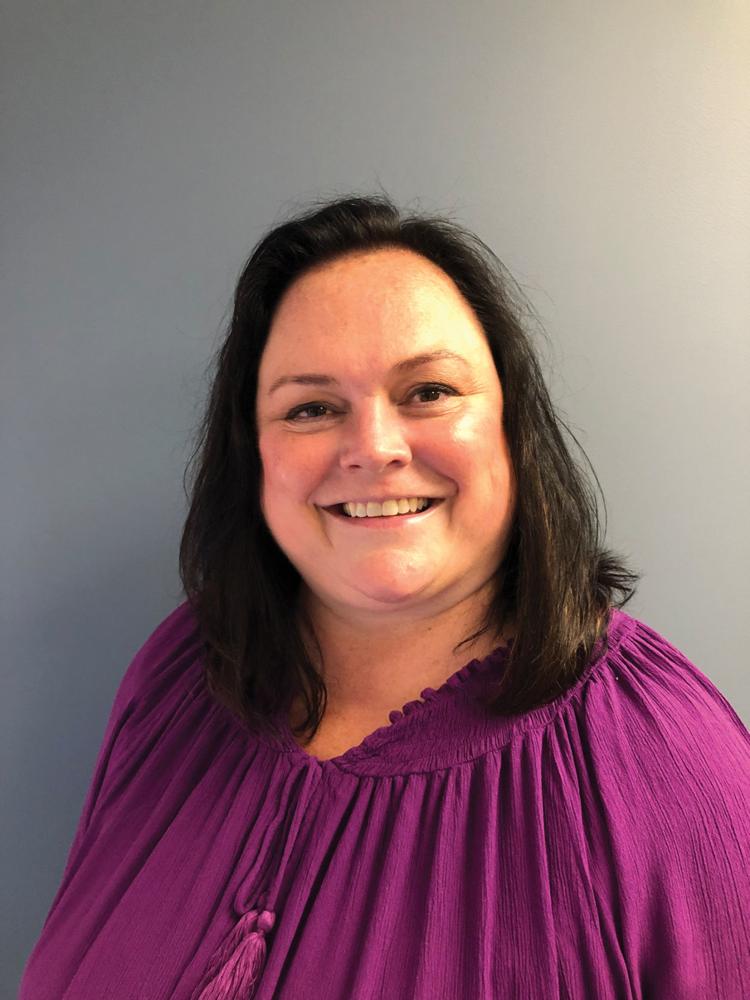 OWATONNA — Though Danielle Theis, who took over as the Special Services director for Owatonna Public Schools July 1, followed an unconventional path to her new role, she's spent her career dedicated to mental health, and "it's always been (about) kids."
"I don't have a traditional path to this," said Theis, adding "I was always drawn to the most-vulnerable student population." Those students, she said, "always ended up on my caseload," because she is determined to "put the 'who' before the 'what.'"
"We have to seek to understand how the child perceives" himself or herself, "what is going on around them, who is trying to guide them," she said. It's pointless to demand a struggling child be at a certain point; rather, one must "start where they are, then move forward with them at their pace."
There's always progress, eventually, with students one helps, but it might be delayed gratification, and "the reward might be this (tiny) bow," she said. "We work so hard that we want to see the gains, but that's not our pace to determine," so "you have to" take comfort in knowing "you contributed to something better."
As Theis settles into her new role, she'll focus on making sure Special Services personnel always "stay in a compassionate lens" when interacting with children, she said. "Behavior is communication," so when children misbehave, "they're telling you they need to be supported differently."
She also acknowledged "I have a lot of learning to do, but this team is willing to share, and I'm grateful for the support."
"I don't think I'll ever feel, 'There, I've got it,'" she added. "Kids continue to teach me things every day."
Time in the trenches
Theis is a licensed psychotherapist, director of special education, and K-12 principal with experience serving youth through residential programming, school social work, child protective services, children's mental health services, and centers for child victims of domestic violence.
Her time "in the trenches" only served to emphasize to Theis the value of reaching individuals young, before their struggles explode beyond their ability to cope, she said. "I can take what I've learned" and "be more proactive."
Because young brains are still developing, "anything can happen," she said. "I'm passionate about the potential and possibility of children."
Theis was the director of special services for the Austin school district for two years before spending nine years as principal of New Dominion School at Gerard Academy.
New Dominion "is a beautiful, wonderful place," and "I'm tremendously grateful for all the things those kids taught me," as "I see them as tremendous survivors," she said. "You learn a lot about yourself when you work with children who struggle," and the residents of New Dominion "struggle with mental health barriers," as residential treatment is "one step away from hospitalization."
New Dominion served students in K-12 across all content areas, and, as principal, Theis "was able to build a tremendous team of adults" who helped students — some of whom had never succeeded in a scholastic setting — experience triumphs in an education environment, she said. "That was so powerful."
In this district, Special Services run the gamut, from Developmental Adapted Physical Education (DAPE), to occupational therapy, to physical therapy, to visual impairment, to speech therapy. There are 13 categorical disability areas in special education, including students on the autism spectrum, the blind and visually impaired, the deaf and hard of hearing, those severely impaired, students with physical impairments, those with speech impediments, and students with traumatic brain injuries.
More than 900 Owatonna Public School students received some special education services this past school year, up from roughly 750 only two years ago. Though state and local outlets can offer more than mandated by the federal government in terms of special education, state and local can't provide less, and the Owatonna school district provides services from birth to 21.
'Energy, focus, passion, commitment'
Theis is familiar with the city of Owatonna, the school district, and the Special Services department. Theis and her husband of 15 years, John, moved to Owatonna 13 years ago, their son, CJ, will be a freshman this year at Owatonna High School, and their other son, Hunter, will be in seventh grade at Owatonna Middle School.
Over the past couple of years, Theis worked in the district's Professional Learning Community's (PLCs) on trauma-response practices and crisis intervention, as well as with Special Education personnel on contending with children who express their struggles "externally," she said. "That gave me a peek into what's happening in the district," and she saw how staff members, particularly in Special Services, are "so committed to reaching children who struggle."
"You truly have to want to understand their experiences because children deserve that," she said. "I feel that energy, focus, passion, and commitment" in Owatonna.
In addition, "I really believe in" the "leadership" of Superintendent Jeff Elstad and "like the direction he's moving" the school district, she said. Her "ultimate goal" is to provide special services to children in need in "the least-restrictive setting," but, of course, that's a communal effort involving everyone in the district, and SPED shouldn't "be its own silo."
The work of Special Services has only grown "more complicated" in recent years, as more children require services, she said. Often, they'll present with "comorbidity" — say, being on the autism spectrum, as well as having a learning disability — and they may also have been impacted by trauma, so "it's a pretty complex picture."
Cases of autism in American children jumped 150% from 2000 to 2014 and 15% from 2012 to 2014, according to the Centers for Disease Control and Prevention. Approximately 3.5 million Americans have autism-spectrum disorder.
Roughly a third of people on the autism spectrum are nonverbal, and the same percentage have an intellectual disability. Autism can also coincide with other challenges, such as seizures, anxiety, and ADHD.
"The most-powerful emotion in the human experience is fear, and we can all agree we want our kids to feel safe and nurtured," Theis said. "To do that, they need to feel understood, not judged."
'A frustrating barrier'
Among the hurdles for districts throughout Minnesota is the shortage of SPED funding, she said. "These are needs and services we must provide" by law, but "they're not fully covered," and that's "a frustrating barrier."
As costs for serving SPED students continue to rise, districts have to allot dollars from their general funds, a process known as the special education cross subsidy. The average cross subsidy for Minnesota districts is $820 per student.
The district is slated to spend $1,408,095 more on special education instruction in the preliminary 2019-2020 budget than in the final 2018-2019 budget, including several additional positions to meet needs of students.
The costs for special education continue to rise precipitously "for everyone, not just our district," according to Amanda Heilman, the district's director of finance. It's "one of those areas severely underfunded statewide."
Students are arriving at schools with more needs — at earlier ages — than ever before, according to Elstad. Unfortunately, "the funding isn't following that."
'Instilling hope'
Theis learned from her mother, Donna McLoone, who was a school social worker for two decades in Owatonna Public Schools, and "that instilling hope is" paramount, especially in children, Theis said. In addition, "never underestimate what children are capable of becoming."
At times, those who work in Special Services can be so heartbroken by the tragic tales of some of their students that they lapse into an, "oh-you-poor-thing" mentality, but children can be remarkably resilient, if taught proper skills, she said. "They need those skill sets."
Roughly a quarter of children have been exposed to traumatic events, which can erode their trust in adults, and schools, of course, are guided by adults, Theis said. "If they don't feel safe around adults," proper learning is virtually impossible, so "we need to help change their perspective, but that takes time," and districts are more mindful of metrics like ACEs (adverse childhood experiences).
"An ACE score is a tally of different types of abuse, neglect, and other hallmarks of a rough childhood," according to NPR. "The rougher your childhood, the higher your score is likely to be and the higher your risk for later health problems," from substance abuse to suicide.
Theis is eager to hear from parents and families as she takes the reins of Special Services.
"I'm here, if anyone has questions, comments, or concerns," she said. "Let me know what we're doing well, too, so I can congratulate the staff who is working so hard."