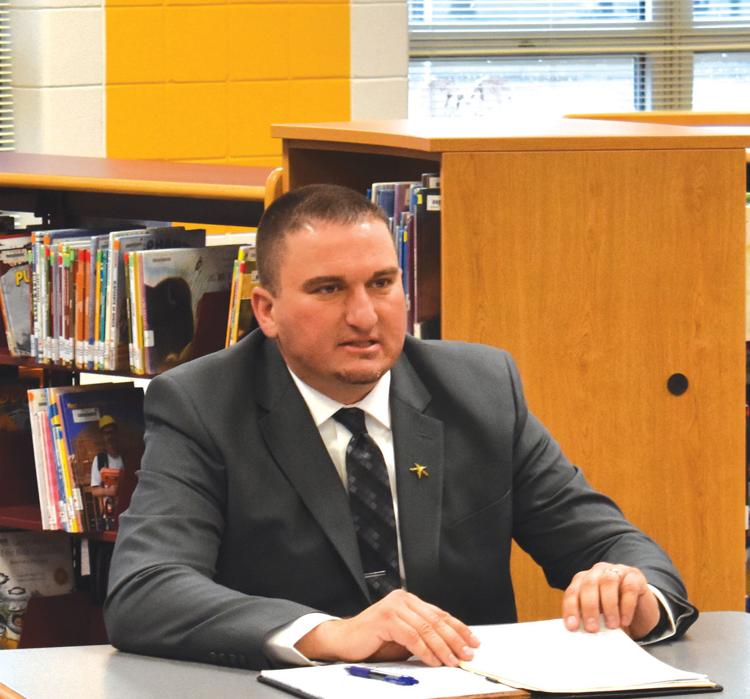 BLOOMING PRAIRIE — Jake Schwarz, who was already familiar with Blooming Prairie due to the fact his children attend school in the district, is now getting to know even more as he takes over as elementary principal.
"It's everything I imagined so far," he said earlier this summer. Coming into a new building can be "daunting," but "everyone has been welcoming and helpful."
Schwarz, who was the middle and high school principal in Grand Meadow, has lived in Blooming Prairie for years with his wife and their children. All four of his children attend school in the district.
His roots in the community and school district, of course, were a factor in seeking this position, he said. "You want to be as involved as you can in the community in a role like (principal), but it's tough to do that in two districts, so it'll be fun to" concentrate only on Blooming Prairie.
Even more importantly, however, Schwarz "was really impressed with the teachers and how this district is run," he said. "There are lots of positive things going on I want to be part of."
His time as a high school and middle school principal will benefit him in his new role, because he understands the skills students need to possess by the time they're older, he said. "That starts at the elementary level."
While "there are still a million things to do" with elementary students, "the focus narrows a bit" compared with middle or high school, he said. "There are so many other factors" with older students, but while "the workload is the same" in an elementary setting, "you can focus on one area more."
In addition, his background is in elementary teaching, including a decade in third grade, he said. "I'm more comfortable" in elementary.
Farming and education
Schwarz, who was Grand Meadow's principal for three years, was raised on a farm before graduating from Fillmore Central High School and then Winona State University. He spent the preponderance of his early teaching years in third grade, then took a couple of years off to farm his family plot, which only served to "reignite" his passion for teaching.
Schwarz didn't want to look back later in life and wish he'd tried farming, but "I really missed (education)," he said. "Being away from it, you realize the difference you make with students […] it gives me goosebumps when I think about it."
In fact, that's one reason he transitioned from teacher to instructional coach to principal: the opportunity to impact an entire building, rather than one classroom or group.
"I thrive on that," he said. "I'm super-excited to join this team and be even more of a part of the community."
Schwarz "comes very well-recommended" and has done "an excellent job" in Grand Meadow, Chris Staloch, who had been Blooming Prairie's elementary principal but has since taken over for Barry Olson as superintendent, said this spring. Schwarz emerged as the consensus pick — not only of the teachers and administrators, but also the school board —and "we're very confident he'll do a great job."
"I have been spending quite a bit of time with (Schwarz)," and "we've had great discussions," Staloch added later this summer. "He's been great at asking really good questions."
"I put a lot of emphasis on family" within his own household, and Schwarz wants to create the same familial feeling in his building, Schwarz said. "It all just starts with relationships, and this school does that well."
Schwarz treats faculty, staff, and students "like family, and I'm respectful of everybody," he said. "That's just how I operate."
"The main goal is to get to know kids on a personal level," he added. "That's what we all want."
Schwarz grew up on a farm, and he wanted his own children — his triplets will start third grade this fall, while his daughter will be a sixth grader — to have similar experiences, he said. He and his family purchased acreage in Blooming Prairie nearly four years ago.
Farm life teaches "responsibility" while providing "an ability to explore, be outside, and (play in) an unstructured environment," he said. "It was a very valuable way for me of growing up."
In fact, that "unstructured" time is critical inside school buildings, as well, he said. "We want (more) engineers and inventors," so it's paramount for schools to allow students "freedom to create and freedom of thinking."
Staffing and tech
Blooming Prairie, as many other districts, can struggle to find qualified applicants for some positions, but the key is "get them in the doors, because they'll see Blooming Prairie is awesome and want to teach here," Schwarz said. "You can have a great livelihood."
While in Grand Meadow, Schwarz actually started an introduction-to-education class to expose students to the teaching profession. He also supervised student teachers from local universities.
Schwarz believes Blooming Prairies elementary school has "a nice balance with technology," as it's integrated into the curriculum, but not overused, he said. "There's lots of value with that connection between pen and paper," and "I think our kids get enough screen time when they leave school."
Sharing a school with his own children
Schwarz is looking forward to knowing even more about the school his children attend and being able to see them whenever he wants during the day.
"I think they're excited," he said. "Hopefully, they're proud of me."