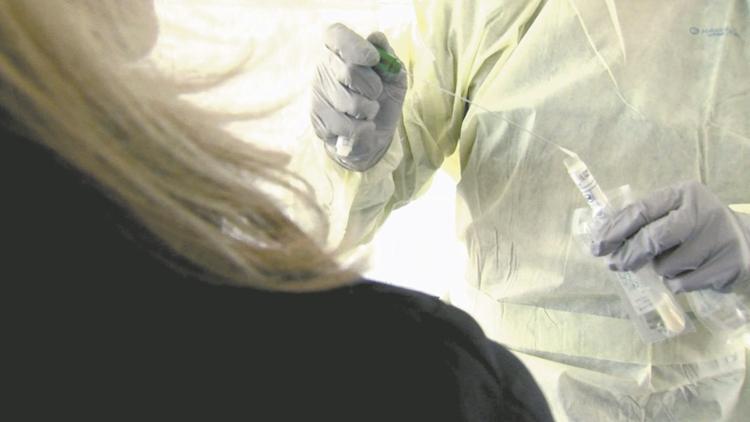 In an effort to help prevent the spread of the novel coronavirus COVID-19, the Mayo Clinic Health System is in the process of setting up drive-through screening sites across southern Minnesota.
If a patient is symptomatic or believes they've come in contact with the virus, they're required to call their clinic ahead of time and work out a plan for if and where they can be tested.
The region's first drive-through setting was launched Wednesday in Rochester, at the same time that the provider was developing its own test to detect the virus in clinical samples, typically collected via oral and nasal swabs. According to Dr. Jason Wray-Raabolle, chair of primary care for the Mayo Clinic Health System in Owatonna, these specimens are currently being processed internally but may also be sent to the Minnesota Department of Health laboratory in the future.
Owatonna clinic president and CEO Dr. Brian Bunkers said things are in the works to have a drive-through screening site set up in Owatonna in the near future. While he wasn't able to comment on the specific location, he noted that it would be external and would likely be a tent that patients will be able to drive under to have their specimen collected — similar to what is currently set up in Rochester.
"Our staff will be wearing personal protective equipment and will then come out and obtain the specimen via nasal swab, and then the patient will leave," said Bunkers, noting that the method of testing may change over time. "We'll have to get them registered and perform some computer work, but the idea is that the patient won't come into the building."
Wray-Raabolle added that the goal is to have test results ready in 24 hours or less and that patients will be able to be notified of next steps either via phone or the clinic's online portal system. For those with more severe symptoms, Bunkers said the clinic is working with the Owatonna Hospital and Steele County Public Health to manage patients.
In addition to Rochester, sites have been set up in the communities of Fairmont and Mankato, and another is in the works in New Prague for next week according to Amanda Dyslin, senior communications specialist with the Mayo Clinic Health System.
Dyslin noted that, while there are or will soon be drive-through screening sites in these cities, they will not necessarily be on medical campuses. With concern over privacy and the need to call in advance of coming to the drive-through, she said the exact locations will be shared with patients only if and after their primary care provider determines a test is needed.
Wray-Raabolle added that testing also continues to be a possibility outside the context of these new drive-through operations.
"Testing is currently being done on patients that meet the criteria, where we have the capability to ensure safety for patients and for staff," he explained. "Right now, that could be in an emergency department and our screening and our current processes are getting patients to where that can occur."
All patients requested to call ahead
Phone screening is required to be able to use the drive-through locations and, as of Friday morning, is also necessary in order to set up most appointments throughout the Mayo Clinic Health System.
"We want all patients to call and have an appointment — whether that is just a laboratory visit, whether it's for the same-day clinic," said Bunkers. "That's a big change, because we have a walk-in function [in Owatonna] now and we have to change that to protect our community."
Wray-Raabolle added that this new system is especially important for patients with respiratory symptoms, who may be turned away if they show up in person without calling first. Bunkers noted that the decision to have everyone seeking care, for coronavirus-related symptoms or any other reason, call before coming in was made early Friday morning in an attempt to limit the spread of the disease.
In a March 13 news release, Allina Health announced visitation restrictions also aimed at containment. According to the statement, sick people are not allowed to visit patients, children younger than 12 years old are not allowed to visit, all patients are limited to two visitors per day and no visitors are allowed in to see persons under investigation or with confirmed cases of COVID-19. For many of these measures, there are exceptions that can be granted and patients' children or other family members are not classified as visitors — these individuals can be at the clinic with the patient.
COVID-19 is transmitted primarily via respiratory droplets when an infected person sneezes or coughs, but can also be passed along on infected surfaces according to the CDC. As of March 13, there were 14 cases in the state confirmed by the MDH, out of 555 patients tested.
Peacetime emergency
In a press conference Friday afternoon, Gov. Tim Walz declared a peacetime emergency in the state, which he likened to opening the toolbox without taking anything out. The recommendations made by Walz and MDH Commissioner Jan Malcolm were to cancel or postpone large events of over 250 people, and limit gatherings of those at high-risk for a severe iteration of COVID-19 to less than 10 people. This at-risk group includes seniors and people with pre-existing medical conditions such as diabetes, heart and lung disease.
State officials did not make the recommendation to close schools, although the executive order will allow Walz more power to make similar decisions as the situation evolves.
"This executive order has the force of law for five days. At that time, the executive council will have to meet and, if they vote to continue it, it will continue for 30 days," he told reporters. After that point, the state Legislature would need to come together to end the peacetime emergency.
As Minnesota continues to see more instances of the disease statewide, providers are reiterating that anyone experiencing the primary symptoms of COVID-19 — fever, coughing and shortness of breath — should call their primary care provider to explain their situation and decide if and how they should get tested.
"What we're really encouraging patients to do is to be screened over the phone, call local clinics or call the emergency department after hours," added Betsy Spethmann, director of community relations for the Northfield Hospital and Clinics.
She added that facilities in her system have signage advising people who have upper respiratory conditions, symptoms or fever to go back to their car and call from there to decide on next steps for care.
For those in the Mayo Clinic Health System, Wray-Raabolle explained that patients should call their normal clinic and will be directed on appropriate measures from there, which may ultimately include drive-through screening if recommended by a provider. He added that additional resources have been allocated to the phone lines, in an attempt to reduce wait times.
The CDC advises those with emergency warning signs of COVID-19 — including difficulty breathing, persistent pain or pressure in the chest, new confusion or inability to arouse, and bluish lips or face — to take immediate action in getting medical attention.COVID-19 and its spread has caused fear and uncertainty across the globe. To ensure our community has the latest information on this public health threat, APG Media of Southern Minnesota is providing stories and information on this issue in front of its paywall.