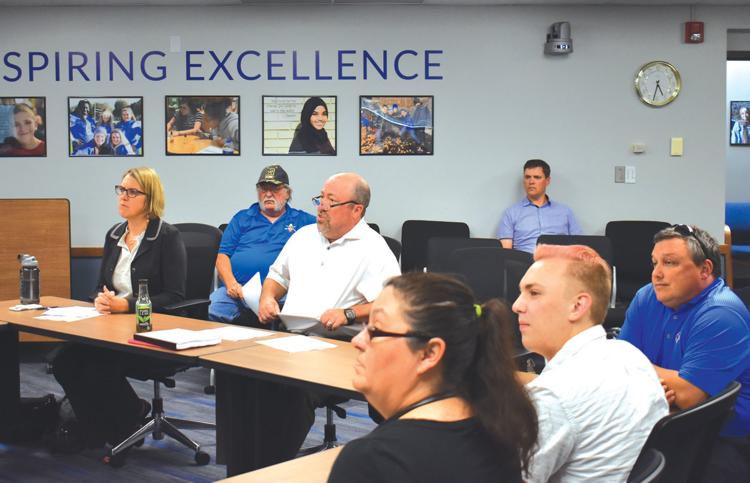 OWATONNA—During a work session of Owatonna's school board this week, Morris Leatherman's chief executive officer Peter Leatherman presented results from a survey completed earlier this month regarding a bond referendum for a new Owatonna High School, and the message from those who opposed May's vote is clear: "it's taxes."
For those who voted "No" on the issue in May, "the macro issue is property tax hostility," Leatherman explained Tuesday night. "The key factor is taxes."
Of those surveyed earlier this month who opposed the May referendum, half said it was because their taxes are too high. On another question, 94% said the bond would have increased their taxes too much, with 76% calling it a "major factor" and 18% citing it as a "minor factor."
The perception on property taxes by those surveyed this month "has changed considerably" from Morris Leatherman's fall survey, Leatherman said. While only 12% called their total taxes "very high" last year, 26% deemed their total taxes "very high" this month.
However, the feelings on school taxes, specifically, moved only slightly, with 16% calling their school taxes "very high" this month, up from 13% who felt that way in the fall.
"Animus on property taxes is not directed at the school district, which is good news, but the bad news is the only opportunity to vote against property tax increases is with school" referendums, Leatherman said. "You're bound by 55%" of those surveyed saying "their taxes are too high" in general.
"City taxes went up 7% last year," but the school district is the entity that has to ask for money, and do so in a "tax-hostile environment," said Jeff Elstad, Owatonna's superintendent. "People don't want to part with a lot of money," which is understandable, but, in this case, "that puts our students at a real disadvantage."
In the fall, 61% of those surveyed were persuadable regarding a tax increase for the school district, but that figure is now down to 47%. While 19% were against any tax increase last year, that number has risen to 25%; on the other hand, though, only 20% were for any tax increase to benefit the school district in 2018, but that figure has increased to 27%.
"More than half have made up their minds," Leatherman said. "More have gone to positions" for or against a tax increase.
This survey "tell us people are more (adamant) in support or opposition," Elstad concurred. "It appears to me more people are out of the 'unsure' category."
By a margin of 5,762 to 5,642, or 50.52% to 49.47%, voters defeated a bond May 14 that would have led to the construction of a new high school to replace the antiquated OHS. A volunteer community task force met several times in 2018 and ultimately recommended a new high school be built to replace the current model, which has a litany of issues due to its advanced age, including deferred maintenance needs of roughly $35 million.
A new OHS, which the district would've hoped to open in the summer of 2022, would have been roughly 342,000-square-feet, served a capacity of 1,700 students, included five courts in its gymnasium, a 900-seat auditorium with stage and support spaces for music and theater, a multi-use sports stadium with turf and seating for 3,000, and assorted modern classrooms amenities. It would've boasted a secure main entrance adjacent to the main office, adequate commons areas for lunch seating — the current cafeteria doesn't have enough seats for students in any of the four lunch periods — and hosting community events, a media center, and distinct bus and parent drop-off areas for the safety of students and adults. Pledges from a number of local companies, including a promise of $20 million in cash from Federated Insurance, lowered the bill for taxpayers on the bond from $138 million to $116 million, and the Owatonna Area Chamber of Commerce and Tourism expressed unalloyed support for referendum passage, as well.
In this month's survey, 42% said they'd pay absolutely nothing in terms of a tax increase for a bond referendum, while 47% indicated they would pay, but support decreased as the amount elevated, which one would expect, Leatherman said. "A plurality will pay something, but it depends on what that 'something' is."
For an additional $8 on a monthly tax bill, 17% granted support in the survey, and 13% were accepting of a $16 per month increase, but that figure dropped to 11% for a $24 per month increase. However, possible alterations to previously-presented plans for a new high school either made no impact on those surveyed, or actually shed votes, with the exception of a smaller high school.
If a building for 1,600 students were constructed, as opposed to an edifice for 1,700 students, 22% of those surveyed said they were more likely to vote for it, while 12% indicated they were less likely, Leatherman said. Nearly two-thirds of those surveyed, however, said it would make no difference in their vote.
If asked to support a bond referendum this November, 48% of those surveyed this month indicated they would, and 47% were opposed, results within the margin of error. Of those who voted in May, 49% expressed bond support, and 47% were opposed, but, again, those results are within the margin of error.
The Morris Leatherman Company completed a similar survey of local residents this fall, and Leatherman presented to the board during a November meeting. Morris Leatherman has been doing surveys for the district—and throughout Minnesota—for years, so Leatherman can compare and contrast results from this latest survey with historical Owatonna surveys, as well as juxtapose them with results from around the state.
In the fall, 400 random households were surveyed, but Leatherman increased that number to 500 this time, because he wanted to guarantee responses from at least 300 people who voted in May, he said. Interviews, which averaged 18 minutes, were conducted between July 9 and July 18, the non-response level was 5%, and the margin of error was 4.5%.
Of those surveyed in the fall, 24% had lived in the district 10 years or fewer, 21% lived here 11-20 years, 23% lived here for 21-30 years, and 32% lived here for more than three decades. This month, those figures were 25%, 23%, 22%, and 30%, respectively.
There was a virtually even split between self-described Democrats and Republicans in this survey, but 43% called themselves political conservatives, 27% classified as moderates, and 24% identified as liberals. A quarter had high school educations or less, a third had college experience, and 42% were college graduates.
The age ranges were virtually even splits. Roughly a fifth were 18-34, a fifth 35-44, a fifth 45-54, a fifth 55-64, and a fifth 65 or older.
While only a third of respondents called themselves "financially stressed" in the fall survey, that figure increased to 39% this time, and that follows a statewide trend of economic anxiety creeping upward, Leatherman said. "We're seeing this grow across the state."
Of those surveyed earlier this month, 64% voted in May, while 36% did not. For those who didn't vote, 45% said they would have supported the referendum, while 35% said they would have opposed it.
For that 36% who declined to vote, half cited "no time/busy/forgot" as their reason for not voting, Leatherman said. Of parents who didn't vote, 70% said it was because of lack of time, too busy, or they forgot.
For 59% of those surveyed, the Owatonna People's Press was a major source of information about the referendum, and 24% considered it a minor source. Direct mailings from the district were a major source for 49% and a minor source for 41%.
However, friends/neighbors were a major or minor source for 77% of voters surveyed, so "the grapevine was alive, lush, and vibrant," Leatherman said. Additionally, "if the grapevine was a major source for people," which it was for 40% of those surveyed, "they opposed the referendum."
In the aftermath of May's narrow failure, some second-guessed how the district presented information to the community, but two-thirds of those surveyed this month said there was nothing the district could have done to better inform voters. Perhaps related, nearly half of those surveyed said they had made up their minds about the vote before the decision to run a referendum was even announced by the school board.
"We've seen this across the state over the past decade, and it's the same here," Leatherman said. "Almost half of the people had their minds made up before the referendum was announced."
This is also true of surveys Morris Leatherman does regarding attitudes toward issues at the state or federal level, he said. "We're divided."
Back in the 1990s, typically only a quarter of people had their minds made up on issues, with the other 75% usually persuadable, he said. Now, however, whether it be for a school bond, a state ballot issue, or a presidential election, "people are entrenched one way or the other."
Whether successful or not, school districts "burn political capital" when they run bond referendums, and Owatonna was no exception, Leatherman said. The percentage of those who said the district spends money effectively fell from 76% in 2018 to 59% this month—which is still higher than the state average of 52%.
This district has "always gotten high marks on engaging the community," and that has remained true, he said. In this survey, 76% said the district did well in community involvement, down only 5% from last year.
However, only 52% of those surveyed this month said they would support a referendum to protect their investment in local schools, he said. Those figures were 71% last year and 69% in 2015.
Voters in this survey did break from the statewide results in a question about schools being adequately funded.
Only 48% of those surveyed this month in Owatonna agreed schools receive adequate funding, but across the state, that number is 60%, Leatherman said. "That's an interesting result" for Owatonna, and "counter to what we're seeing elsewhere."
Tuesday's meeting was to "digest the information" from Leatherman, but the board's next meeting, a work session at 5:30 p.m. August 1, will be "a night to roll up our sleeves" and select "a direction we want to go," Mark Sebring, chairman of the board, said at the conclusion of Tuesday's work session. "That is decision night."
If the district wants to bring a high school bond referendum to voters on the November general election ballot, the board and administration will have to move fast, Elstad said. In order to leave enough time for "review and comment" from the Minnesota Department of Education, the district would have to submit all germane documents to MDE by early-August.