GOING DARK: Local service industry feeling the weight of mandated COVID-19 shutdown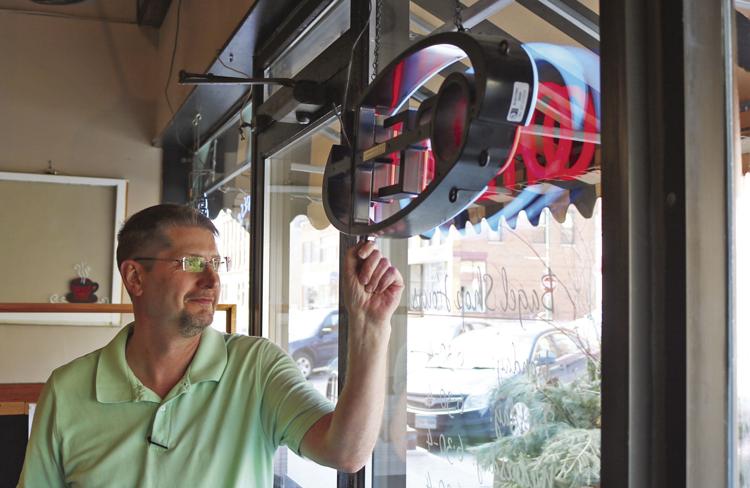 OWATONNA — Shortly before the normal lunch rush, Stacy and Mark Wilson looked at the dining room of their restaurant on Tuesday and saw nothing but empty seats.
Old Town Bagels in Owatonna has long been noted as one of the busiest places to eat in the downtown district. On a typical day, the Wilsons see a steady flow for breakfast the moment they open their doors at 6:30 a.m. and pack the building with hungry patrons over lunch, with a lingering crew up until their close time at 4 p.m. On Tuesday, however, the absence of customers couldn't be ignored as the Wilsons began to prepare for what will now be their new normal.
Monday evening, Gov. Tim Walz announced an executive order that would close all restaurants, bars, and places that provide public accommodation and amusement effective at 5 p.m. on March 17 until Friday, March 27 due to the COVID-19 pandemic. Take-out and delivery options can still be available for businesses able to keep or implement those practices, but for many it will simply mean locking their doors.
"We kind of all saw it coming and we know it needs to be done," Stacy Wilson said. "I do believe that we are positioned a little better with online ordering already being available, and I am sure we will see a drop in business, but it's going to be a process as we learn how to mitigate this new normal we are in."
In Owatonna, about 70 businesses are being directly impacted by the recent closures from the state. The ripple effect of the executive order reaches far beyond the businesses themselves, putting almost an entire industry of workers out of a job and without a paycheck.
"I think we all our concerned about how the economy is going to react to this," said Brad Meier, president of the Owatonna Area Chamber of Commerce and Tourism. "People will be a little tighter to the vest with their money and that always impacts things. That's a reality that we're worried about."
The economic concerns immediately brought opposition to Walz's executive order from state legislators, including Sen. John Jasinski, R-Faribault, who only hours after the Monday press conference issued a plea for the governor to change his mind.
"I sincerely, sincerely hope the governor will reconsider his decision to close down most private businesses, including, but definitely not limited to bars and restaurants," said Jasinski, whose district includes most of Steele County. "These small businesses are the backbone of our state's economy. Many of them have high overhead and low margins. Order them to close, even for two weeks, will have a disastrous effect not just on our economy, but on thousands of hourly wage earners and small business owners."
The Wilsons stated that out of their 12 staff members, only three of them have a second job outside of the bagel shop. While the store is planning on staying open to accommodate pick-up and delivery options, the hours of operation will be cut back as well as labor.
"Our staff is a great concern, we don't want to put them out of work," Stacy Wilson explained. "But the restaurant industry is a cash-flow business. If there is no cash coming in that is going to trickle down."
"It's really going to be an adjustment for everybody," Mark Wilson added. "I know we have a couple of anxious staff."
The Wilsons estimated that for now the staff will lost about 30% of their hours at work, and that they had offered everyone the option to be taken off the schedule for now if they did not feel comfortable coming in, knowing that filing for unemployment would then be an option. Unemployment, however, isn't a perfect solution as it only covers about 50% of an employee's wages.
"It is very overwhelming. A lot of people here this is their only job and their whole livelihood," said Torey Statlander, owner of Torey's Restaurant and Bar in downtown Owatonna. "With no income and no paychecks, people are going to be scraping by to pay some bills and just to put food on the table."
Statlander said that his staff is his number one priority, but during the mandated closures the restaurant will be forced to significantly cut back on labor as they provide takeout orders for the next two weeks. For some other businesses, however — specifically bars that do not serve food — their only option is to lock up completely until the restriction is lifted.
"We have a lot of sympathy for what is going on and for the folks who don't have a lot of options outside of just closing their doors," Meier said. "We know that this going to be really difficult and we will do everything we can to support them though the period of time that they need to be closed, but we recognize that this is going to be very challenging times and that it's possible that some of these businesses might not reopen. We just don't know. It's awful."
Though the executive order is in effect until March 27, there appears to be a general expectation that it will be extended for an unknown amount of time. Walz stated at the end of his press conference on Monday that this is "only the beginning" and that he expects the closures to last longer than the current order states.
"We have to play it by ear for now," Stacy Wilson said. "We just hope that people keep us in mind and know that we're still here, we're still open, and we still need their business."
"This is going to affect every business as people are afraid to go out of their homes," Statlander added. "We need to support any local business that we can, we're all just trying to make a living."
"I think this community has weathered a lot of storms over the years and has been able to really come out stronger in the end," said Meier. "I am very confident that we will be able to do that again. The message is that people need to support each other and do the best we can. Stay positive. Things will get better."
As of press time on Tuesday, the Owatonna City Council was scheduled to declare a State of Emergency during the regular meeting at 7 p.m. The Steele County Board of Commissioners are also scheduled to declare a State of Emergency during an emergency meeting on Wednesday at 3 p.m.