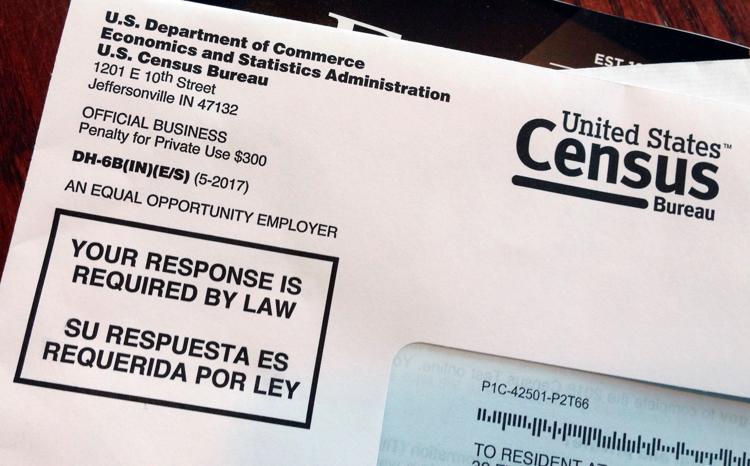 While another global pandemic, H1N1, was winding down ahead of the last U.S. Census, novel coronavirus COVID-19 is on the rise and continuing to spread as the 2020 count gets underway — posing outreach challenges for local organizers, while also potentially leading more residents to take advantage of this year's online form.
As of Wednesday afternoon, the Minnesota Department of Health had confirmed 77 cases of the disease statewide, and Census liaisons across southern Minnesota have canceled remaining kick-off and in-person informational events in compliance with public health officials' advice to forego large gatherings.
A respiratory illness that can cause everything from mild symptoms to death, COVID-19 is spread primarily through close person-to-person contact when respiratory droplets are emitted via coughs or sneezes.
With cases in Blue Earth, Nicollet, Olmsted and Waseca counties, local government employees say they're trying to balance their roles as Census liaisons with all of the added preparations necessary to try and halt the spread of the disease — including in some cases closing municipal offices to the public, adapting to working remotely and providing regular updates to residents.
"We're still putting the word out, but it's kind of getting put in the background with everything that's been going on," said Mark Blando, Census liaison and director of the Owatonna Public Library. "Our library was a place where people could come to get help filling out the online Census and of course, with us and many other libraries being closed, that's a vital link in the chain that's been put on hold."
With delays to how easily people are going to be able to access the Census and concern over spreading the virus through face-to-face interactions, the U.S. Census Bureau has also announced that it will be adjusting its own timeline somewhat.
According to a statement Wednesday from U.S. Census Bureau Director Steven Dillingham, field operations will be suspended for two weeks until April 1.
"The Census Bureau is taking this step to help protect the health and safety of the American public, Census Bureau employees, and everyone going through the hiring process for temporary census taker positions," said Dillingham, adding that his agency will continue to monitor the situation during suspension and communicate any additional adjustments, as needed.
According to the bureau's website, invitations to respond should be received via mail between March 12 and 20. These will contain additional information on how to complete the Census either online, over the phone or by mail. Responses help determine electoral districts, congressional representation and the allocation of federal funding to communities across the country based on population.
With the additional challenges now posed by COVID-19, organizers in southern Minnesota are attempting to find other ways to continue their outreach. While households are asked to provide data valid on April 1, the Census can be completed after the fact and field workers are currently planning to follow up in person for those who haven't submitted a form from May through July.
Adjusting information campaigns
One of the main challenges for local Census liaisons in light of COVID-19 has been how to continue to spread the word about the decennial count when in-person gatherings are discouraged by public health officials and many public institutions are closed due to the disease's spread.
"We were planning to have a kick-off event for the Census. We had planned for it to be an indoors event, and now that has been shelved and we're kicking some other ideas around," said Gary Sandholm, Census liaison and economic development coordinator for the City of Waseca. "We may have some kind of a drive-by event where people can pick up relative information, but it's going to be tougher to deal with staying within the protocol of the city's personnel policy and people's comfort level."
Sandholm added that the kick-off is typically an opportunity for the city to provide more information on what the Census is and especially how the data is used, a fear for many individuals in filling out the questionnaire. The form will ask about the number of people living in each household and solicit biographical information for each to try and establish statistics about race, ethnicity and family make-up.
According to the bureau's website, the agency can only use responses to produce statistics — which then are used to determine things like federal funding and the number of seats each state has in the U.S. Congress. The website notes that it is not able to publicly release responses in a way that identifies an individual or household and adds that all web data submissions are encrypted and all paper responses destroyed after processing.
"Personal information is not given out to anyone or any other government agencies, so people don't have to worry about personal information being used in a way that would be detrimental to them," said Sandholm.
The Faribault Daily News reported on March 10 that Minnesota is currently on pace to lose one of its eight Congressional seats based on 2019 Census estimates, according to analysis by political consulting firm Election Data Services. The article goes on to say that the state likely won't lose the district by much, and a slightly higher than anticipated count this year could save it.
Young children, extra tenants often missed
Still, providing household data can make many wary — or confused about how to count each person staying with them — leading to demographics that are historically under-counted around the region. Julie Anderson, executive director of Transitional Housing of Steele County, said one of these underrepresented groups tends to be people "doubling up" in rental properties where they are not on the lease.
"People don't want to disclose the fact that they're housed there for fear of getting kicked out," said Anderson. "They're hiding from the landlord and they're probably working, but aren't making enough to have their own place."
Another challenge for many of her clients, Anderson added, is that families who share custody are sometimes unsure which guardian should count a child. According to the bureau's website, people should be counted where they live and sleep the majority of the time — and residents of all ages should be included.
Related confusion has led children ages 0 to 5 to be one of the most under-counted groups, according to Charlotte Carlson, co-chair of Northfield's Complete Count Committee. Like similar volunteer groups in communities across the United States, Carlson's team has been working to raise awareness about the Census, particularly by setting up face-to-face informational sessions and meetings with harder-to-reach demographics.
"We've been meeting with basic education classes, English as a second language classes, a parent group for Head Start, staff at HealthFinders Collaborative. We've suspended all of that activity now," she explained.
Before schools entered a temporary closure period from March 18 to 27, she noted that her committee was able to deliver stickers saying "Count Me" for teachers to distribute to younger students as a way to remind families to provide information on this oft-omitted group.
"We had planned to do that all along, we just had to move it up a couple days," said Carlson.
Counting colleges during closures
On the other end of the academic spectrum, many local colleges moving classes online for at least a good part of the remaining term has led to another outreach challenge for the Census. Because they spend the majority of their year at school, university students should be counted in their college's town at either their on- or off-campus residence.
Barbara Luker, executive secretary with the City of St. Peter, said local Census organizers are working with administrators at Gustavus Adolphus College to make sure students know that they should be counted in town, even though many will be back home this spring as the institution conducts the remainder of the semester via online learning.
"At Gustavus, the majority of students live on campus … that's why we're going straight through the college," said Luker. "Now that students have gone home, the school is reaching out to them and saying, 'For Census purposes, you're being included here as your home.'"
The U.S. Census Bureau announced over the weekend that it would be postponing early nonresponse follow-up operations, which target households near colleges and universities in order to find students before they leave for the summer, from April 9 until April 23. Regular follow-up operations, where field workers go door-to-door reminding individuals who have not yet responded to do so, are currently set to take place from May through July.
Assisted living encouraged to go online
Like college dormitories, nursing homes are termed "group quarters" by the Census, and data is frequently collected and shared by administrators as opposed to each individual resident.
"We were contacted a couple months ago about the Census and we made plans right away that we would be submitting all that data online by April 1," said Lisa Kern, executive director of the Koda Living Community in Owatonna.
While group quarters have multiple options for completing the Census, Dillingham said in a March 15 statement that the bureau is working on contacting all administrators who have requested an in-person visit, asking them to consider responding online or by having forms dropped off and picked up instead.
With the arrival of COVID-19 in southern Minnesota and the heightened vulnerability of their clients, some assisted living facilities are also having trouble finding the time to complete the Census while also responding to and preparing for the virus. Furthermore, many have heavily restricted the number of external visitors allowed to come into the facility.
"Dealing with this crisis has been at the forefront of every day, from the time I get here to the time I go home," noted Daniel Jacobsen, director of Oak Terrace Assisted Living in Le Sueur. "We're more than happy to assist in whatever way we can, but right now we're just trying to make sure they're healthy and taken care of."
While the Census asks about household make-up as of April 1, residents across the state will also be able to respond later this spring before field workers come for in-person reminders from May to July to homes that haven't yet submitted an answer. For more information, or to complete the questionnaire online, visit www.census.gov or contact local city officials with additional questions.
COVID-19 and its spread has caused fear and uncertainty across the globe. To ensure our community has the latest information on this public health threat, APG Media of Southern Minnesota is providing stories and information on this issue in front of its paywall.