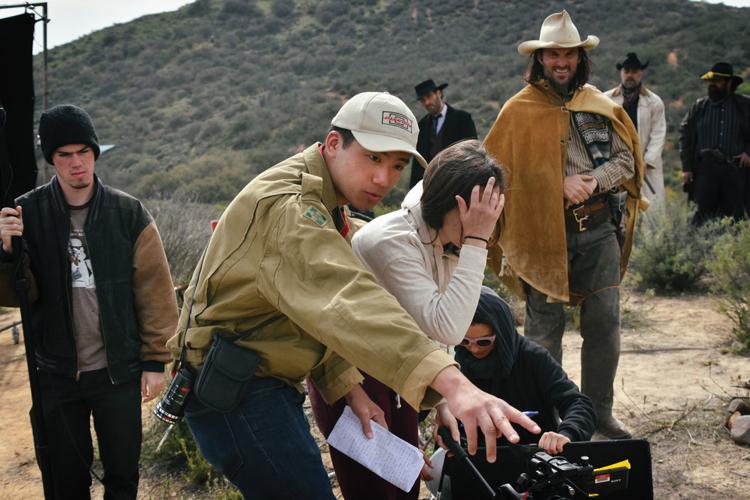 OWATONNA — Winter State Entertainment, the production company operated by Owatonna's Hamid and Camille Torabpour, is going to war, the Korean War.
Winter State has signed on to produce "A Bitter Front," inspired by real events. Ryan Huang, who grew up in Owatonna, wrote the film and will direct it.
Huang edited a documentary on Sly and the Family Stone, another Winter State project, and "he did a fantastic job on that," Hamid Torabpour said. "I'm a big fan."
Since graduating from the University of Southern California's film school, Huang has freelanced on editing projects, but the 50-plus hours of footage he received for the Sly and the Family Stone documentary was "daunting" to cut into a manageable length while maintaining coherent flow, Huang said. "Editing is definitely a thing I like to do on the side," and he came away from this experience "with a lot more appreciation for the music of Sly and the Family Stone."
Huang, a 2014 graduate of Owatonna High School, "has a work ethic to get things done," and he's "very detail-oriented," Torabpour said. "He's a brilliant writer and filmmaker."
"A Bitter Front" will follow a combat surgeon deployed to a remote United Nations position in North Korea late in 1950, according to The Hollywood Reporter. In the Chosin Reservoir, outnumbered Marines face annihilation at the hands of thousands of Chinese soldiers, and it's in this frigid, punishing, and unforgiving environment that the protagonist must treat numerous patients while trying to survive himself.
Characters are based on real individuals, and the 1950 Battle of Chosin is really "emblematic of the entire conflict," Huang said. "I try to maintain as much historical accuracy as possible."
"I've always been a history buff, especially military history," and as Huang learned more about the Korean War, he was increasingly "surprised by how little attention it receives," particularly in comparison with World War II, which preceded it, and the Vietnam War, which followed it, Huang said. And one doesn't have to look far to see that conflict still has "geopolitical repercussions" today, with North Korean dictator Kim Jong-un continuing to fire missiles on a regular basis to worldwide consternation.
Huang has spoken to Korean War veterans, which makes this project "personal" to him, he said. Unfortunately, "their sacrifices aren't remembered as much" as those of veterans of others wars.
Consequently, "it's time for a big-screen treatment to bring" the Korean War to audiences, he said. While there are "lots of good documentaries" about the Korean War, the reality is that "narrative films attract a mass audience."
The goal is to begin prepping in October for a February 2020 shoot, with the vast preponderance of filming in this area, as south-central Minnesota will substitute for the Chosin Reservoir, Torabpour said. "We want to keep bringing good films here."
Minnesota "is an untapped resource as a setting for films," Huang said. "I'm excited to bring filmmaking to the Midwest."
A Minnesota winter should serve superbly for the film's setting in the Chosin Reservoir, where wind chills reached as low as 70 degrees below zero, Huang said. "It was a pretty terrible place."
Huang's debut feature, "The Root of Evil," was named best student film at the 2014 Catalina Film Festival, according to THR. His short, "The Woman in the Mirror," a biopic on street photographer Vivian Maier, screened at the 21st Sonoma International Film Festival, while his sci-fi drama, "Continuum," co-directed by Justin Chien, won best short film honors at the 2018 Chinese American Film Festival.
Torabpour and Huang discussed this project around Thanksgiving of 2018, and, by Christmas, the latter delivered a script to the former, Torabpour said. "It was amazing."
In fact, because of the strength of the script, Torabpour is confident the movie will attract an excellent cast, he said. "It's going to be great."
Huang is a graduate of the USC School of Cinematic Arts, considered by many the finest film school in America. Distinguished alumni include Judd Apatow, Ryan Coogler, Ron Howard, George Lucas, Shonda Rimes, and Robert Zemeckis.
USC's film school boasts "resources to set you up after graduation," and "I'm still experiencing the benefits of it today," Huang said. "You're tied into this network of people you went there with," and Huang's team for films is comprised mostly of associates from USC, so "we form sort of this support group."
Huang's interest in filmmaking spiked as he entered high school, but "I just saw it as a hobby to do with friends after school," he said. "I couldn't conceive of more than that," and becoming a doctor remained his main priority.
However, the reception for "The Root of Evil," which he filmed with his classmates while in high school, proved to be a "life-changing experience," he said. "I wanted to try what I was really passionate about," and that led him to USC.
While his parents are from California, and he'd visited numerous times, "it seemed like such a different place from the Midwest," but "I had to follow the film program of my dreams," he said. That proved a judicious decision, as "I benefit just from my association" with the USC School of Cinematic Arts.
Torabpour has found a kindred spirit in Huang — "we're both sons of immigrants" — and, as a production company, "we love to give young filmmakers a chance," Torabpour said. "This is a hard business to be in," but "we're trying to change the industry one film at a time and be good people while doing it."