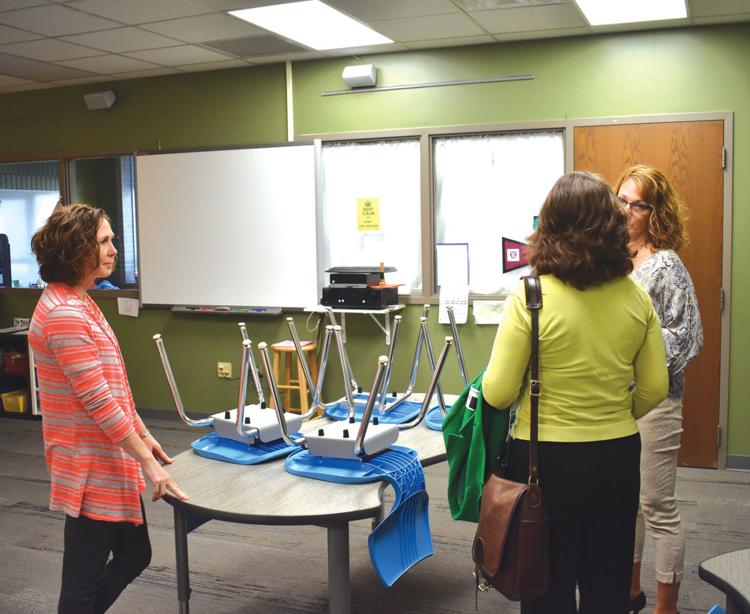 OWATONNA — Following the successful implementation of REACH at Owatonna Middle School in 2018-2019, Owatonna High School is adding the program for its students in 2019-2020.
"It's a really good program to connect kids with adults," and having Matt Skala, a special education teacher at OHS, lead REACH while assisted by Katie Wanous, who moved over to OHS from her guidance counselor position at Wilson Elementary, is "a huge benefit," said Mark Randall, who was the OHS principal when the school decided to add REACH. Both Skala and Wanous "connect well with kids."
"I listen, I don't judge, and I'm very honest," said Skala. "I take a lot of pride in building relationships because I think relationships are everything."
When OHS was considering adopting REACH, Skala "was the first person to come to mind," Randall said. "He has a unique way of understanding students and taking them where they are."
REACH — an acronym for Relationships, Education, Accountability, Character, and Hard work — was created for OMS students in need of additional support, and there are two sections of sixth graders, two of seventh graders, and two of eighth graders. It is an elective class, though middle school staff members will suggest to certain students it may be in their interest. Jess Hanson teaches REACH, and Carol Belmore is the REACH social worker.
Nearly 40 districts in Minnesota have adopted REACH programming, and Hollie Jeska, OHS assistant principal, toured Stewartville to learn about its long-standing REACH methods.
"Stewartville has an extensive booklet they gave us," Jeska said. "They have data" from REACH dating back more than a decade.
The best advice received from Stewartville and Hutchinson was simply to "go with it and adjust," Skala said. "We'll have to stay patient, because we know it might take some time — some of these kids have struggled for years — but we know it's going to make a difference."
Schools utilizing REACH have seen not only academic growth among students in the program, but their needs outside of academics are also met, Jeska said. The students in REACH "need their person," which REACH provides.
"I'm excited to build it into a family," Skala said. "It only takes one meaningful relationship for a kid to feel valued and soar."
REACH at OHS is funded in part by an Achievement and Integration Grant, and it will function "very similar to how it does" at OMS, Jeska said. Mondays will feature "weekend check-in" and goal-setting for the week, Tuesdays and Thursdays will offer character and skills building, Wednesdays will be devoted to team building, and Fridays will review the week and look-ahead to the weekend.
Though OHS "has been doing a lot of these things already, it wasn't every single day," Skala said. "Now, we're having an actual class."
OHS estimates 80-90 students in REACH this year, and each of them had a choice whether or not to take the course, Jeska said. Every student was approached by a staff member with a personalized invite, and they were allowed to decline.
OHS REACH will have two sections of freshmen, two of sophomores, and two of 11th and 12th graders combined, Jeska said. Students were selected for REACH bases on a number of factors, including Adverse Childhood Experiences (ACEs), and, eventually, students will likely be able to opt into REACH on their own, as they can in Stewartville.
"An ACE score is a tally of different types of abuse, neglect, and other hallmarks of a rough childhood," according to NPR. "The rougher your childhood, the higher your score is likely to be and the higher your risk for later health problems," from substance abuse to suicide.
Skala already knows most of the students who will be in REACH, and he and Wanous have met multiple times with the incoming freshmen who will be part of the program, he said. "We talked to every kid," and, in the vast majority of cases, "it was a relief" for students to learn they'd now have REACH as a dedicated resource.
Rising freshman LaVant Shaw is among those students Skala already has a relationship with, and Shaw plans to remain in REACH this year after joining it last year as an OMS eighth grader. Shaw has already experienced success through REACH, qualifying for the honor roll at OMS and being named MVP at a REACH football camp operated by former Minnesota Viking Chad Greenway.
Randall was struck by how many students at OMS asked him about initiating REACH at OHS when he visited the former this year, he said. "Students were advocating for this program."
In addition, "it was an inviting" atmosphere, he said. "You could just feel there was an immediate connection."
"There is a major need" for REACH at OHS to "educate the whole student, tapping into their social-emotional needs," Skala said. By attending to those concerns, "academic success will follow."
Due to scheduling at OHS, REACH for juniors and seniors will be a longer class in duration each day than for freshmen and sophomores, Jeska said. That will allow expanded possibilities for the upperclassmen, such as visiting local businesses to learn about employment opportunities or colleges to further their education.
"It'll be a little different with each grade, and we'll have more real-world experiences with older groups," Skala said. "It all depends on students, and students will drive (it)."
REACH has succeeded with so many students because it's predicated on relationships, Jeska said. These students "can see somebody every day and work on building their skills."
"Goal-setting and skill-building" will be primary in REACH, and "we'll be looking to partner with the community often," Skala said. "The community will be heavily involved—we've already had multiple organizations reach out — (including) Big Brothers Big Sisters."
"We'll be flexible and adjust" throughout the year based on "what is going on with students," he added. "I'm excited" to create a place where students "feel welcome" all the time.