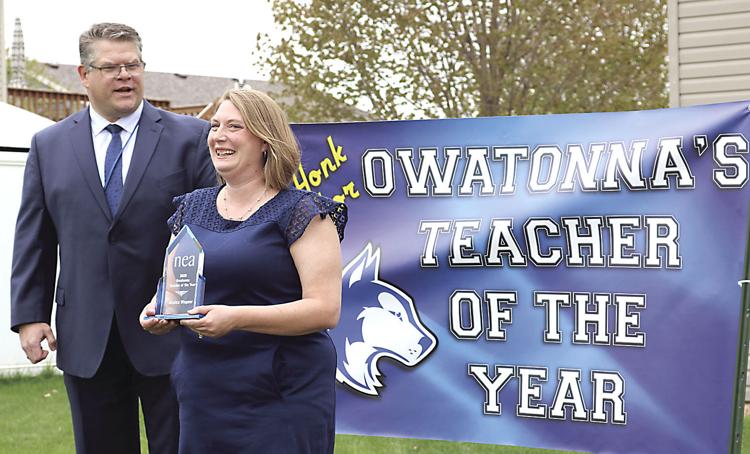 English teacher Jessica Wagner was finishing up a video conference when a handful of colleagues showed up on her front lawn bearing balloons, roses and a homemade banner that read, "Honk for Owatonna's Teacher of the Year."
As one of a handful of nominees for the title, Wagner said she knew staff were going to announce the winner around noon on Wednesday — but that she had no idea it would be her doorstep they showed up on.
"Oh, yeah — there was no leak at all," she laughed. "In fact, I was on a Google Meet call with our assistant principal at the time, so there was even a little bit of a delay."
Although teachers voted earlier this spring, Wagner said the award hadn't really been a topic of discussion, especially among the daily adaptations of distance learning.
"We talk so much about work, voting isn't really a conversation that we have. We're all so focused on the kids," she added. "It's always a 'wow' moment, because I respect everyone so much. I know whoever I nominate is someone I always have a lot of admiration for."
In her nearly 20 years with the Owatonna Public Schools, Wagner has inspired that same admiration in many of her peers — including fellow language arts teacher, Lauren Gendron. Both women grew up in the district and returned to teach after college, sharing this same experience 10 years apart.
"We've worked together since I started in 2010, but she started teaching right when I started high school," recalled Gendron, adding that Wagner coached her husband on the Speech team.
When Gendron arrived as a teacher, her room was right next to Wagner's and — although she already had a designated staff mentor in a different part of the building — Wagner immediately took Gendron under her wing.
"I remember her saying, 'I'm going to be another mentor to you,' and she just took on that role without me ever asking," said Gendron. "That's just Jess … she goes out of her way to make sure new teachers feel comfortable with the course material, but more so to make sure they feel connected to Owatonna and connected to the high school."
'That's my job'
As a teacher, Wagner has taught English, journalism and public speaking — in addition to advising the Speech team and the Magnet student newspaper. She calls herself a "communication person," true not only in her outreach to colleagues but also in her drive to help students become better speakers and better writers. After stepping down from her longtime role coaching Speech, Wagner said her public speaking class is now one of her favorite parts of the day.
"No one loves public speaking, everyone's nervous," she added. "But, that's my job — to help them build their confidence … I believe in them enough for both of us, and I just reassure them that they will get through this."
That same reassurance helped senior Emily Maine get her footing when joining the Magnet last fall. Although she praises Wagner as someone who lets students experiment and take the lead on the paper, Maine added that Wagner pays attention and backs writers up when needed.
"Last year when the football team went to state, that was the first big assignment that she gave me, and she could tell that I hesitated," recalled Maine. "It was a lot of freedom and I was going to be on the floor at U.S. Bank Stadium. She could see that I was hesitant, and she just told me that she had confidence in me."
Maine added that this subtle support has helped in letting students feel confident taking the lead on the Magnet and pursuing stories that they're interested in, including taking risks in the things that they cover. Another attribute of Wagner's, Maine added, is an open mind and an open-door policy for any questions that arise.
Taking the time for relationships
Both Maine and Gendron also emphasized Wagner's ability to build one-on-one relationships with students, which Gendron said comes down in large part to the amount of time and intentionality Wagner puts into everything she does.
"She takes her kids to football games or sporting events, because she knows that so-and-so is playing and wants to watch them," Gendron added. "She takes time inside of class to get to know people, and also outside of school to connect and build that community … it's just part of her life, and I always admire the amount of time she takes for her family, students and staff."
It was this ability to build lasting relationships with students that brought Wagner back to Owatonna in the first place. After a number of post-graduation interviews and no available positions turning up at the high school level, she said she was thankful just to have a job working with teens after getting the hometown gig.
"Due to my clinical experiences and time in classrooms, I really liked the relationships I could build with high school students. I'm so sarcastic, my humor would not translate," she laughed. "Over the years, I've also become very direct. I've found that works better than trying to maneuver conversations. For the most part, you can speak your truth and they can speak theirs back."
Although she typically teaches older students, Wagner said she's also been working with her own younger children during distance learning. The fact that everyone was home the morning of her surprise also helped make it more of an intimate, family moment — as opposed to the large, in-person banquets where the award is typically presented.
"What I keep thinking back to is how cool it was that, even though we didn't have the banquet, her kids and her family got to experience this with her," said Gendron. "We're all really proud of her, she does great things and it's so nice to see this honor."