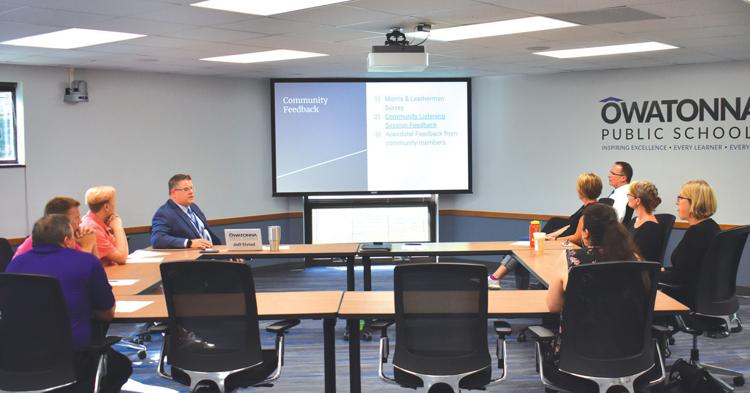 OWATONNA — Owatonna school district administrators and board of education members have used the time since a bond referendum for a new high school narrowly failed in May to examine options, convene listening sessions, and, most recently, peruse results from a July survey by The Morris Leatherman Company; based on that information, the board decided in a work session Thursday night to empower Superintendent Jeff Elstad to bring a proposal to them later this month for another referendum.
The board will convene a special meeting Aug. 12 to vote on a proposal for a $104 million bond for a new high school, which would be on the ballot Nov. 5. The board also indicated it would be in favor of a second question on that ballot to give the community a chance to devote funds to salvage some of the current Owatonna High School site.
"My job is to provide students with the education they need and deserve," Elstad said Thursday. "I serve students of this district, so I have to bring these items forward."
It was clear to Elstad from his interactions with the public, listening sessions, and the Morris Leatherman survey that "lowering the tax impact was the strongest message," he said. Consequently, his proposal would lower the tax impact from May's bond, partially by reducing square footage.
If a building for 1,600 students were constructed, as opposed to an edifice for 1,700 students, 22% of those surveyed by Morris Leatherman said they were more likely to vote for the bond, while 12% indicated they were less likely.
Of those surveyed by Morris Leatherman who opposed the May referendum, half said it was because their taxes are too high. On another question, 94% said the bond would have increased their taxes too much, with 76% calling it a "major factor" and 18% citing it as a "minor factor."
Elstad's latest proposal for a new high school also saves money by not having to pay for new land. In the May referendum, the district allotted $2 million to purchase land for a new building.
However, recently "we have been approached by a business partner who offered to purchase the land for the district," Elstad said.
That site has yet to be determined, nor, naturally, has the exact cost of the land.
Cost estimates
The district has long worked with Wold Architects and Engineers, including on this project and the successful 2015 bond referendum that addressed what is now Owatonna Middle School, as well as improving the district's four elementary buildings, but Elstad got a second opinion from Kraus-Anderson, perhaps the state's leading school construction company, and presented that information Thursday.
Kraus-Anderson assumed a 1,600-student high school, rather than the 1,700 in May's referendum, for their estimates for both remodeling the current edifice and constructing new, Elstad said. "I feel confident" that a building for 1,600, rather than 1,700, "would not comprise the integrity of our facility."
Kraus-Anderson estimated a new high school at $126 million, including "soft costs" of $24 million, Elstad said. That price also includes $7 million for a multi-purpose sports stadium, as well as expanding to four-courts-worth of gym space.
The total cost to taxpayers would be only $104 million, however, as local corporations "have generously decided to stay with us" and contribute $22 million to the project, as they promised for the May bond proposal, he said. At $104 million, a household with a domicile assessed at $175,000 would pay an extra $238 per year, $19.83 per month, over 20 years, or $192 per year, $16 per month, over 25 years.
The 20-year plan naturally brings with it "less financing costs" but a higher impact on taxpayers monthly and yearly, said Amanda Heilman, the district's director of finance. However, stretching the bond over 25 years means another $30 million in interest.
Ultimately, the board reached accord on 25 years, instead of 20, in order to save taxpayers money on a monthly and yearly basis.
"I'm hearing fairly clearly" a preference for 25 years, said Mark Sebring, chairman of the school board.
A remodeling effort would require at least three years, more likely four, Elstad said. During that time, students would naturally have to be relocated, and costs associated with that — such as portable classrooms — were not included in the Kraus-Anderson remodeling proposal.
Even without accounting for those expenses, a remodel would cost roughly $99 million, including $19 million in "soft costs (that) go into any project," such as building permits, furniture, technology, and equipment, and sewer and water charges, and $7 million for a stadium renovation, Elstad said. The gym would be expanded to four courts, "64 classrooms need a total gut," and there would be no additional on-site parking.
The tax impact on a remodel of this type for a $175,000 home — the median home price in the district — would be $226 per year, $18.83 per month, over 20 years, or $181 per year, $15.08 per month, over 25 years, he said. Of course, remodeling only "changes what's inside our current structure," not the physical edifice.
Considering remodeling would cost nearly as much as a new building, board members agreed they much preferred the latter option.
To remodel "just doesn't seem fiscally responsible," said school board member Christina Ingvaldson.
"We're all in agreement on that," added Eric Schuster, the school board's clerk.
By a margin of 5,762 to 5,642, or 50.52% to 49.47%, voters defeated a bond May 14 that would have led to the construction of a new high school to replace the antiquated OHS. A volunteer community task force met several times in 2018 and ultimately recommended a new high school be built to replace the current model, which has a litany of issues due to its advanced age, including deferred maintenance needs of roughly $35 million.
Elstad vowed in the immediate aftermath of May's defeat that "this question will be in front of our community again," because "our kids and our community are way too important for me to give up," and, indeed, voters will have another opportunity to support — or oppose — a new high school in November.
Under the May plan, a new OHS, which the district would've hoped to open in the summer of 2022, would have been roughly 342,000-square-feet, served a capacity of 1,700 students, included five courts in its gymnasium, a 900-seat auditorium with stage and support spaces for music and theater, a multi-use sports stadium with turf and seating for 3,000, and assorted modern classrooms amenities. It would've boasted a secure main entrance adjacent to the main office, adequate commons areas for lunch seating — the current cafeteria doesn't have enough seats for students in any of the four lunch periods — and hosting community events, a media center, and distinct bus and parent drop-off areas for the safety of students and adults. Pledges from a number of local companies, including a promise of $20 million in cash from Federated Insurance, lowered the bill for taxpayers on the bond from $138 million to $116 million, and the Owatonna Area Chamber of Commerce and Tourism expressed unalloyed support for referendum passage, as well.
Second question
The board also indicated Thursday their preference for a second question on the November ballot, asking voters whether or not they wish to contribute money to repurpose and save some of the current high school site. Naturally, the second question could only be put into practice if and only if the first question succeeds. There are countless possibilities for that site, and a community task force would be convened to decide how best to utilize it, but Elstad offered one possibility Thursday.
Under his plan, Owatonna Public Schools would sell the current district office on Bridge Street and its space on Rose Street and consolidate those operations into the current high school, he said. "The total cost of that would be $9 million" — $1.75 per month on a residence valued at $175,000 over 20 years, or $1.50 per month over 25 years.
Under the May referendum proposal, the district would have allotted $3 million for complete demotion of the current OHS site, if no buyer could be found by the time students moved into the new high school.
Under Elstad's proposal, the C Plaza, constructed in 1998, would be renovated for district office use, and gym space — "which is valuable" — would be kept, as would the small group forum, which has community use, he said. The auditorium would also remain for community use, as would the auditorium entrance, with its iconic columns.
In addition, the vocational and agricultural building would be left standing for maintenance and storage space, he said. Other areas, such as the two front plazas underground, which both are afflicted with "significant (water) mitigation issues," would be destroyed.
A second question gives voters a chance to express their desire for the current site to live on in some form, if they're willing to pay for it, Sebring said. Ultimately, a community group "will have a huge hand in the reconfiguration" of that site, as well.
"I like that it would allow us to consolidate," said Lori Weisenburger, vice chairwoman of the school board. "That's always a good thing."
Timing
Nov. 5 is the final chance in 2019 for the district to bring a high school bond proposal to voters, and "we have to finalize this," because "the longer we wait, the higher the dollars go up," with construction costs increasing approximately 6% annually, Elstad said. "That's just the fact."
"We have taken care of our elementary schools and our middle school," said Jolayne Mohs, treasurer of the school board. "The high school is the last big (item) in the foreseeable future."