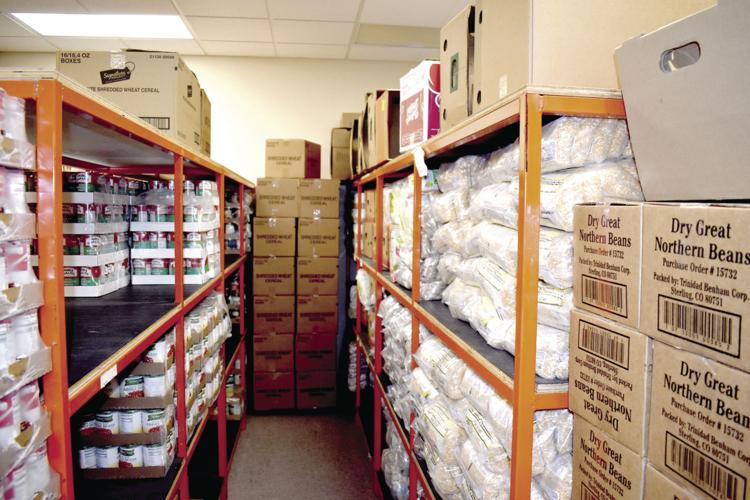 The arrival of COVID-19 in Minnesota is posing a unique set of problems for area food shelves and their suppliers, as grocery stores have less left over to donate and hygiene concerns necessitate unique ways of taking in and delivering food to clients.
According to Jessica Sund, director of development and communications at Channel One Regional Food Bank in Rochester, there's been an increase in demand for food assistance due to the virus as residents lose shifts or are laid off due to closures, and as schools statewide take at least an eight-day hiatus from in-person learning starting Wednesday — although many area districts are finding ways to continue meal services for students.
Sund added that Channel One — which serves individuals, agencies and food shelves in Rice, Steele and Waseca counties, among others — is also facing new difficulties on the supply side.
"We get our food in several different ways. We get donated food from manufacturers, and food rescue is something that we work on with grocery stores. We've seen a reduction in that," she noted, explaining that area residents have been stocking up more in recent weeks.
With an increase in demand and corresponding drop in donations, Sund added that Channel One is going to need to purchase more food and that monetary donations to area food banks or shelves are one of the primary ways right now that community members can help.
Nancy Ness, co-executive director of Community Pathways of Steele County, echoed Sund — adding that her agency has also asked individuals to no longer bring in donations from home, in light of the virus.
With 54 cases confirmed statewide by the Minnesota Department of Health as of Monday afternoon, officials are focused on limiting interactions and exposure. In southern Minnesota, cases have been identified in Blue Earth, Olmsted and Waseca counties, and the first instances of community transmission were discovered over the weekend in Dakota, Hennepin and Ramsey.
"We're also asking volunteers not to come in, because most of our volunteers are elderly," said Ness. Older individuals and those with pre-existing health conditions like diabetes, heart and lung disease are thought to be especially vulnerable to more severe cases of COVID-19.
Starting on Tuesday, she added that the Community Pathways food program would also likely start bringing all orders out to clients' cars — putting food in their trunks, in order to limit the number of people entering the facility. If more residents need home delivery, Ness said her agency will also try to ramp up that aspect of its program.
"At this point, we'll let people who normally would come here continue to come here," she added.
Next door, the Waseca Area Food Shelf is making use of a pass-through window it had installed recently for client privacy reasons. According to director Toni Larson, the window is embedded in the agency's door, allowing food to be packed up inside and passed to clients through the slit without them needing to come into the space.
"I think all of us should be practicing social distancing everywhere we can. I think it's really vital that we all do that right now," added Larson. "It isn't about not being friendly. It's about, wherever you're at, keeping a safe distance."
According to the Centers for Disease Control and Prevention, the respiratory illness is most often spread by people who are within about six feet of each other through droplets produced by coughs or sneezes.
In order to keep a safe distance, Carla Pearson with the Three Rivers Community Action Meals-On-Wheels program in Faribault said clients can always request a drop-off at their front door. "We don't have any intention to close the Meals-On-Wheels program," she added. "Volunteers are continuing to deliver meals to homebound older adult clients within city limits."
She added that sometime next week, Three Rivers will deliver shelf-stable kits to all of its clients. These will contain 14 meals to act as a replacement supplement in case of an emergency. In light of the virus, Pearson also added that Three Rivers has been receiving a handful of inquiries from residents interested in helping out.
"I've already received three phone calls today from brand new volunteers who want to help in Faribault during the crisis," she explained. "We would love to have a larger volunteer base — not just because of this, but because we're constantly in crisis of needing more volunteers and we can't provide this program without them."
During a Sunday afternoon press conference on the executive order to temporarily close K-12 schools, Gov. Tim Walz also issued a plea for residents to volunteer with their local service agencies.
"I think we all recognize our food pantries are going to need help, there are going to be volunteer opportunities to help our fellow Minnesotans," he said. "Those opportunities will start to arise over the coming weeks and months."
Over in Nicollet County, volunteers said the St. Peter Area Food Shelf was also crowded on Monday afternoon. In between orders, helper Jo Eversman explained that her agency is also providing curbside pick-ups, like many in the area.
She explained that the bulk of volunteers will remain in the building packaging food, while one person will be stationed outside to take orders and relay that information back to those creating the take-home boxes.
For now, one other measure that Ness said her agency has considered taking is increasing the amount of food clients can pick up during their monthly visit to the pantry. Currently, she said the package is what the agency considers a 10-day supply.
"At this point, we're going to keep it the same but that's going to have to be something we continue to monitor and make sure the food that we're getting from Channel One isn't going to be impacted," she added. "I think we're a little concerned that we're going to have a steady supply of food coming in."
Like Sund, Ness said the biggest thing community members can do to help is to donate money to the food shelf if they are able, in case the nonprofit needs to purchase more of its own food.
With both the human and economic impacts of the virus making their way to Minnesota, Sund reiterated, "If you are being affected by this, please do not hesitate to reach out to your local food shelf. It's a time to not feel insecure or ashamed if you are experiencing difficulties."COVID-19 and its spread has caused fear and uncertainty across the globe. To ensure our community has the latest information on this public health threat, APG Media of Southern Minnesota is providing stories and information on this issue in front of its paywall.