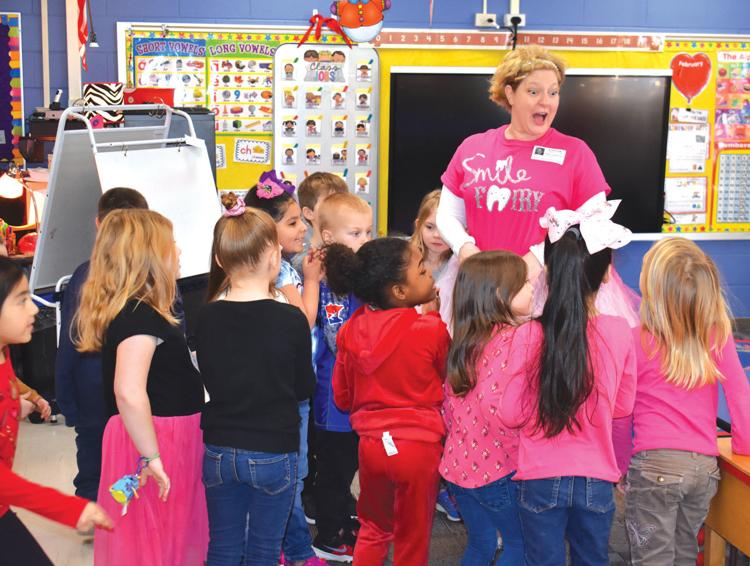 OWATONNA—Let's Smile's first foray into holding a comedy fundraiser last summer was so successful than the local non-profit is offering another edition Friday, this time featuring a pair of Twin Cities-based comedians, John DeBoer and Miss Shannan Paul.
"Last year, we had about 200 people there, and it was a huge success," said Holly Jorgensen, a licensed and registered dental hygienist who founded Let's Smile in 2013. "The number-one comment we heard was you have to do this again next year, you have to bring comedians back."
As was the case last summer, Friday's show will be "clean, family-friendly comedy," Jorgensen said. "Anyone could be there," including youth, which is apropos, because Let's Smile is "all about kids."
Let's Smile—which has been recognized for its work by America's ToothFairy: National Children's Oral Health Foundation (NCOHF)—treats youth without private dental insurance and visits area schools to help students with dental hygiene. In addition to clinical services, Jorgensen also spends time in classrooms to educate children about proper dental care.
The operation continues to expand, as well, she said. Let's Smile already serves all of Owatonna's elementary schools and the ALC, as well as Blooming Prairie, Medford, and various Head Start schools, but, beginning this fall, Waseca's schools will be added to her list.
Friday's show is sponsored by eight local dental offices, including Southern Heights Dental Group, Dresser Family Dentistry, Prairie Ridge Orthodontics, and Holland Family Dental, all longtime supporters of Let's Smile, Jorgensen said. "We're not in competition with other dental offices," but, rather, combine to form a "fantastic network of dental offices working together for our community."
Friday's show begins at 7 p.m. inside Bethel Church, and tickets are $5. Tickets are available at the door, or in advance from the Let's Smile website and Facebook page.
"We want to pack the house, see people laugh, and have a great time," Jorgensen said. Once inside the doors Friday, attendees will be able to contribute to Let's Smile in myriad ways, if they wish.
A $5 donation educates one child in Let's Smile's dental health education program, including the tools—toothbrush, toothpaste, and floss—Jorgensen provides every student, $125 educates an entire classroom, and $500 educates an entire grade, she said. A donation of $200 provides one dental appointment for a child, $400 covers appointments for two children, and $1,000 takes care of appointments for five children.
In addition to her work inside schools, Jorgensen also maintains weekly office hours in the Steele County Clothesline. She provides individuals basic screening services to evaluate untreated tooth decay, check for oral cancer, and inspect for proper development, as well as doing cleanings, fluoride varnish treatments, and sealants.
Many of the children, teens, and adolescents Jorgensen helps have either never seen a dentist or have gone years between appointments, she said. Teeth, left untreated, can develop many problems, from plaque buildup, to toothaches, to abscesses, to gingivitis.
Relatable Humor
Jamie Blanchard, who performed at Let's Smile's first comedy night last summer, suggested DeBoer for this edition, Jorgensen said. "They're really good friends, and he said (DeBoer) would be great."
DeBoer had a propitious start in comedy, entering a high school talent show at age 16 in Moorhead and winning $50. He then hosted the talent show the next two years and "turned it into my own little 'Tonight Show.'"
"I'm a lucky guy," DeBoer said. "So many people have to go to jobs they don't like, but I get to do what I love for a living."
DeBoer has been "a mentor" for Paul and "a dear friend," so when he asked her to join him for this event, she didn't hesitate, Paul said. In addition, the cause is "near and dear to my heart."
Paul isn't only a comedian, but a speaker, host, and emcee, and relaying stories from her own life in humorous, relatable fashion is her specialty, she said. "I'm fortunate I've been able to make that into a career."
The top question she receives after gigs is "Did that really happen?" and her response is always, "Yes, that really happened," but, of course, her stories are more complex than merely regurgitating life experiences for comedic fodder, she said. She has to decide where a story best fits—in a stand-up set versus a corporate session—emphasize the joke and/or lesson, and, of course, self-edit.
"Lot of people don't know how to self-edit," and, especially in stand-up comedy, economy and efficiency can be paramount, she said. "Some jokes, to get to, you should chop out a third of the words."
Often, one optimal word can replace three lesser ones, she said. "You think you need all of these words, and sometimes you don't."
Word choice, timing, inflection, and even "just a look" are all pivotal in comedy, DeBoer said. In one of his jokes, for example, simply pausing to take a sip of water, rather than maintaining eye contact with the audience, leads to "a much bigger, longer laugh."
Paul's been involved with comedy for nearly two decades, since a friend persuaded her to take her chances at an open mic night.
She'd been encouraged before to try stand-up, but her response was always, "I'm not funny like that, I just tell stories to my friends," she said. Finally, a buddy reminded her that the comedians they were watching at comedy clubs were doing precisely that—telling tales—and "that was an 'aha moment.'"
She wrote a set in her college comedy writing class, performed it, and "didn't die," she said. "I kept going back, and now we're here."
Of course, her comedy has evolved as she's aged. For example, she used to get plenty of mileage out of being single and childless, but now she has an 11-year-old son, and her child has become a main source of comedic gold.
Like Paul, DeBoer's comedy prizes relatability, he said. "I share experiences from my life, and lots of other people have similar experiences."
DeBoer is living proof that imagination can take a person a long way, not only with comedy, but also with his twin passion of using technology to build various creations, including robotics fish.
"Anyone can create," he said. "Anything you can think of, you can build."
Paul tailors her tales to her audience, she said. For example, for Friday's set, it's a good bet she'll mine humor from her experiences as an adult with braces.
"Knowing your audience is half the battle," DeBoer echoed. His act can change moderately or significantly depending on the crowd, from corporate events to comedy clubs.
And audience reaction is critical in comedy, DeBoer said. Even after decades in the industry, "I still can't guarantee a joke will be funny until I hear it with an audience."
Like Paul, DeBoer has dental jokes ready for Friday, including his response to a $7,000 dental bill—which is in marked contrast to the $14 bill he received from an Iowa hospital for bronchitis treatment, another humorous anecdote.
Though he spends more time with corporate gigs now and less time on the road, Deboer's enthusiasm for comedy remains undiminished.
"I'll never get tired of laughing until the day I die," he said. "That's what fun is."