Communities work together, offer a hand those in need amid closures, restrictions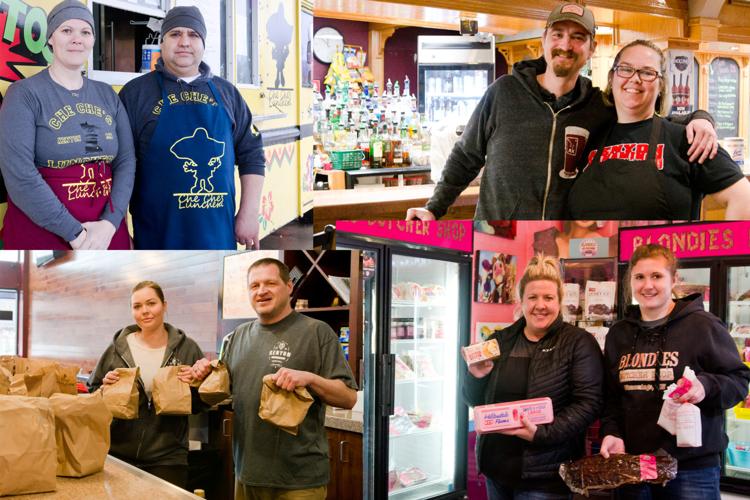 Across the state, events are being postponed, schools have closed their doors and many businesses are implementing restrictions, following an executive order from Gov. Tim Walz's office to temporarily close schools, restaurants, bars, gyms and other gathering places.
Amid all the closures and restrictions, communities like Kenyon and Wanamingo are working together to support those in need.
Backing the food shelf
Lindsey Fulton, owner of Blondie's Butcher Shop in Wanamingo and once a paramedic, considers herself "very well" trained in crisis management. In particular, situations created from the COVID-19 outbreak brought her feelings of concern, only not for herself but for those who may be at high risk.
Fulton has offered her help and resources at the meat market to back the All Seasons Food Shelf in Kenyon and take care of those who need it. She began by reaching out to Kenyon-Wanamingo Schools Social Worker Carrie Groth and All Seasons Food Shelf Director Bev Jacobsen, to focus on specific demographics of people that will struggle with food for the week and see what they may need.
"I knew right off the bat, the biggest focal point of this virus is a majority of those who volunteer at the food shelf," Fulton said. "They've kind of got a team backed up to go over one and two at a time to get orders placed."
Jacobsen said when she made the decision to lock their doors to all in-store shopping beginning March 16, she knew her volunteers would be relieved something was being done to limit their exposure.
Now clients are instructed to call and notify volunteers of their desired items and from there, volunteers fill their orders, put the items in a bag and label the bag with the client's name. Then the bag is placed on the porch until the client comes to pick it up. Jacobsen said new clients are encouraged to call in, adding applications can be taken over the phone. For those willing to donate items, Jacobsen said to call the food shelf first for specific guidance. Fulton also suggested dropping the items off at Blondie's Butcher Shop or the Kenyon Police Department.
Ironically, Fulton said several weeks before the COVID-19 outbreak in Minnesota, several farmers donated a hog or heifer to the food shelf. What the food shelf can't handle in their freezers, Fulton stores in her coolers at her meat market. Something Fulton says is "cool" to note about the smaller, rural areas like Wanamingo is that she has had people call and cancel their orders in hopes to give others the opportunity to place an order because they have enough meat to last themselves a little bit longer.
Fulton has helped out "tremendously" at the food shelf, said Jacobsen, especially through absorbing the processing charge completely when farmers donate a pig or part of a cow to the food shelf.
"That's such a gift to us," said Jacobsen on Fulton's effort. "We've [also] had an individual who has donated turkeys, which we can donate to larger families. We've really been blessed this year, we have lots of fresh fruit and vegetables too."
"It's really been a community effort," Fulton said. "We don't have to depend on the middle man for meat, we can do our own thing. We are just trying to be prepared with the staples, like bread, butter and eggs, and taking care of those we know are going to need it. I hope no one's pride gets in the way and they reach out."
Fulton also encourages everyone to reach out to their elderly neighbors to make sure they don't need anything, like medications and most importantly just to make sure they are okay. She plans to start getting a list of people who are willing to drive to "so and so's" house to drop off items at front doors and make donations to the local food shelves. At the moment, Fulton said she has a lot of donated meat available for elderly in need. She predicts things to change a little bit more once people settle their schedules.
"I think it'll pick up and people will call in to book beef, we'll stay going, it might be limited at some point," Fulton said. "We've taken precautions big box markets can't. I'm shocked at how stocked we are [right now], the suppliers have got our back. I'm confident this will pass, it's just a matter of when."
Jacobsen also reminds everyone to remember their older neighbors and give them a call, because they are having a "really tough" time.
Kenyon Police Chief Lee Sjolander said in the areas of Kenyon and Wanamingo, people are "kind and considerate," especially in terms of the KPD Food Pantry located just inside of the front door.
"We are just real consciousness people when it comes to helping out," Sjolander said. "Grocery stores are stocked, city staff is excellent in making sure we have needed supplies and in the food pantry out front, people aren't cleaning us out."
Local restaurants offer a hand
Even though restaurants like the Kenyon Bar and Grill and JB's Tavern in Wanamingo have halted their dine-in services and made the transition to a takeout only establishment, they are still offered a helping hand to the community. Both the Grill and Tavern, along with Che Che's Lunchera in Kenyon have been offering free lunches for school-aged children, following the closures of schools from March 18-27.
Although each establishment is offering its own lunch special for children, for the three businesses giving back to communities, who have helped them is something worth taking part in.
Over at JB's Tavern, the decision to provide a free grilled cheese sandwich and chips for school-aged children in need of lunch, from 11 a.m. to 2 p.m. Tuesdays through Saturdays, came in a discussion between the owners, Erik Fox and Angie Anderson. Fox said they figured they would help those in need.
"Times are tough," said Fox in regards to JB's closure. "We appreciate your continued support and hope we get through this."
Che Che's Lunchera has been offering free lunches for school-age children in need from 11 a.m. to 2 p.m Monday through Friday. From the start, they were offering two beef soft shell tacos and are now working on breakfast burritos, corn dogs and chips and beef burritos from March 23-27 for all children. Melissa Nunez, who owns the family-run business with her husband, said they'd rather see children eat and have full stomachs over anything else.
"We saw that JB's Tavern was doing something, so I thought about doing something too," Nunez said. "We want to give back to the community, donations are welcome but not necessary. We'd just like people to pay it forward someday."
Also catching onto the trend of helping out the community in anyway they can is The Kenyon Bar and Grill. Owner Alex Rivero said, "thanks to the generosity and help from his family, especially his younger brother Santos Rivero," they have been able to prepare 300-400 sack lunches every day since Thursday to take to different drop off locations for children in need at all three of his establishments in Kenyon, St. Paul and West St. Paul.
"I'll help out any way I can, especially for a community that's embraced me tremendously, so why not give back to [them]," Rivero said.
Kenyon resident Karma Baumgartner, added knowing people are coming together to help serves as a "comfort" for people in town, especially knowing takeout options are available at places such as the Kenyon Bar and Grill.
K-W School District has also been offering free lunches to school-aged children upon registration for pick up at the school or through delivery.