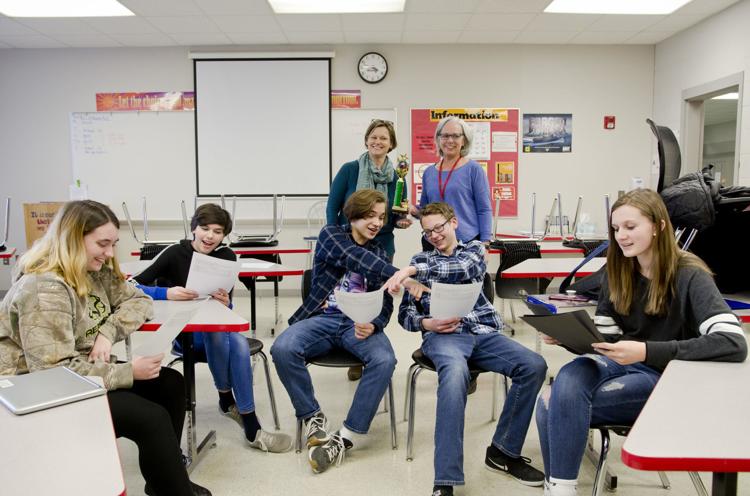 The Kenyon-Wanamingo Speech Team began it season on a positive note. At its first meet of the season Feb. 1 they received a first-place trophy in the small school division.
Coaches Rebecca Kunesh and Heidi Hanson lead the team composed of three seventh-graders, Jordan Blowers, Charlie Koncur and Addison Donkers; three ninth-graders, Grace Nystuen, Sophia Culuris and Ashley Rechtzigel; three 10th-graders, Elliot Olson, Lucas Brezina and Sydney Sundin; and one senior, Isabelle Bump. For the next nine Saturdays, students will give their speeches three times, in some cases four, per meet. Each student gives their speech three times per meet; in some cases it is given four. There is one judge per room, giving students other opportunities to present their speech if they mess up or go up against all of the top people in one room.
"We try to spread out our numbers to cover more categories, so we have more opportunities to place," Kunesh said. "You do differently at every meet, because you never know what's going to happen with speech."
There are 13 categories students can choose from. Some categories K-W students are a part of include serious poetry, serious prose, duo, dramatic interpretation, humorous interpretation, creative expression and great speeches. In these categories, students interpret a story, poem, speech or other selection written by a published or famous author.
Since holding a formal practice time would not be too successful since many of the team members are in other activities, they set up a time to meet with Hanson and Kunesh during the week to run over speeches and get critiques.
Students are judged on criteria for presenting, characterization, clarity of words, making eye contact, script use, poise, pacing, annunciation, interpretation and presenting the specific character in all its ways. While certain judging criteria depend on the category, there are also different time limits, but Kunesh said extemporaneous speeches are typically 7 minutes.
Supporting one another
Olson enjoys meeting different people at the competitions, which Hanson says is something some may not see throughout different sporting events.
"When you go to a competition, like a volleyball tournament, you don't talk to your competitors," Hanson said. "But really, in speech, everyone supports one another. They are your competitors, but they aren't here to take you down."
Along with the growing support from other competitors, Kunesh said as a coach she has seen students make tremendous growth in confidence.
"There's a growth in confidence, no matter what you do, which transfers over into real life situations, like if you have to give a speech at a wedding or for a job interview," Kunesh said. "It gives you that little bit of confidence, because there's always that little fear when you get up there and do it, but knowing you've done it before gives you the little boost of confidence you need. They learn and grow in many ways."
Since public speaking is known as something many fear, Hanson laughed, recalling one team sporting the slogan, 'We do for fun what others fear more than death' on their shirts. She later says that speech is beneficial in many ways, posing the question, "When don't you need to talk?"
For Sundin, becoming a member of the speech team has helped her confidently present during class.
"In seventh grade before I joined, I couldn't get up in front of the classroom to do a presentation without shaking or stumbling on my words," Sundin said. "Now I can get up in front of the judge or my peers and give a speech without shaking. Inside I am still nervous but I don't show it."
Speech topics
and selections
Kunesh said the team strives to stay timely and relevant with speech topics and selections, keeping things fresh and always adding new angles.
Nystuen's serious prose speech requires her to take a book, cut up the content, make it into her own and take on one of the character's personalities. Her topic is about a boy who has synesthesia, meaning he views his entire world through numbers, colors and textures, including how he communicates with everyone. Trying to give a speech about someone who who has a trouble communicating with the world is a big task for Nystuen, Kunesh said.
Even though it may be challenging, Nystuen enjoys her topic and sees it as an opportunity to depict something that isn't as intense as other people's topics. She said everyone typically picks something like depression, suicide or school shootings, which can become very over the top. The Serious Prose category has to be serious in tone, and Kunesh said they stay true to what the theme is about, making sure not to cross the line into dramatic interpretation.
As a second-year member of the team, Nystuen said that she has taken on the role of mentoring Blowers, who is a first-year member competing in the same category as Nystuen.
"Last year at the first meet I had no idea what I was doing," Nystuen said. "Now that we are doing it together, I feel like I can help Jordan out more, something I wish I had last year."
Blowers has chosen a story about the cycle of immigration through the lens of a child. The story depicts a setting where the children have to hide from a bus while working in the vineyard, also going into the experience where the child goes to school unable to speak English.
Olson and Brezina are in the humorous duo category together, performing a humorous satire about a parody of politics with the president of the United States and the prime minister, written in 2008. It depicts the two meeting and discussing policies, also threatening to blow each other up later, but later deciding that everything was fine and calling each other "bros." Kunesh said that even though it was not written in today's political climate, it often parallels with the current atmosphere, becoming very relevant. Although the duo doesn't directly play off of that, as an audience members can make that connection.
As someone who enjoys writing stories, Sundin has taken part in the Poetry Category for two years. She has seen many different poems and in the past has chosen a few humorous and serious pieces. In this category, several poems are brought together in one cohesive piece. The poems can have the same individual theme, as long as they fit together in the overall theme of the poem. This year, Sundin wanted to tap into the timely relevant topic mental health through poetry. She begins the poem with what it's like having mental health issues, followed by advice that is commonly heard, such as "you'll be fine" or "just get over it," among many others, ended by the hope that circles around the topic.
Other topics students have chosen are a Rose Kennedy speech, the "Wicked Witch of the West's" side of the story," "Great Speeches" by Rose Thunberg, in which Rechtzigel analyzes and breaks down her speech, indicating the different appeals she is making and what points she is trying to make. One student's topic is about a kid regretting the things posted on social media, while another topic may be on the relevant topic of mental health in farming.
The K-W Speech Team competes against Hiawatha Valley League Conference Schools, plus several other schools around the area. Although they compete against each other, awards and hardware are dependent on the school system, as K-W is in the small school division.
"We hold our own pretty good when there's 13 categories," Kunesh said. "We are getting some younger people involved. We started small, but we are slowly growing with three seventh-graders and three ninth-graders who were first year last year."