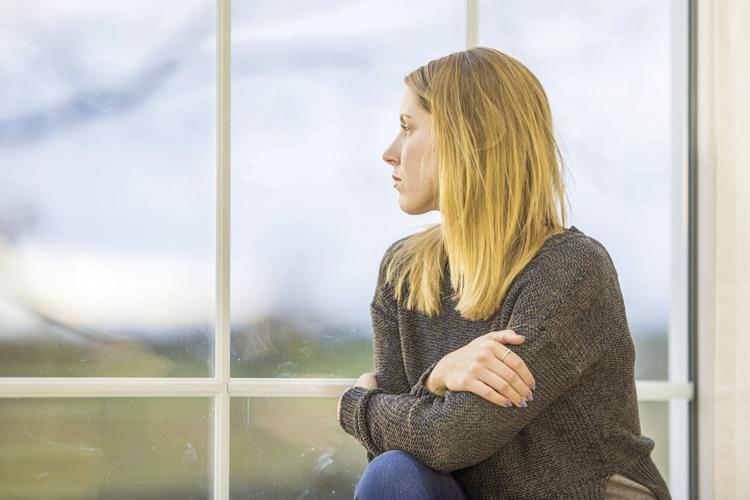 Ever since the novel coronavirus entered the forefront of minds across the nation, two common goals have become staying well and protecting others from sickness.
But while respiratory health is a valid concern, COVID-19 and social distancing protocols could also shake an individual's mental and emotional wellbeing.
"Nationally, online screenings for anxiety have increased by nearly 20% over the last few weeks, and for many, social distancing inevitably means isolation and loneliness," Shannah Mulvihill, Mental Health Minnesota's executive director said in a news release. "It's essential that people take care of their mental health as well as their physical health at this time, and we are working to share information, resources and suggestions that can help with that."
Eric Lundin, a master's level psychologist who works for Rice County Social Services, said new outpatient clients are welcome to schedule appointments, and child case management services also continue to take new clients. Community providers continue to see new patients as well, he said, all set up with telehealth, which allows providers to "see" clients online. However, not everyone has access to high speed internet, so therapists still see patients in person also.
Patients may start to use online billing or pay via telehealth, said Lundin, as Gov. Tim Walz is taking steps to allow for it.
"The main point I want to make is that mental health providers are open for business, and they'll continue to see patients by telehealth," said Lundin.
Mary Morgan, clinical director and a marriage and family therapist at Fernbrook Family Center in Owatonna, said her facility continues to provide in-office sessions and in-home appointments if clients are comfortable with that. Especially for those experiencing symptoms, Fernbrook also provides telehealth opportunities.
"If [clients] are healthy, we're certainly willing to see them," said Morgan. "We have just asked people to utilize social distancing and good hand washing when they come into our office. We have a sign on the door of [coronavirus] symptoms."
Terri Reuvers, licensed independent clinical social worker at Resilient Living in Faribault, said she had to make major adjustments to her practice to maintain connections with her clients. No longer seeing clients in her office, she's established a secure video conference system to provide telemedicine. She's received four client referrals in two days, and she can only accept them because she implemented telehealth.
"I meet with my patients while they're in their home and I'm in my home office and I still have to abide by all of the HIPAA (Health Insurance Portability and Accountability Act) rules for compliance and privacy," said Reuvers. "And it's interesting that my younger patients are very easily adapting to this format where some of my older patients are having a little bit of a challenge with making connections in this format."
Reuvers said she's also received information from the Centers for Medicare and Medicaid Services on the coronavirus 1135 waiver, under which therapists may apply for telehealth with less fear of violating HIPAA. The CMS encourages telehealth use during this time, she said.
While Reuvers has received a number of client referrals in recent weeks, she said this is typical in February through May. However, she does believe COVID-19 is elevating anxiety across the board because of all the unknown.
"What we are doing as therapists is trying to help people identify points to focus on 'now' rather than what's being taken away from them," said Reuvers. "Now's the time to be able to get to some of those things you've been putting off."
Making the best of uncertain times
Lundin offers several pointers for anyone struggling to keep their heads above water during the coronavirus pandemic and social distance practices.
To avoid falling into a slump, Lundin recommends establishing a schedule. That means having a consistent bedtime, setting a goal for the day or maybe the week, and/or getting outside and moving once a day.
He also advises those living in close quarters with their families to give others the benefit of the doubt. Put simply, that means being kind and remembering everyone is doing the best they can under the circumstances. A helpful tip: everyone in the home should have their own "retreat space" if possible.
"The other thing is to lower your expectations," said Lundin. "What this means is life isn't going to be what we want it to be for a while, and the more we protest the harder it's going to be … Your children are going to misbehave. Expect children to misbehave. If you can recognize that, maybe you won't be so upset. It's critical to lower expectations of everyone."
While controlling others isn't realistic, Lundin encourages individuals to find something within their control. Social distancing could be an opportunity to try something new, or to revisit an old hobby that took a backseat in the busyness of ordinary times. Whether that means playing an instrument or journalling, Lundin said having a control factor is essential during a time when everything else seems chaotic.
He also encourages others to "find the lesson we can learn from this" and look for the positives. For some, this may mean more time with a spouse and/or children, more time to self-reflect or time outdoors.
"I think finally, it's really important that you continue to connect with your friends as much as possible via video conference or by text," said Lundin. "Those connections are probably more critical now than ever."
Reuvers also encourages individuals to think about the elderly or anyone without a smartphone, and connect with them through phone calls or texting. Helping out others in general during a time of uncertainty is a way to boost gratitude and become more hopeful, she said.
While Reuvers believes social media is an excellent tool for connecting with people while social distancing, she recognizes that certain platforms on social media sites may implant inaccurate information regarding COVID-19, thus causing unnecessary anxiety in its users. She encourages her clients to seek updated medical information from the Minnesota Department of Health as well as the Centers for Disease Control and Prevention. Overall, she recommends those experiencing anxiety to limit their intake of news media, even if they're accessing factual information.
"I'm not usually one to say [not to watch or read the news], but it doesn't make sense for people to inundate themselves," said Reuvers. "You have to limit how much you're going to hear. You do want to know what's going on but don't want to feel hopeless and desperate."
For those dealing with pre-existing mental illnesses, like anxiety and obsessive compulsive disorder, Reuvers recommends patients touch base with others. At a time when overreacting has become the norm, she said it can be difficult to know a reasonable amount of times to wash hands or how to react at all. Knowing how other people respond to COVID-19 could help clients set reasonable expectations for themselves.
"I think if you let people know what your needs are, folks may come forward," said Reuvers. " … Now is just a good time for people to be good to themselves and the other folks in their life."