Reprieve for Johnston Hall: City landmark to become a chemical health treatment facility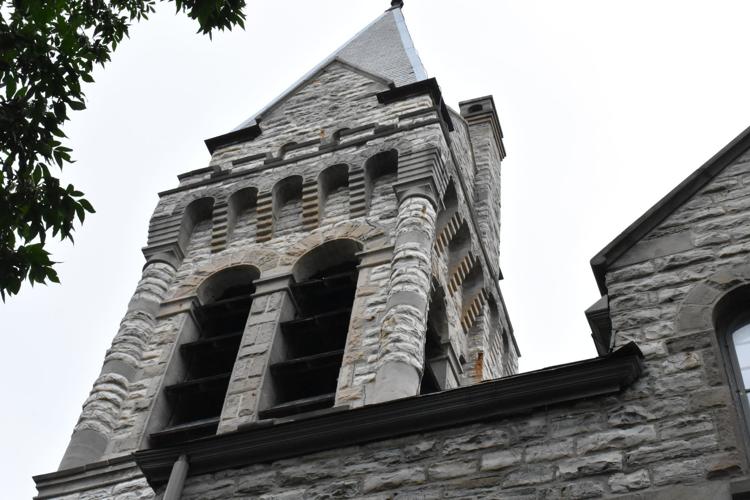 Eighteen months into a two-year search period agreed to by the Faribault City Council and Allina Health, a suitor has finally been found for Johnston Hall.
Under plans discussed at a Tuesday night City Council Work Session, the Faribault landmark, owned by Allina Health and adjacent to District One Hospital, will be transformed into a 35-bed residential chemical treatment facility for men, with outpatient services for women. The facility will include a cafeteria, meeting and therapy rooms, lodging units and a canine training/therapy program.
The new development will be spearheaded by Twin Cities-based Developer Jason Palmby. Palmby previously redeveloped two historic buildings in Chaska for similar use, and is in the process of completing a substance abuse rehabilitation center in Shakopee.
According to council documents, Palmby is no newcomer. He's been analyzing the viability of a potential project at Johnston Hall since January 2019, meeting with contractors and architects as well as the State Historic Preservation Office and working to identify funding sources. The plan submitted by Palmby to the City Council is estimated to have a price tag of $4 million. To help facilitate the project, Allina has agreed to sell Palmby the building for $1 and grant him a 60-year zero cost lease agreement to the land.
Should the city swiftly grant its approval, Palmby hopes to get started on construction by the end of this summer. The renovation project is expected to take a year.
While Palmby has been enthusiastic about the project, he struggled to identify a service provider to partner with. With Twin Cities-based service providers already occupied by their own projects, Palmby has instead turned to a pair of care providers with Faribault roots.
Last year, Mallory Fuchs and Tracy Sunde partnered to create Sisters of Serendipity, which offers substance abuse recovery services to adults and adolescents. Fuchs and Sunde had previously worked together previously in several settings, including at the Minnesota Correction Facility-Faribault.
At first, Fuchs and Sunde offered their services in the back of Grit & Grace boutique in downtown Faribault, which Fuchs co-owns. While looking for a larger location, Sunde was able to connect with Palmby and they developed a plan together.
"We're really excited to be a part of this effort to restore the building," Fuchs said. "And we think it's a great location for what we'll be doing."
Fuchs is currently a chemical health specialist with the Faribault Public Schools, and said she will continue in that role for at least the next year while the building is under construction. She said that there's a real need for a sober living facility locally.
While Councilor Elizabeth Cap questioned why the residential facility would not be open to women, Fuchs said that the need for inpatient care is greatest among men and that a co-ed model is less likely to be effective.
"In our experience we've seen a greater need for men, or willingness for men to do residential care," Sunde said. "A lot of women have kids and refuse to leave their kids."
The current project isn't the first time that mental and chemical health treatment center has been considered as a potential use for Johnston Hall. In 2018, Meridian Behavioral Health, which operates Beauterre Recovery Institute in Owatonna, investigated the possibility.
Meridian ultimately concluded that Johnston Hall would be too small for the type of facility it envisioned. Meridian indicated an interest in other properties, noting a significant shortage of mental and behavioral health facilities locally and nationally, but the topic has not been discussed since 2018.
Built in 1888 for $50,000, Johnston Hall is now all that remains of what was once the Seabury Divinity School incorporated by Henry Benjamin Whipple, the state's first Episcopal Bishop. Last used for office space, it's been vacant since 2012.
A lack of maintenance over the years left the building in need of millions worth of repairs. After its closure, a group of concerned citizens worked with then-State Rep. Patti Fritz, DFL-Faribault, in hopes of securing state funding for the project, but were unsuccessful.
In 2017, Allina Health sent a letter to the city asking for permission to demolish the structure, which sits on the National Register of Historic Places. Allina stuck by its request even after the city's Housing and Redevelopment Authority offered to help redevelop the property.
However, the city pumped the brakes on that process, with officials insisting on a lengthy process including an environmental review. In May of 2018, Allina temporarily withdrew its request for a demolition permit.
That November, the council and Allina inked an agreement giving the city two years to market the property. Under the agreement, Allina had the right of refusal over any purchase and development agreement.
Among the potential uses suggested by Allina were housing, offices, non-competitive medical services or a retail coffee shop. Should the city have been unable to find a suitable developer after two years, Allina said it would have have restarted the demolition application process.
According to a joint press release issued Wednesday morning by the city, Allina Health, Palmby and Sisters of Serendipity, "The Faribault City Council sees this as a welcome project, especially in light of the proposed demolition and the substantial costs associated with the rehabilitation of this structure. The city is excited for the reuse and rehabilitation of this iconic building, and for the addition of these important and much-needed services to the community."