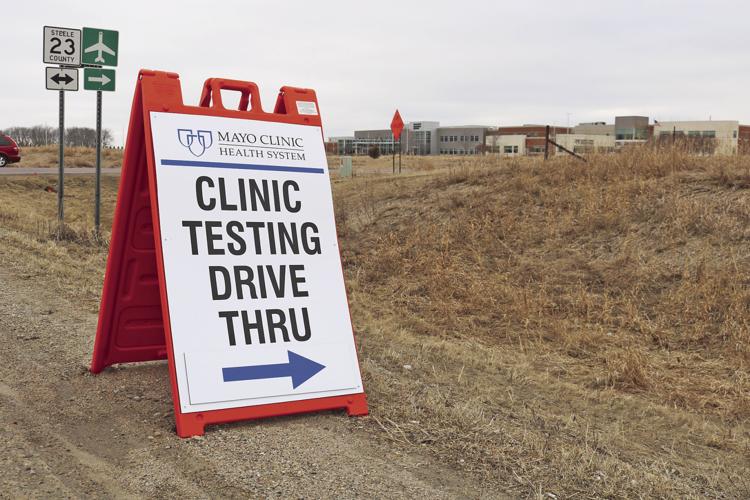 The number of confirmed COVID-19 cases statewide has jumped by nearly 40% since the weekend, due in large part to an increase in the number of tests able to be processed over the last few days.
In a Monday afternoon press briefing, Gov. Tim Walz said the state was able to process more than 980 samples on Sunday alone and gave a special thanks to the Mayo Clinic, which has developed its own test for the novel coronavirus, as well as a number of drive-through testing sites across southern Minnesota.
"We were able to clear our backlog," added Walz, who is himself in isolation following contact with a known COVID-19 case. "Those should all be off by today."
In southern Minnesota, the first three cases of COVID-19 in Steele County were reported over the weekend — with two patients confirmed on Saturday and another the following morning. Le Sueur County also got its first confirmed case and Rice County got a second.
A Steele County patient in their 20s, reportedly had no known contact with anybody overseas or traveling out of state, said Steele County Public Health Director Amy Caron. "This causes some concern for us in public health that this is a community spread case. That means that it's within the community."
For now, public health officials are saying, the most important actions people can take locally continue to be remaining at home when sick and staying 6 feet away from others, given that the virus is spread primarily through respiratory droplets shared via close, person-to-person contact.
"We're trying to slow the spread of this. We can't contain it anymore and we really want people to heed the warning of staying 6 feet away from other people. That's huge in slowing this spread down," said Caron.
More testing, more cases
She added that southeastern Minnesota — including Rice and Steele counties, as well as the Rochester area — has the second highest number of confirmed cases statewide, outside of the Twin Cities metro.
"One reason could be that Mayo developed their own test and right now, they're able to still use this test for people who have symptoms," she noted. "The other tests available through the Centers for Disease Control and Prevention and the MDH are restricted now for people who are hospitalized and health care workers that have been exposed, because of the shortage of tests and testing supplies."
With more people being tested, Caron noted that it would make sense that the region is seeing more confirmed cases. In daily briefings, state health officials have often noted that the number of actual COVID-19 patients in the state likely far surpasses the confirmed total.
"Over the course of this, between 40% and 80% of Minnesotans will have become infected with COVID-19," Walz noted on Monday. "The vast majority will recover without hospitalization. Those that need it, we need to make sure they're able to get it."
The governor added that the National Guard is moving additional personal protective equipment from Camp Ripley and that guardsmen continue to be used in other capacities throughout the state.
Other executive orders signed by Walz on Monday suspended eviction proceedings during the current peacetime emergency and set up a localized small business loan program through the Department of Employment and Economic Development.
Outside of Steele County, Le Sueur, Nicollet and Rice counties saw an increase in the number of confirmed COVID-19 cases over the weekend. Goodhue County continues to have no confirmed cases.
Waseca County was also listed as having two cases on the MDH website, but public health director Sarah Berry explained that this was due to a mapping error which she's currently working on getting resolved with the state. As of Monday afternoon, Waseca County still only had the one case confirmed last week.
First case in Le Sueur, third in Nicollet
According to a press release from local officials, the person with Le Sueur County's first case is in their 40s and is recovering at home with no work exposures having been identified.
Cindy Shaughnessy, director of Le Sueur County Public Health, said she wasn't able to say at this time how the individual was exposed but that state health officials are currently investigating the case. She added that just because the cause isn't immediately apparent doesn't mean it's necessarily community transmission.
"I don't have that information but on daily briefing calls, the health department is saying that there is community transition going on," said Shaughnessy.
On Saturday, the MDH also confirmed a third patient in nearby Nicollet County, identified by local health officials as a 26-year-old who was exposed to the virus by contact with a known COVID-19 case. The individual is recovering at home, as state officials work on identifying and following up with others who may have come in contact with the patient.
Because the newest case was transmitted through contact with someone who had previously tested positive, Nicollet County Health and Human Services Director Cassandra Sassenberg said in an email that the individual is not on the MDH's community transmission list.
"The CDC defines community transmission as detection of confirmed cases of COVID-19 with no epidemiological link to travelers or known cases," she noted.
Second confirmed in Rice County
Rice County Public Health was also notified by state officials on Monday of a second confirmed local case. The agency said in a press release that, based on limited information, the patient is in their 30s and has transmission linked to travel within the United States. The patient was not hospitalized and is currently isolated at home.
"If you have any upper respiratory symptoms — anything from body aches, fever, coughing, sore throat, headaches, those type of things — they're saying that you should stay home for at least seven days and also for three days with no fever and improvement of those symptoms, whichever is longer," said Caron, of new guidance from national and state health officials.
Before coming in to get tested, local health care providers are most often requiring patients to call ahead of time, in order to limit the risk of transmitting the virus to others. Caron noted that shortness of breath, to an extent that can no longer be managed at home, is one exception where individuals should seek care as quickly as possible.