"We have crowned many incredible women from our community," pageant lead coordinator and former 2014 Miss Janesville Anna Burns said Thursday night.
The 59th annual Miss Janesville pageant continued the Hay Daze festivities, as Mandy Gruis was crowned Miss Janesville by the 2018 Miss Janesville Alexia King, beating out the four other contestants. Gruis was also awarded the talent winner in front of her friends, family and peers.
"I wish we could all win; we're all friends and there is no drama," Gruis said. "It was awesome to see everyone step out of their comfort zone. I didn't even think of it like a win, but a great opportunity."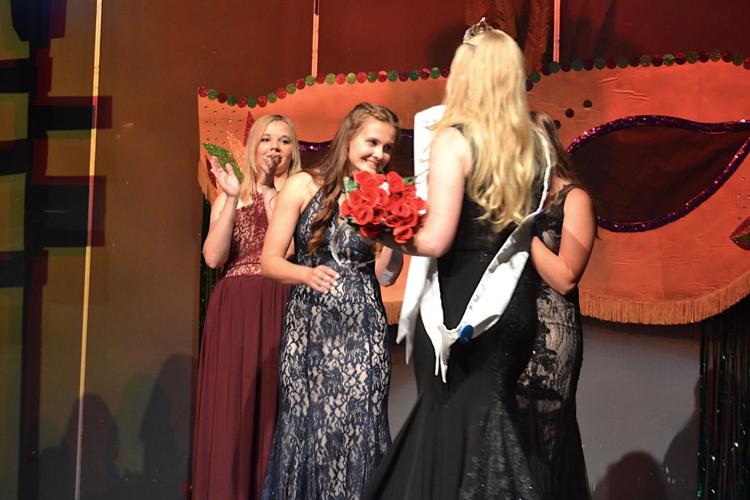 The other four contestants were Miah Eaton, Regan Hoehn, Erin Heitkamp and Dani Gerdts.
Hoehn was named first attendant and received the Miss Congeniality award. The Miss Congeniality award is voted on by the contestants and is usually a person who is friendly, kind, helpful and genuine.
Heitkamp was awarded second attendant and will accompany Miss Janesville and the first attendant at events throughout the next year. 
Gruis, Heitkamp and Hoehn will serve in their roles for the next year, attending parades, volunteering and other functions around communities.
The girls all spent weeks together rehearsing their dances, songs and interview questions.
At the start of the program, Anna Burns shared a few words after her mom, Joan Burns, introduced her and thanked her for the hard work of planning the pageant.
"Alexia King was crowned Miss Janesville last year and this is a time to celebrate her and her court's volunteering," Anna Burns said.
She also introduced the three judges who spent time interviewing the contestants earlier this week: Deb Burger, Dana Zimmerman and Valerie Hunter.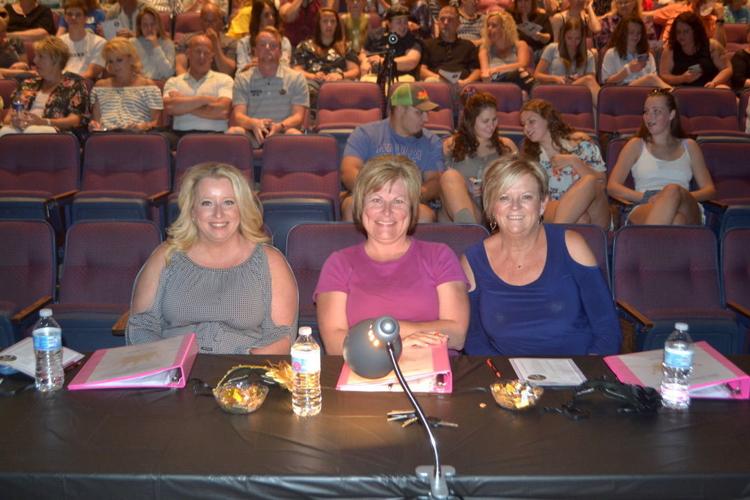 The five contestants did an opening dance to the song "All That Jazz." This was followed by the introduction of the third annual Little Miss Janesville contest portion.
"All the girls were very put together, I think they'll represent the town well," former Miss Janesville contestant Faith Ryan said.
There were six girls competing for Little Miss Janesville, who were introduced by the two emcees of the evening, Brandon Johnson and Kristin Ziemke.
Aubrey Adams was picked, by drawing, to be the third ever Little Miss Janesville and crowned by Little Miss Janesville 2018 Claire Walz.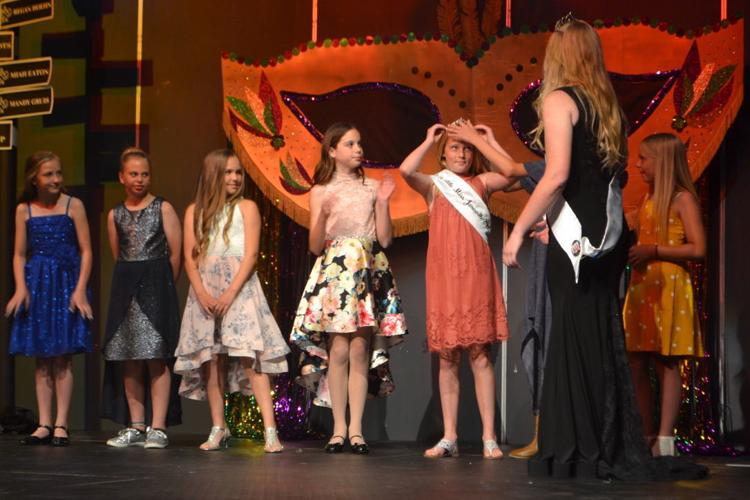 Tara Walker, Elsie Owens, Stella Ziemke, Rachelle Oelke and Morgan Dimmel were the five other contestants in the pageant.
The Miss Janesville contestants have two parts they have to compete in individually.
The first was the evening gown wear, which is when the contestant answers one question from their personal interview in front of the crowd.
There was a wide range of questions that each contestant answered.
Eaton was asked what she loved about school; Hoehn was asked when the last time she failed was; Gruis was asked what she does to set goals; Heitkamp was asked what she would bring if she was stranded on a deserted island; and Gerdts was asked what makes her different from the other contestants.
"Such a neat thing (the pageant), we have never missed it," said Dorothy Kiner, an audience member with her husband Tom. "It is one of our favorite things of Hay Daze."
The talent portion of the night followed the evening gown competition.
Eaton, Gerdts and Gruis all sang for their talent portio,n while Hoehn and Heitkamp took a different approach.
Hoehn delivered a self-written monologue about the struggles of a 12 year-old girl who lost her 'rock' in life at 14 before having her own medical needs, which forced her to miss school, making her grades suffer. Hoehn revealed at the end of her monologue that this 12 year-old girl was her, but she was able to learn from this experience to be a leader, not a follower, and that Janesville is like a family.
Heitkamp performed a self-written speech about confidence and the ways to gain it. She gave the audience four tips: stop comparing yourself to others, don't sweat the small stuff, your thoughts become your words that become your actions so say "I believe in myself" every day, and finally to love what you do.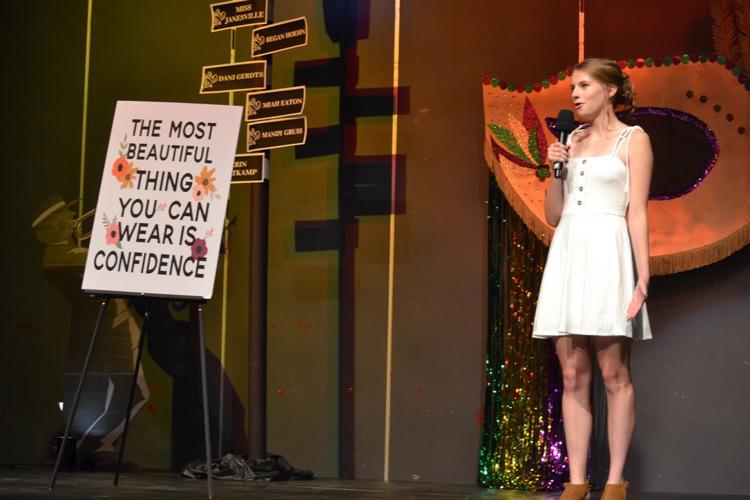 "You learn how to be around people and interview and put yourself out there," Ryan said about competing in the pageant.
King entertained the crowd with a song called "Good Riddance" followed by the emcees melody while the judges deliberated.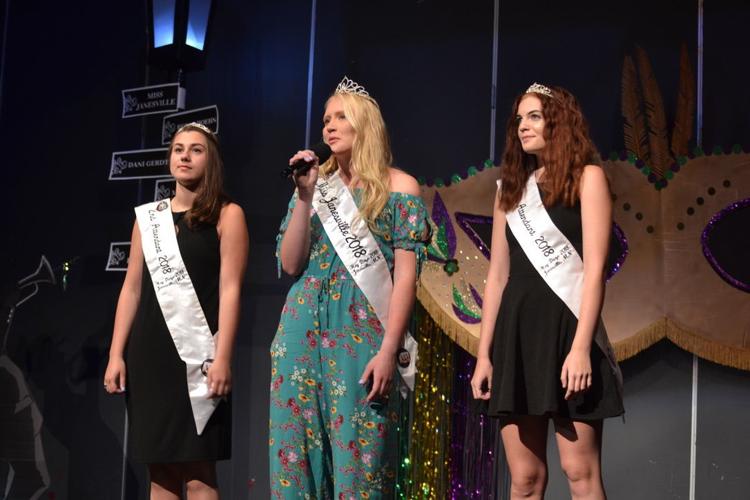 Another former Miss Janesville contestant and former Miss Congeniality winner Kristin Bartelt was there with her grandson Maddox.
"I think it was a lot of fun," Bartelt said.
King gave her farewell speech as Miss Janesville to the audience in preparation of crowning Miss Janesville 2019.
In her speech, she highlighted different moments over her year on the throne.
She started with how one or two years ago she couldn't have pictured herself running for Miss Janesville let alone being crowned, but she was glad she did it.
"This past year has been a wonderful experience. I gladly reflect on my year with confidence and some sadness," King said.
She went on to talk about the countless new friends she made while getting closer to some old ones.
"Thank you for all of the opportunities being Miss Janesville and the lessons I've learned," King said. "… This experience was unpredictable but I've had the time of my life."