The Janesville-Waldorf-Pemberton community has made new JWP Superintendent Kurt Stumpf feel welcomed.
Stumpf replaced former Superintendent Bill Adams at the beginning of July. Before coming to Janesville, Stumpf was a middle school principal in Sartell. He's been building up to this position since starting out his own educational career.
"I always knew I wanted to be a teacher so I started coaching right after high school …," Stumpf said. "I went into education for teaching and working with kids and you know I always question why you become a principal and in this case why you become a superintendent and I think the important part is that you see the potential to serve, not just a school but serve a community. Yes I'm serving an entire school district, and yes, there comes some inherent responsibility and leadership that needs to be built in that you look to challenge yourself on, but ultimately what it comes down to is being excited to serve an entire school community, an entire school district."
Stumpf has spent most of his career in middle school between being a teacher, dean of students, assistant principal and principal. Janesville-Waldorf-Pemberton is his first superintendent position.
He had plenty of compliments for the man that came before him.
"I loved being a principal at Sartell, so that just made me think about the superintendent jobs I could apply for…," he said. "This district, the Janesville-Waldorf-Pemberton district, had the small town, highly supportive community, excellent staff that you look for in a superintendent job. So I was really excited when this came up. Just doing the research you could tell that Bill Adams was a great leader for this school district and has set the school district up for success in many ways."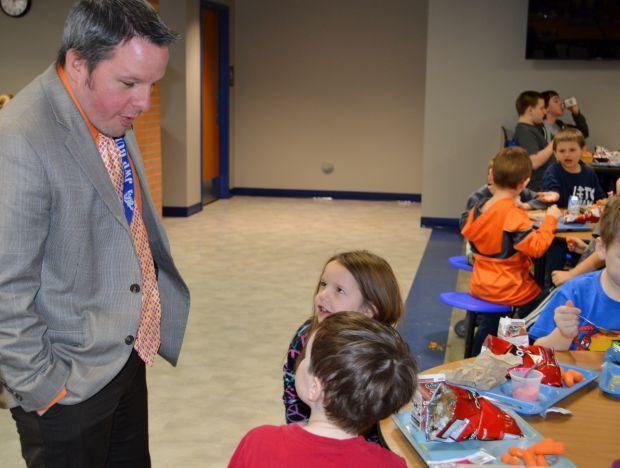 He continued, "Both when you look at the instructional side of it, the personalized learning side of it, he's done a lot of great things for our school district and helped provide some professional development for our staff and on the financial side of it, he's done a great job as well, and you look at the facilities side of it and the progress that our district has made with Bill's leadership, I think it has been phenomenal. So I think in a multitude of areas he's provided such extraordinary leadership it makes it easier for me coming to this position."
Stumpf recently took over the position after Adams finished at the end of June. He has been working to learn the ropes at JWP and what the district needs of him and what he wants to do for the district. In the midst midst of all this, Adams was there to help.
"… Bill's been an outstanding mentor for me just to ask questions and to understand past practices or what's happened before my time here for the potential next steps," Stumpf said. "I would say just in that overall stage it has been a smooth transition just because of his leadership."
The School Board and district leaders are sad to see Adams go but look forward to working with new Superintendent Stumpf.
"… As a school district, as a School Board, as staff we thank you (Adams) and wish you the best of luck, they (New London-Spicer) are gaining an asset and we are gaining an asset from the north in Kurt …," School Board Chairman Kelly Heitkamp said.
Stumpf was already able to watch one online School Board meeting and also attend one in person. This allowed the new superintendent to get an idea of how things are run in the JWP school district.
"… that has been the other really great benefit of this school district is that we have a highly functioning, extremely passionate board who are dedicated to kids and learning and giving support to our staff and our students," Stumpf said."
The School Board meeting he was able to attend was Adams' last. Adams thanked the School Board and staff along with welcoming Stumpf to the district.
"… It's been a great seven years; I think Kurt is going to do some great things going forward," Adams said.
Outside of School Board meetings, Stumpf was able to meet with the board members individually in May and he has remained in contact with them since then. He has had the chance to work with some of the administrative team this summer, trying to understand what's been happening in the school district and to lay some groundwork for where the district is heading over the coming school year.
"I would say the first part of my transition is just about learning and figuring out what we value and what's currently happening in the district," Stumpf said. "That comes with a lot of conversations with all stakeholders, whether that be students or parents or community members or School Board members or staff.
Stumpf wants to focus on learning the JWP school district at the beginning along with putting his own touch on the new strategic plan the board will be working on. He plans to involve all stakeholders in the new five year strategic plan for JWP.
"… and we're also set up on a couple of other great levels because our strategic plan for our district just ended this past school year, so we're up to look at a new strategic plan," he said. "We'll work on that the first few months of the school year … and I think that's just a good transition for me to learn something but then work with our community and School Board members of what our goals are for the next five years and how were going to get there."
Not only does Stumpf want to focus on what is happening in the district already, he wants to incorporate all stakeholders in the strategic plan building process and to investigate the safety precautions of the JWP School District.
"I think that's first and foremost being the safe environment that we need to provide for our students and our staff," Stumpf said. "So that's one of my other focuses here in the early part is understanding what our current practices are and what are some things that we should be looking into to ensure that we are providing that safe environment for our students and our staff."
Stumpf was unfamiliar with the area of Janesville before applying and accepting the JWP superintendent job. But the community was quick to make him feel comfortable.
"We had Hay Daze here in Janesville, which was an unbelievable demonstration of the community support of Janesville, and I look forward to getting down to Waldorf …," Stumpf said. "It is a large town festival in a small town where there's so many things happening whether its for our youth or for young children or for the adults it encompasses everybody, I would say."
He wants to make sure he reaches out to more than just Janesville, though.
"I am meeting with the Pemberton and Waldorf mayors, just because I want to make sure that I get involved in their cities as well, because this school district is made up of three different cities and so we want to make sure we're inclusive of everybody in the district," he said.
It's only summer, but Stumpf is anxious to get started.
"I am excited to meet our students and staff and parents and just learn as much as I can …," he said. "It's just like anything else, I plan to be visible at school events and at community events and to be invested."