Waseca County community members came together for a night of agriculture and family fun.
The 13th annual Taste of the Farm event was held at Farmamerica on Tuesday, June 11. It was a night for the community to gather and learn about farm life and the different components of it.
"Nowadays, especially (with) kids, there are two or three generations of disconnect from the farm, and so even those living in a farming community, not many see where the food comes from," Mike Singlestad, of the Waseca County Farmers Bureau, said.
This event is to show the community what farming is all about and where the food in stores comes from.
"It's a pleasure to come together as an agriculture community and welcome the community to see who's growing it," Farmamerica Programs and Communications Director Amy Durand said.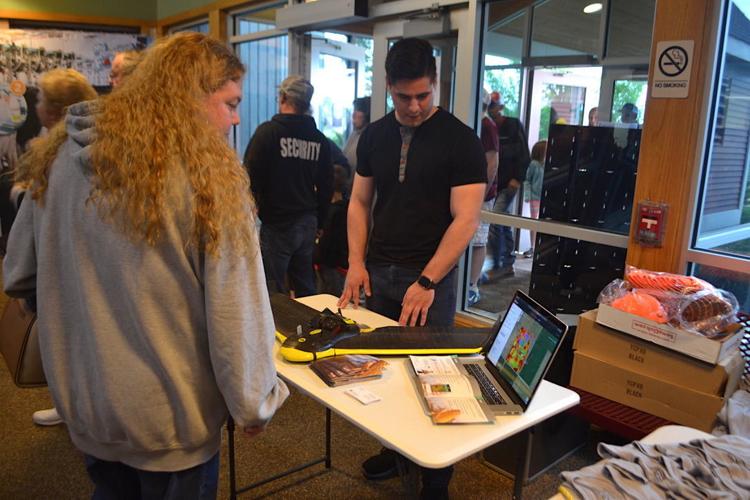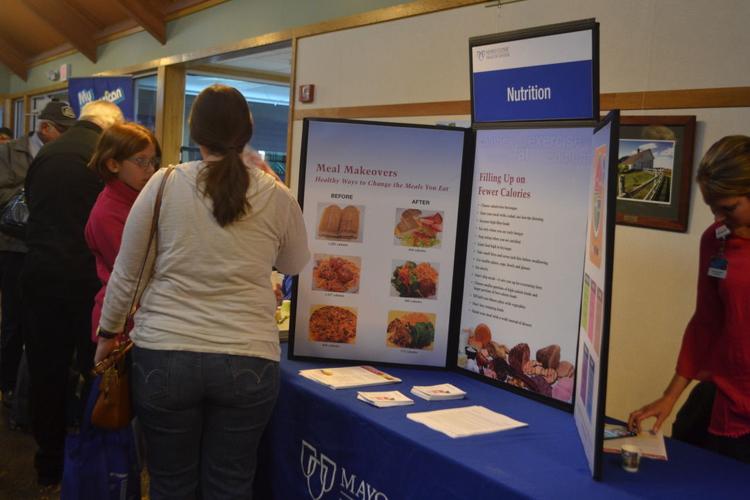 With the rain earlier in the day, the information vendors had to be moved inside with their tables and goodies. The tables lined the hallway of the main building at Farmamerica. The hallway was abuzz with the chatter and laughter of all the guests, as they went from one table to the next, learning about what the vendors had to offer.
There was more than just farmers or farm equipment present at the Taste of the Farm event. The Sheriff's Posse were present, Mayo Clinic was there with nutrition information and even the Waseca County Community Emergency Response Team had an information table.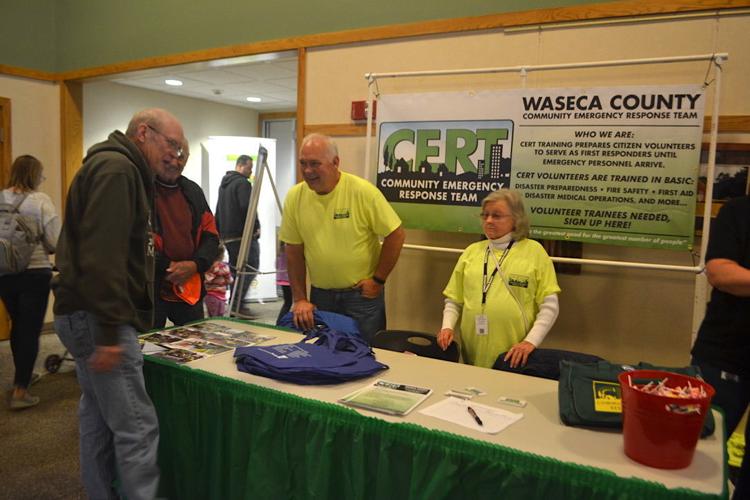 "CERT is here, because we're going to hold another class for participants; we're here to encourage people to participate," Emergency Management Director Denise Wright said.
The Waseca Hemp Farm was there, as well, with plants on display, Farmamerica had camp information out, and Waseca County Corn and Soybean Association were also present. The latter handed out chocolate covered soybeans and ranch- or cheddar-flavored roasted field corn.
"We promote corn and soybeans here every year; you have to promote what you raise, like a job," Neil Roesler said. "I think this is a good idea to build relationships between people in the country and farmers to show what they do."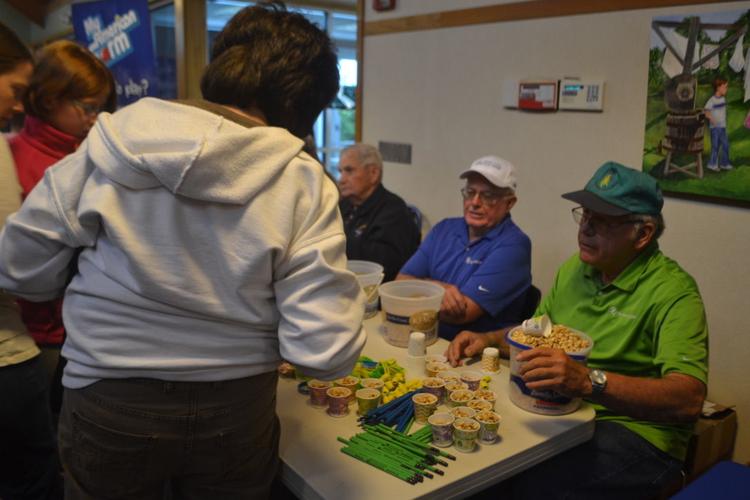 There was also a free meal provided of beef or pork burgers, along with chips, dessert and a drink option of milk or water. As people came into the building from the parking lot, they had the option to be driven on golf carts from their vehicles, passing farm equipment lined up for viewing.
"This event is to show equipment we use now, not a horse and plow," Singlestad said. "Technology has affected the agriculture industry like everywhere else, and a lot of people don't know that either."
Once the attendees finished walking the building there were more activities for all ages outside.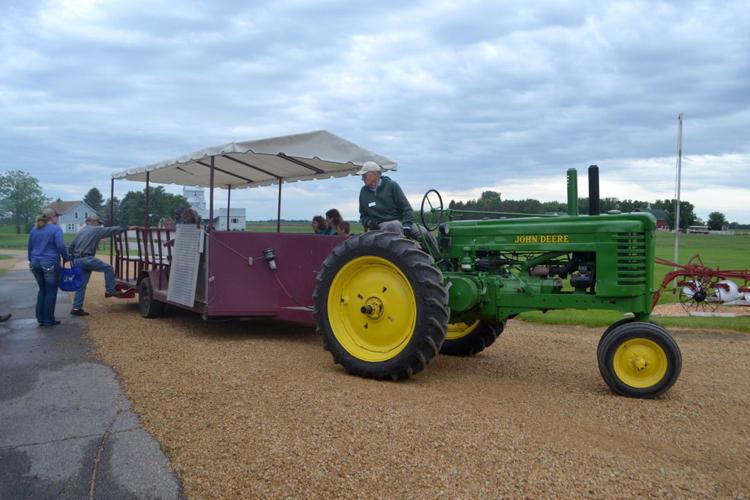 There was a tractor and wagon taking the short path around the grounds of Farmamerica. One little boy was jumping with joy after getting off the wagon ride. He was shouting, with a painting of a tractor on his face, that he had so much fun and saw animals on the ride. He enjoyed it so much he wanted to ride it again.
"I like the ability to get out and experience rural agriculture, it's exposure to something he (his son) wouldn't otherwise see," first time attendee Joe Blackman said.
The Roundbank Junior Board were also outside with face painting and temporary hair dying. There was constant commotion in this area with lots of kids ready for their turn to be painted as a cat or have purple streaks put in their hair.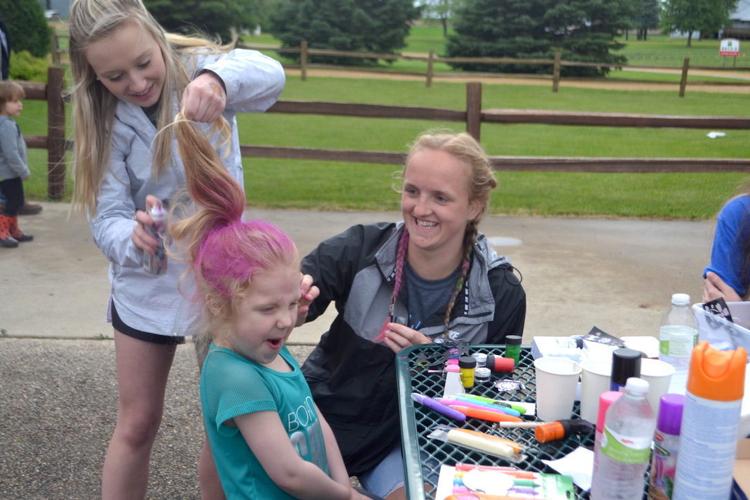 "There are a lot of activities for kids, fun time for kids," another first time attendee Taylor Ziemke said.
This event was started by the Harguth Dairy farm 13 years ago. It was taken over three years ago by the Waseca County Farmers Bureau, made up of all volunteers. They had assistance from the Minnesota Farmers Bureau when needed as a collaboration between the county and state level.
Virginia Westlie was on sight from the Minnesota Farmers Bureau who is in charge of the southeast division to assist with anything that was needed during the event or before the event.
"I think this is a great opportunity for people who either grew up on a farm to return and bring them back or for those who've never been on a farm to show them and for Farmamerica to show the changes in farming," Westlie said. "It brings the community together."