On Saturday, June 15, the Goodhue County Historical Society is having a historic walking tour of Kenyon.
The tour will start at the Gunderson House at 1 p.m. and proceed down the Boulevard of Roses as a tour guide points out the architectural past of various homes and buildings in Kenyon.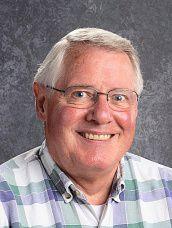 The tour cost is $7 for Goodhue County Historical Society members and Kenyon Area Historical Society members or $10 for non-members. Tour participants will enjoy a root beer float in the Gunderson House.
Kenyon Christmas ornament 2019
The 2019 Kenyon Area Historical Society unveiled the limited edition Christmas Ornament on Tuesday, June 4 at the annual meeting.
This year's ornament has a picture taken from a 1905 postcard of the Farmer's State Bank and the Kenyon City Hall. Both buildings were constructed during the building boom of Kenyon's Main Street in 1895.
The Farmer's State Bank building occupied the corner of Main Street and Forest Avenue. The bank was established by B. J. Borlaug who moved to Kenyon after operating the Norway Corner Store for many years. The bank was closed during the Great Depression, and the building was home to a variety of businesses until the early 1960s when it became and is today the United States Post Office of Kenyon.
The distinctive original Kenyon City Hall had a bell tower and sandstone framed doorways. From its completion the building housed the Kenyon Fire Department, and the Kenyon Public Library occupied the second floor. By the late 1960s the fire department had moved to the old Fox Garage and the library was moving into a building next door. A decision was made to tear down the unused building and create a parking lot.
A display with a likeness of the ornament may be seen in the lobby of the Security State Bank. Order forms are available at the bank. Cost of the limited edition ornament is $16 and pre-orders will be available in Nov. 2019.
Kenyon Senior Living golf tournament
Fri. July 26, 2019, the annual Kenyon Senior Living Golf Tournament will take place at the Kenyon Country Club.
This is a four-person best ball tournament with registration and lunch starting at 11 a.m. and a shotgun start at 12:15 p.m. Appetizers and a social hour will start at 5 p.m.
Cost for a four-person team and cart is $200. A single golfer will be able to play for $50 and a cart. Space is limited, so an early sign-up is encouraged. The deadline for registration is July 19, 2019.
For more information contact Chelsea Kahal, KSL administrator, at 789-7101.
Proceeds benefit the Kenyon Senior Living's Capital Improvement Fund.
On the WCCO television news of June 6, there was an interview with 95-year -old Ken Axelson of Wanamingo. Axelson was a frequent visitor to my fourth grade classroom following the Veteran's Day program and would talk about his time as a World War 2 prisoner of war. His talk always concluded with the story of him being freed on his birthday in 1945. He never mentioned the part he had in the D-Day invasion.
What struck me during the news interview were the words "Axelson was fresh out of high school," and in my mind's eye I pictured him as an 18-year-old moving onto Omaha Beach.
At the Kenyon-Wanamingo graduation I watched as a group of 18-year-olds received their diplomas. Part of this group are four "Ken Axelsons," one who has already completed boot camp with three more preparing to enter the service in the near future.
I will always have great respect and admiration for those young men of 75 years ago, the people who served in Korea, Vietnam, the Gulf War, Operation Freedom, the Global War on Terrorism and other military operations. Because of their dedication and sacrifice I enjoy the many freedoms of this country.
During Rosefest in August, the Kenyon Area Historical Society will be hosting a pop-up museum at the Gunderson House.
A pop-up museum is the adult version of show-and-tell with participants sharing and telling about historic artifacts or pictures they own. From personal experience, people enjoy looking at old pictures whether they are landscape pictures or ones of individuals or groups. Some people have pictures they need help identifying the content of or subjects. Others may have tools or a household item of a bygone day that would be fun to share.
As we move through summer start looking for your school class pictures, items you may have with advertising on it, magazines, newspapers or clothing that was fashionable at one time. The potential for having a piece of history is endless.
Old is defined by the owner of the item. For some people, old is before 1950 and for others anything prior to 2000 is old.
More information about the pop-up museum will be coming in July.
The Gunderson House will be open for tours from 2 p.m. to 4:30 p.m. Saturday, June 15 and Sunday, June 16.