If anyone in Kenyon knows cars, it's David Strusz.
The Bellechester native has worked a variety of jobs in the auto field: collision and restoration, vehicle body repair, heavy diesel mechanics and over-the-road trucking. Now, he's set to open his own auto upholstery and fabrication business, Midwest Kustoms, in downtown Kenyon.
Strusz got his start as early as age 8, when his mom first sat him down at a sewing machine similar to the one he now uses for upholstery work. Growing up, he learned welding from his dad, who also worked as a mechanic.
"I've been involved in fabrication most of my life," he said.
After four years of active military duty and two years in the National Guard, Strusz studied upholstery at WyoTech, a technical college in Laramie, Wyoming. Later, he moved back to Minnesota, settling in Kenyon as a center point between his current full-time mechanic job in Eagan and his wife's workplace in Rochester.
Strusz soon began doing custom auto work out of the garage at his Kenyon home, where he lives with his 5-year-old daughter, 11-year-old stepson and wife, Emily, also a mechanic. Midwest Kustoms is an expansion of his home business — and the culmination of a goal years in the making.
"I've done a lot of stuff in my career… I've wrenched since I was a little kid, but my dream was always to open my own custom car shop," Strusz said. "Now that I actually have a space, it's all coming back to me."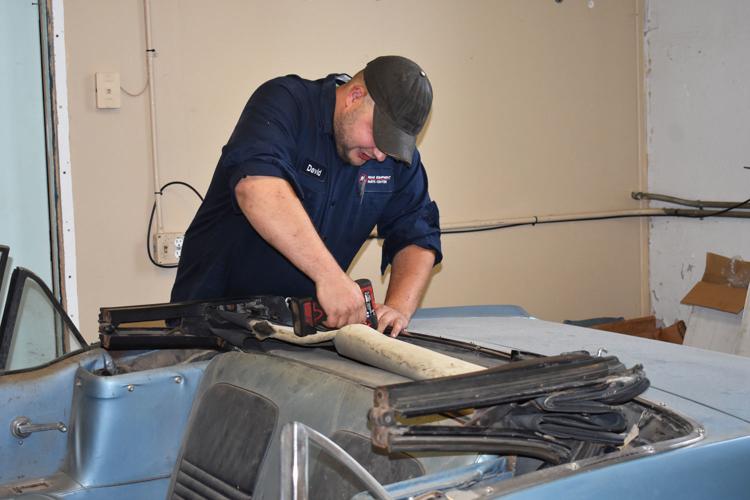 Strusz rents space next to Nygaard Auto Service and Repair on Second Street, an arrangement originally borne out of his work on owner Tom Nygaard's car.
The space has been vacant for about six years, said Nygaard, since Mary's Rustic Rose moved out and into its current spot a few doors down.
"Of course, it'll be good for Kenyon business," Nygaard said.
Though the two auto businesses are neighbors, Nygaard said the two provide different yet complementary services, with Midwest Kustoms focusing more on upholstery work.
Strusz hopes to expand Midwest Kustoms to work on boats and ATVs, along with cars. While the long-term plan for the business is uncertain, Strusz knows he'd like to someday grow the operation into a one-stop shop, including paint and other auto body work.
"I want it to be a couple guys doing everything, where you could come here to get everything done to your car," he said.
For now, the shop is a one-man show, with a little help from Emily.
Midwest Kustoms will officially open for evening business soon after the Fourth of July, as soon as Strusz gets the paperwork in order, though he's already open to customer inquiries. Over the past few months, he's been saving up spare cash for additional equipment every chance he gets.
Within the next few weeks, Strusz also plans to put up a sign, letting people know that Kenyon now has one less empty storefront.
"I'm hoping it takes off. Kenyon needs more businesses," Strusz said.